Sibling duo highlights Hall of Fame nominations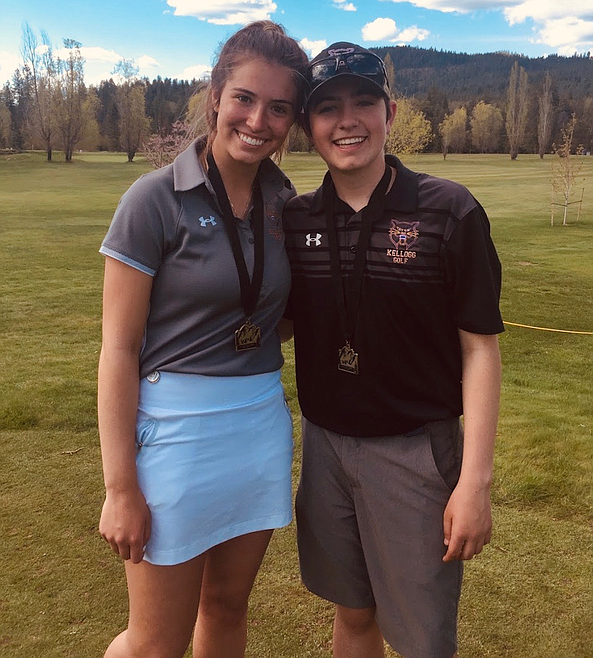 April: Siblings Kat and Archie Rauenhorst were nominated for awards at the (now canceled) North Idaho Hall of Fame Banquet. The pair were just two of six athletes from the Silver Valley who were nominated for various awards.
Courtesy photo
by
JOSH MCDONALD
Staff Reporter
|
April 7, 2020 12:14 PM
The annual North Idaho Athletic Hall of Fame Banquet was recently canceled due to the COVID-19 pandemic, but 11 without the banquet in place to honor these athletes the nominations were still released.
Six Silver Valley athletes were nominated for their efforts during the previous season, including five Kellogg student athletes and another from Mullan.
The North Idaho Hall of Fame also honors District I-II high school athletes, coaches and teams for their outstanding play, along with the athletes, coaches and teams from the University of Idaho, North Idaho College and Lewis-Clark State College. The awards cover the 2019 academic spring season and the 2019-20 academic fall and winter seasons.
Kat Rauenhorst (girls golf), Archie Rauenhorst (boys golf), Justin Lehto (3A-1A football), Graden Nearing (3A-1A basketball) and Judson Hall (3A-1A wrestling) were all nominees from Kellogg High School; Skye Gallaway (3A-1A football) was the lone nominee from Mullan.
While all of these athletes had exceptionally special seasons, the season was a particularly special one for the Rauenhorst siblings as it would be the lone season that they'd get to play together.
Kat was a 2019 KHS graduate, while Archie belongs to the class of 2022.
Both Archie and Kat had otherworldly golf seasons in 2019, with Kat earning her fourth consecutive medalist honor as well as a second place individual finish at state.
Archie earned his first individual medalist award in 2019 as a freshman and then finished seventh overall as an individual while guiding Kellogg to a third place team finish at state.
Those efforts made their nominations seemingly an easy one for the Hall of Fame committee, but despite the vast success enjoyed by the siblings, they remained humble in receiving them and even lamented the fact that they only got to be teammates for a single season.
"This was just my first year of high school sports, and being able to be nominated for this award is a humongous honor," Archie said. "I've been playing golf for as long as I can remember and am glad to see that work paying off."
"I've been nominated a few times since my freshman year and it's always been really fun to actually go to the banquet and see all the people I grew up golfing with getting nominated too," Kat said. "Since there's not going to be a banquet this year, I'm a little bummed. Out of all the girls who were nominated, there's only one who I haven't played with since middle school, which is really cool for me to see."
Despite the teenage movie tropes where big sisters are constantly annoyed by their little brothers, Kat and Archie seem to thrive off one another and did everything that they could to make the most of the lone season together.
"Not many people get to be on the same sports team as their siblings, and even less have the success that we had together," Archie said. "I wish we could have had another season to play together, but this one was amazing."
Kat echoed her brother, but was also complimentary of her fellow Wildcats who were nominated along with her and her brother.
"Obviously getting nominated for anything like this is a huge honor, but it's even cooler that Archie got nominated also," Kat said. "Last year, we did a lot of things together and this really was the cherry on top. The best thing is that not only Arch and I were nominated, but three other members of the KHS team were nominated. I LOVE that for Kellogg High School."
Nominations for each category are reviewed by the Hall of Fame committee, which selects finalists for each category.
Winners are normally announced at the banquet, but this year will be released through the media to announce on Sunday, April 26.
Each finalist receives a certificate and the winners also receive a plaque.
The athlete, coach and team of the year awards for both high school and college receive trophies.
Hall of Fame officials are working on how to distribute them this year and will be working with athletic directors and principals at the schools on determining the best methods.
---