Armelina M. Bernhardt, 92 "Arme"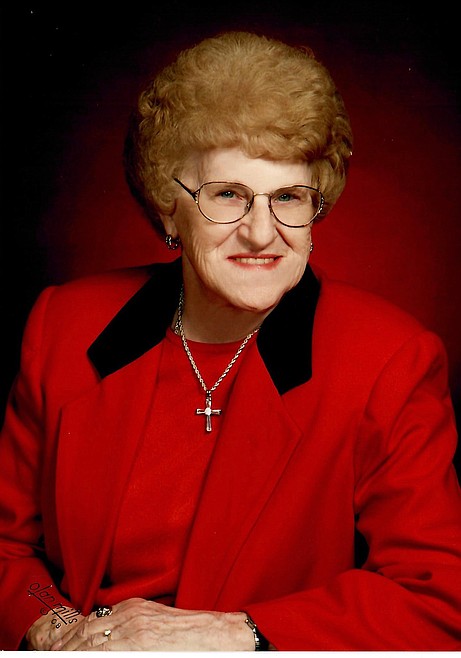 After a year and half of battling oral cancer, our beloved mother, grandmother and great grandmother Armelina Matilda Bernhardt passed away on March 30, 2020. Known by her family, relatives, and friends as Arme she was born in Wallace, Idaho on September 15,1927 to parents John Benedet and Angelina Caron. She lived in the Silver Valley all of her 92 years, spending 66 of those years living in the same house.
After graduating from Wallace High School in 1945 she married Lewis Hunt in April 1946. She would later marry Paul J. Bernhardt in February 1953 and settled first on Black Cloud Road and then later moving to Osburn in October 1954. Arme had a diverse life working as a cook's helper, receptionist in two doctor's offices, clerk in a local drug store, cleaning lady in a doctor's office and finally owning her own cleaning service, which she worked up to until her 92nd birthday. She was dedicated to St. Alphonsus Church and the Catholic Daughters, serving the church and community. She loved to garden, visit with friends (she was a social butterfly) and enjoyed being out and about in Wallace. Arme acted as a grandmother to a boundless number of Wallace High graduates throughout the years. She loved to cook. She was always in the kitchen making something for family, friends, and social gatherings. Many a person has enjoyed her fare. Arme loved to travel. It started early in her marriage to Paul. She would take the bus to Tacoma to visit her sister and Mom and then go to Vancouver B.C. to visit her Father and his family. She has been to Maine, New Hampshire, California, and Texas. She also went to Europe twice and Hawaii.
But Arme's passion was her family. It meant everything to her. She relished the holidays knowing she was going to celebrate with them. She took pride in them and you knew she was at home when she was with them.
Arme is preceded in death by her parents, husband of 39 years Paul, and her sister Rose.
She is survived by her sons Randy (Christie) of Spokane, Paul Jay (Janet) of Big Creek. Granddaughters Dena (John) and Jennifer of Spokane, Grandsons Jeremy (Katie) of Seattle, and Jason of Coeur d' Alene, Great Grandchildren Gillian and Harrison of Spokane, and countless cousins, nieces and nephews throughout the area. Arme touched many lives throughout her lifetime and there are not enough words to describe how wonderful she was. She is with the good Lord now and will be missed.
---