SCSO fights uphill battle on North Fork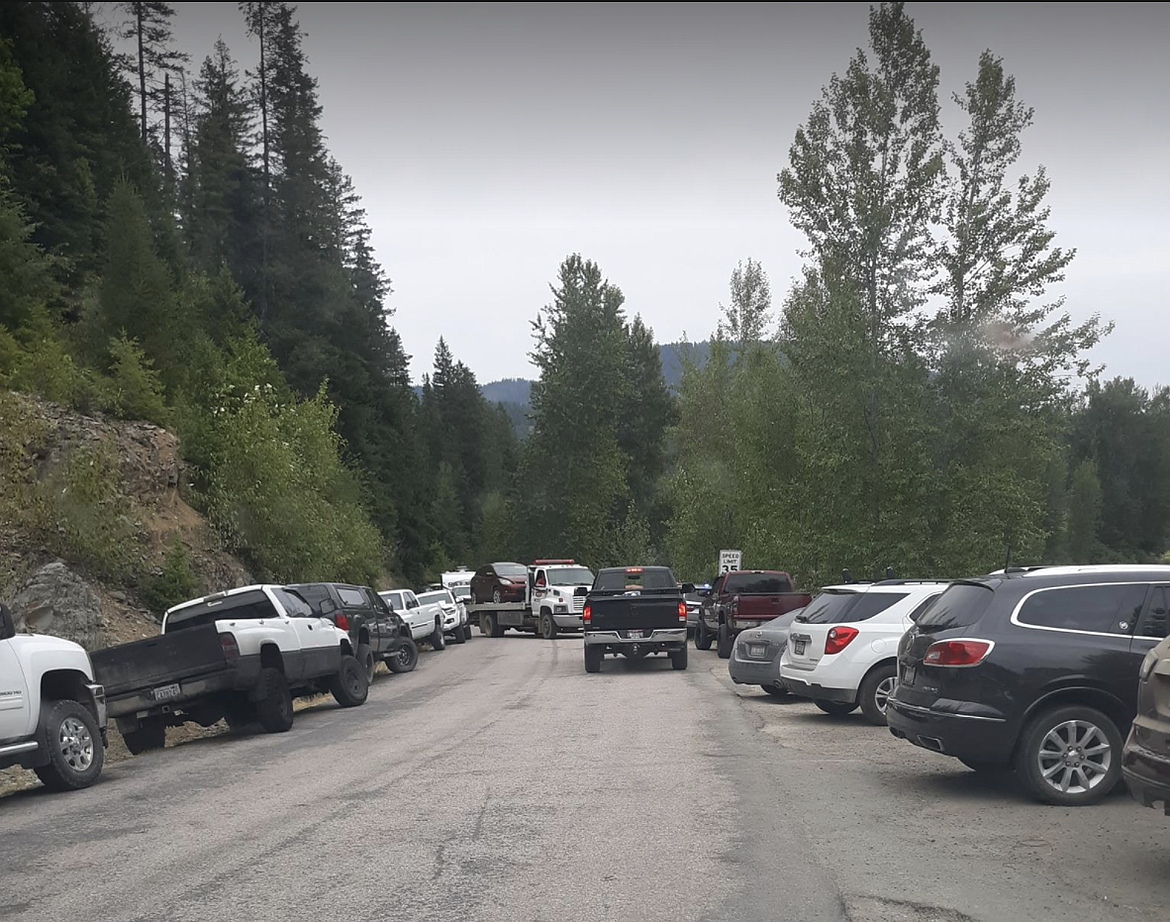 A tow-truck takes a vehicle from the Bumblebee Bridge area for illegally parking along the roadway last weekend.
Photo by DAWN WIKSTEN
by
CHANSE WATSON
Managing Editor
|
August 4, 2020 11:59 AM
KINGSTON — The North Fork of the Coeur d'Alene River has always been a popular summertime recreation area for people near and far.
With the COVID-19 pandemic keeping folks in their homes more than normal this year though, the popular destination is seeing even more of a draw than normal — most notably on the weekends.
Those up on the river this last weekend may have noticed Shoshone County Sheriff's deputies going up and down Old River Road attempting to enforce parking regulations as best they could. Most notably around the Bumblebee Bridge area — arguably the most popular spot to start a float down the river — tow trucks were busy taking vehicles out that were parked illegally.
"Every weekend, we've been towing vehicles," Shoshone County Sheriff Mike Gunderson explained. "We've done it for years."
Since Gunderson became sheriff, his office has had a deputy dedicated specifically to the North Fork in the summers. Even in a year without a pandemic and extra people coming to the North Fork, one deputy barely scratches the surface of the personnel needed to truly enforce laws there.
Gunderson explains that even if towing is used as a deterrent to parking illegally, once the deputy leaves the area (for example, to respond to another call), another car just takes the place of the last one. It's a vicious cycle that doesn't seem to have an end until the weather gets colder.
"How do you regulate something that is open to the public?" Gunderson said. "People keep bringing up tolls and permits. If we could do that, don't you think every other community in Idaho that has a recreational area would be doing it as well? It's just not legal, unfortunately."
Several ideas have been pitched to the county in an effort to either cut down on the amount of traffic in the area or bring in more revenue from the traffic, but none have come to fruition. Check out the News-Press's story, "Paradise found" for more information on that: https://shoshonenewspress.com/news/2020/jul/17/paradise-found-8/
As a reminder to everyone who plans to recreate on the North Fork, areas with solid yellow lines on the side of the road are completely off-limits for parking; even if there's enough room to get your vehicle completely off the road. Failure to abide by the rules could result in a ticket and/or your vehicle being towed.
Gunderson understands that this limits the amount of parking in certain popular areas, such as Bumblebee, but you can only fit so many people in one spot until it starts becoming a safety hazard.
"There's 80 miles of river," he said. "The only floating isn't from Bumblebee to Albert's Landing. Once that parking is full, you have to find somewhere else to park. It only handles so much, then we're in a position like we were last weekend where we are towing a bunch of vehicles because they're illegally parked on the roadway."
Gunderson would also like to remind visitors to the river that glass containers and littering on the river is prohibited and could result in a citation being issued if caught.
"Pack it in and pack it out," he said. "Make use of the dumpsters the county has provided up there."
---