Shoshone keeps Miller Cup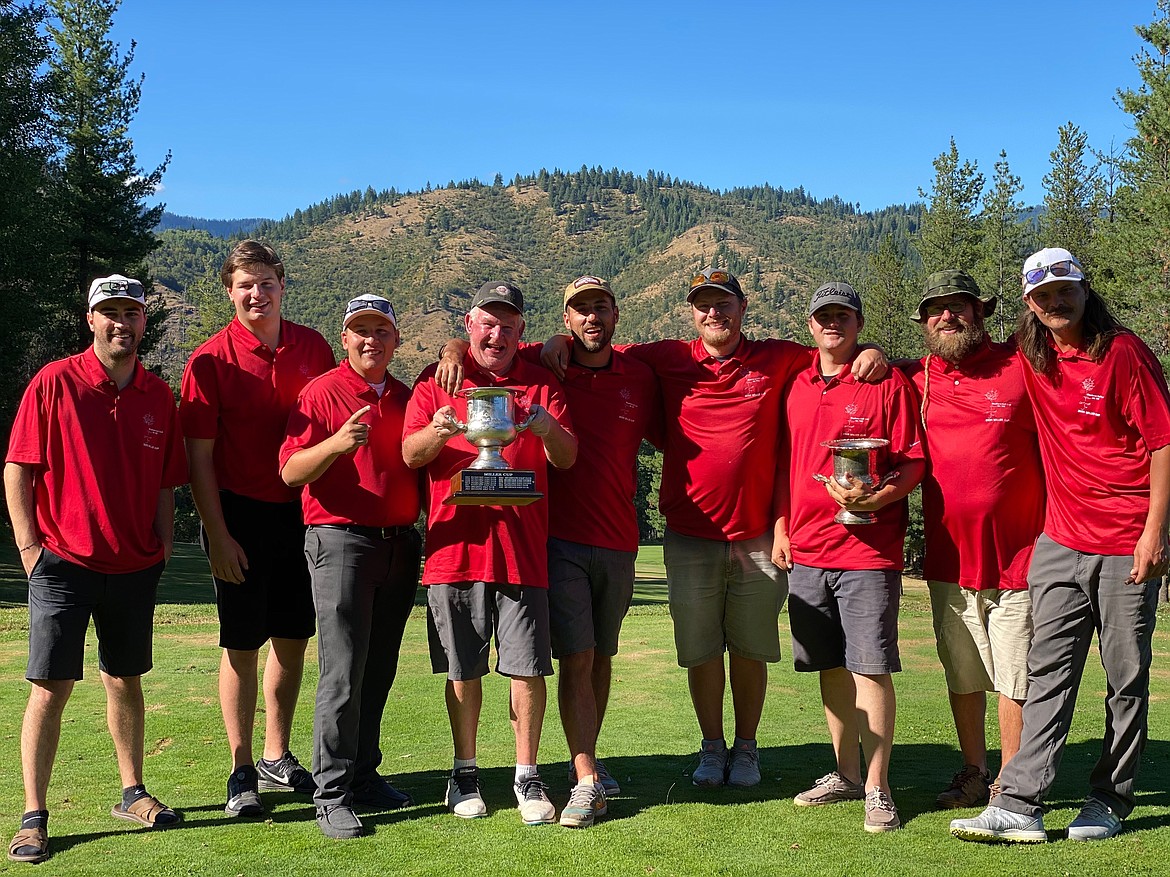 Shoshone Golf Club beat Pinehurst Golf Club 15-9 to win the 2020 Miller Cup. Pictured are (from left) CJ Kissel, Hunter Gust, Trevor Fedele, Brent Clearman, Chad Self, Dustin Christensen, Dayne Evenson, Travis Brown and Jordan Cochran. Not pictured are team members: Corey Miller, Dan Sommerfield, Rocky Therrian and Carter Wardwell.
Courtesy photo
by
JOSH MCDONALD
Staff Reporter
|
August 11, 2020 9:25 AM
Shoshone Golf Club is your 2020 Miller Cup champions after another exciting edition of the two-day competition between the two Silver Valley clubs.
The competition consists of the 12 best players from both Shoshone and Pinehurst Golf Clubs in two days of six singles matches and three doubles matches each day, with simple match scoring determining the winner of each matchup.
The defending champs are given a half point simply for being the defending champions, which means that Pinehurst would need to win 13 of the matches to avoid a potential tie (which would result in a loss when the half point is applied).
Shoshone came in as the defending champions, giving them the automatic edge in the scoring, but they took that advantage and really ran away with it during their opportunity to host the first day of the tournament taking a 9-3 lead as the opening day came to a close.
The second day was played at Pinehurst, and while it was played dead even at 6-6, the west side club needed to dominate their opposition in order to pull off the comeback.
Shoshone Golf Club manager and Miller Cup competitor Hunter Gust enjoyed the competition and praised the play of all 24 of the local golfers.
"It's always a good time when you can get the 24 best golfers in the Silver Valley together to play against each other," Gust said.
Shoshone's win also even the all-time score at 13-13, which should make for an interesting competition next year.
Shoshone team captain Dayne Evenson was named tournament MVP for his performance throughout the weekend.
Shoshone's team was made up of players Corey Miller, CJ Kissell, Rocky Therrian, Jordan Cochran, Dustin Christensen, Dan Sommerfield, Trevor Fedele, Carter Wardwell, Travis Brown, Chad Self, Evenson and Gust.
Pinehurst was represented by Jay Ploharz, Cade Finlay, Tyler Gibbons, Damon Robinson, Darin Williams, Taylor Bush, Taylor Hulstrom, Archie Rauenhorst, Jaime Edwards, Hogan Samuelson, Kirk Nelson and Chase Jerome.
The tournament began in 1995 and is called the Miller Cup because the Miller Beer Company sponsored the trophies and the tournament in the beginning.
---