Silver Valley 4-H Livestock Club off to auction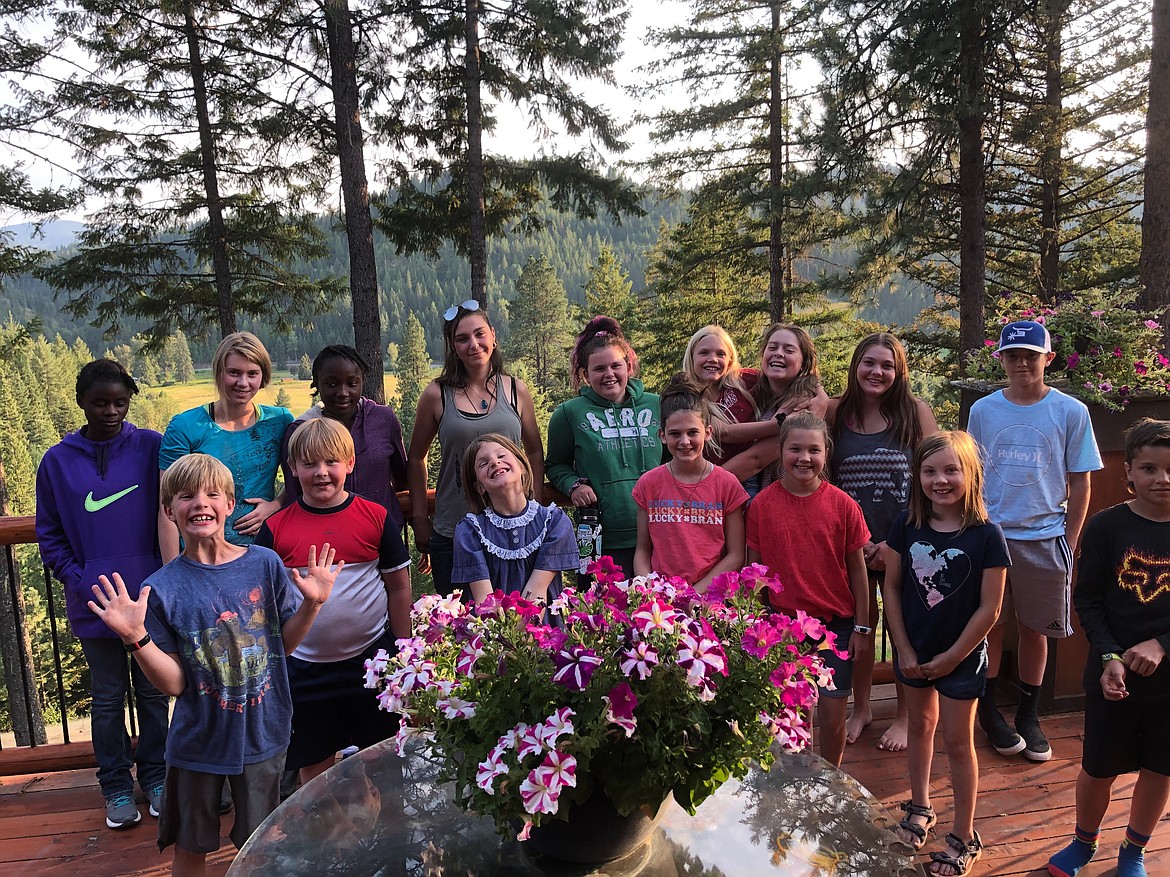 The Canyon Wranglers — Shoshone County's newest and only 4-H Livestock Club. (Front from left) Colton Storey, Kaydence Northington, Peyton Story, Hadley Bush, Emma Cook, Matthew Ferguson and Ben Cook. (Back) Wyatt Storey, Allison Weed, Nicole Brown, Maggie Cook, Abbe Schiuchetti, Courtney Brown, Mercy Friede, Faith Friede and Hope Friede. (Not pictured) Blake Coburn, Dalton Coburn, Carter Ferreira, Braden Hayes, Brook Hayes, Landon Manty and Katie Weed.
Photo by JENNIFER FERGUSON
by
CHANSE WATSON
Managing Editor
|
August 25, 2020 10:10 AM
Shoshone County's newest 4-H club will be making a presence this week at the 2020 4-H Livestock sale and competition at the Kootenai County Fairgrounds in Coeur d'Alene.
Less than a year ago, the only 4-H presence locally was a 4-H horse riding club based in Silverton. Thanks to the efforts of Jennifer Ferguson and Russelle Storey though, there's now another option.
Dubbed, "the Canyon Wranglers," this newest 4-H club deals with livestock — specifically beef, swine and horse.
Ferguson, who has a long history of being involved with the program, explained that she and Storey first came up with the idea to create the new club while they were at a 4-H meeting in Coeur d'Alene. With no club in the Silver Valley at the time, their kids had to join a group over the hill.
"We had to have five kids to make a club," Ferguson explained. "So we thought between her three kids and my kid, we could probably pick up one or two more to make this happen."
What they didn't expect was how well it would be received by the local youth. By January, the Canyon Wranglers had been formed and were 24 kids (ages 8 to 18) strong.
"It was a little overwhelming at first," Ferguson recalled.
On top of having way more interest than first expected, the COVID-19 pandemic made things even more difficult by forcing the group to hold their annual meetings and activities over video calls.
Part of being with a 4-H livestock club is taking care of and learning about market animals. This involves completing projects where members have to present animals and answer questions about them before they are sold off.
"We explain to our children that the reason we are doing this that ultimately these animals will be sold and become food," Ferguson said. "It's our job to feed them and protect them until they can feed other people."
The various 4-H clubs are also required to do a community project. For their first year, the Canyon Wranglers did a group "clean-up" float on the North Fork of the Coeur d'Alene River in late-July.
All the projects and meetings normally culminate in members entering their animals into the North Idaho Fair competition and auction. While COVID may have canceled the fair, 4-H plans to move forward with their events this week.
Canyon Wrangler members took their animals to the Kootenai County Fairgrounds on Monday for the yearly competition held today and Wednesday. Animals are judged on two categories — quality and showmanship.
Once the competition is over, all the animals will be available for purchase during the auction on Saturday, Aug. 29.
Kootenai/Shoshone 4-H explains that this year's auction will have both a live and online option for bidding and buying.
Sharla Wilson, Kootenai County extension educator with the University of Idaho, said in an interview with the Coeur d'Alene Press that the virtual 4-H program livestock sale will allow for a larger audience to watch, bid or buy from the sale safely.
"Through the online option friends and family from other states can now join the event as well," Wilson said. "In the past, we've had a crowd around 200, but with the online we are looking to reach 300 to 400."
The small animal sale for market rabbits and poultry starts at 6 p.m. Friday, and large animals such as swine, lambs, goats and beef will start at 3 p.m. the next day. Grand and reserve animals will sell at 4 p.m.
To participate in-person, buyers should pre register by visiting https://goo.gl/forms/YsvXUSQIVGOU9PVL2.Buyer check-in is at 2 p.m.
For online buyers, register online at www.liveauctions.tv and select the Kootenai 4-H Livestock Sale.
Ferguson is excited to have her club members participate in this event for the first time and is incredibly thankful of the program as a whole.
"I can't say enough good about 4-H and the work ethic it fosters in kids. It's awesome."
She also invites local businesses to join-in on the auction and bid on a locally raised animal.
For more information on the Canyon Wranglers, contact Ferguson at j.ferguson5@yahoo.com.
---