Silver Valley Sports Recap: Aug. 24-30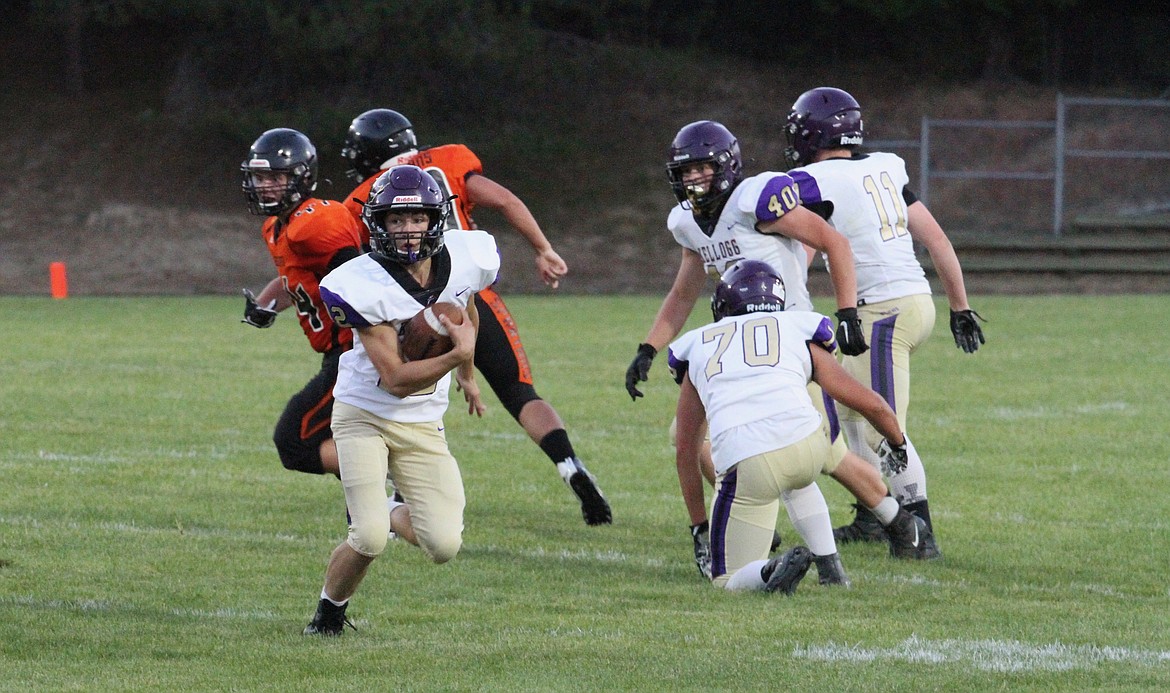 Photo by Josh McDonald/ Kellogg's Travis Lohr weaves through several Priest River defenders on his way to a punt return touchdown early in the second quarter of Kellogg's 44-0 shutout of the Spartans.
JOSH McDONALD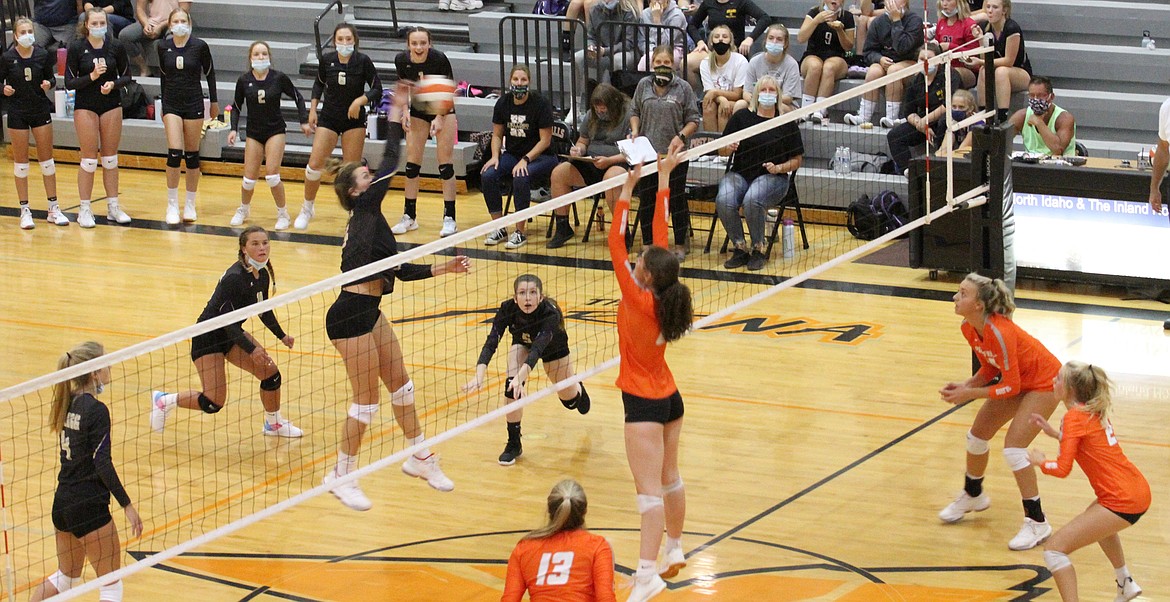 Wildcat Hailey Cheney crushes the ball during Kellogg's season opening match at Post Falls High School.
Previous
Next
|
August 31, 2020 9:46 AM
MULLAN FOOTBALL
PLUMMER –– The Mullan/St. Regis Tigers kicked off their 2020 season with a bang as they rolled over Lakeside 70-36.
After spending 2019 embroiled in a rivalry that ended with Mullan taking the North Star League's only playoff berth, the Tigers once again demonstrated their dominance.
After a frenetic first quarter that saw Mullan take a 24-22 lead, the rest of the game was all Mullan until a few garbage time scores late in the fourth quarter.
Luke Trogden ran for 201 yards and four touchdowns, while St. Regis' Adam Ball finished with three touchdowns and ran for 141 yards, but despite the scoreboard reflecting a dominant win, head coach Stetson Spooner wasn't exactly pleased with certain aspects of his team's performance.
"It's bad that we fumbled four times and had four turnovers," Spooner said. "But I guess it could be a good thing that we scored 70 while doing so. If we clean up those errors our offense could be headed in a great direction."
Ever the class act, Spooner extended compliments toward his opposition and looks forward to their next matchup.
"Hats off to Lakeside head coach Chris Dorman," Spooner said. "We know that next game they will improve which means we have to get back to work. But this was a great win to start things off for us."
Mullan will be in action this Friday against Wallace at Sather Field.
KELLOGG FOOTBALL
8-28
Priest River – 0
Kellogg – 44
PRIEST RIVER –– The Kellogg Wildcats ushered in the Dan Davidian era with a bang as they annihilated the Spartans in their season opener.
Playing an Intermountain League opponent in a non-conference game, the Wildcats got a glimpse of what could be awaiting them at the end of the season when the two squads will play again with potential playoff implications on the line.
Sophomore Riply Luna was scintillating for the Wildcats, passing for three touchdowns while running in a fourth as Kellogg turned a relatively quiet opening quarter into a blow out, statement win.
In a stark contrast from previous seasons, the air raid attack from Kellogg was something that Priest River was not ready for and it showed as Luna routinely picked apart the Spartans inexperienced secondary.
Sophomore Travis Lohr had a receiving touchdown, an interception for a touchdown, as well as a punt return for a touchdown for Kellogg who will have this week off before traveling to Bonners Ferry on September 11 for another non-conference game against an IML foe.
WALLACE FOOTBALL
8-28
Clark Fork – 50
Wallace – 6
CLARK FORK –– No stats or info was received for this game.
KELLOGG VOLLEYBALL
8-27
Post Falls d. Kellogg
POST FALLS — Junior Brielle Nagel had 10 kills, freshman
Kylie Munday 15 assists as the Trojans downed the Wildcats 25-13, 25-13, 25-15 in nonleague play at The Arena.
Maya Blake had six digs and three aces for Post Falls (2-0). Brooklyn Minden had three aces, Kamden Fittes two blocks.
"Brielle was a great passer tonight, and she was putting the ball where she needed to score," Post Falls coach Willow Hanna said. "I think we're just excited we're on the floor right now."
Kellogg (0-1) plays host to Wallace on Wednesday.
MULLAN VOLLEYBALL
8-27
Mullan d. Lakeside
PLUMMER — The visiting Tigers rallied to win the final two sets and beat the Knights 26-28, 27-25, 19-25, 25-15, 15-13 in nonleague play at Ron Miller Court.
"They served better than we did, that was probably the biggest momentum changer," Lakeside coach Brad Veile said, noting his team's inexperience. "Mullan's better than they were last year. They pass better, they keep the ball alive." No stats were available, but Veile said Talowa Fallingwater of Mullan "was putting the ball down really well," and Arianna Havier-Gorr had a number of kills for Lakeside.
Mullan will be on the road today at Priest River at 4 p.m.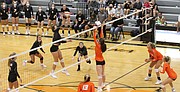 ---