Silver Valley Sports Recap: Feb. 10-16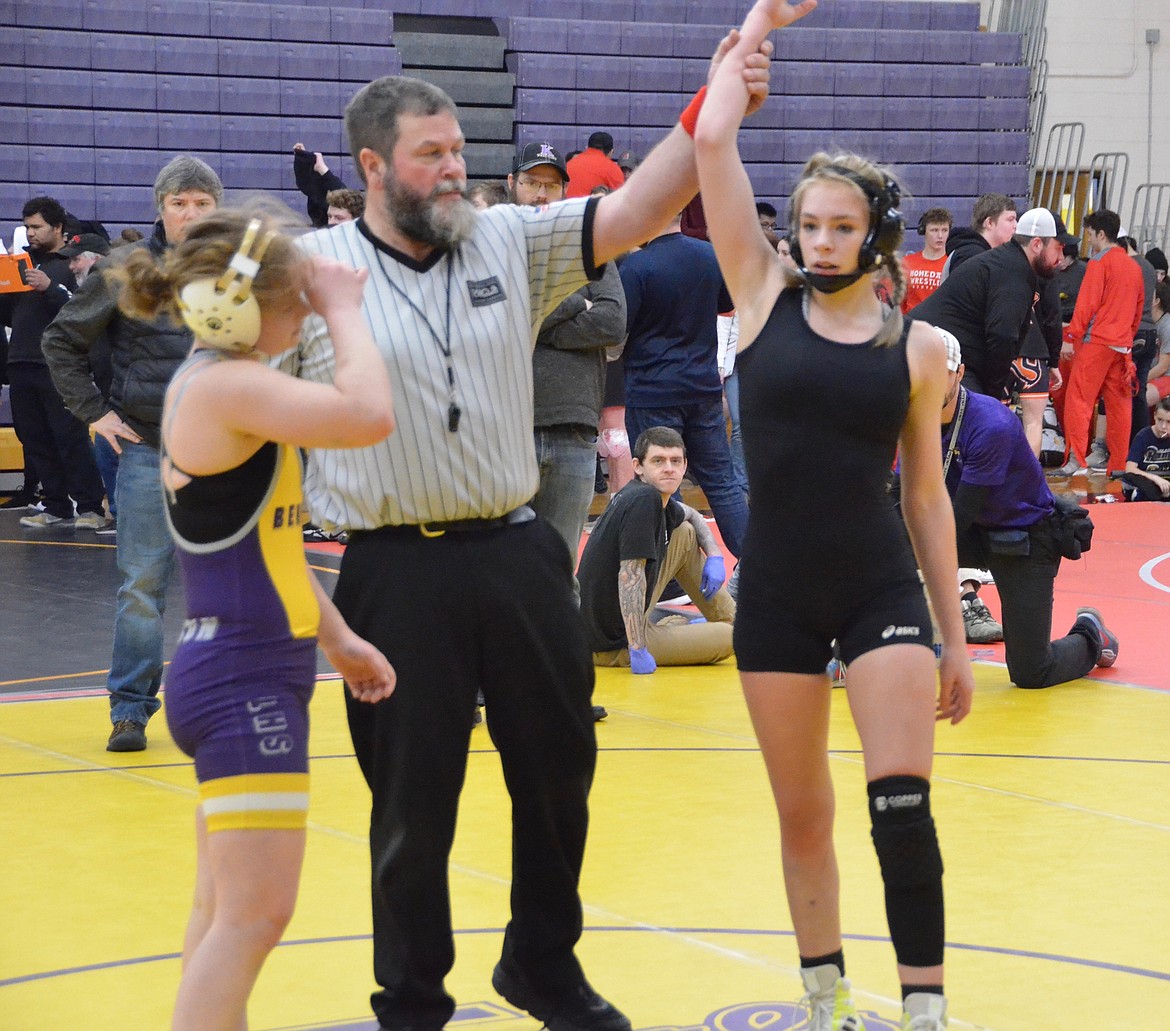 Courtesy image/ Wildcat wrestler Taylor Stovern has her hand raised in victory following a recent win in Lewiston. Stovern took fifth place at last week's Girls State Tournament in Pocatello.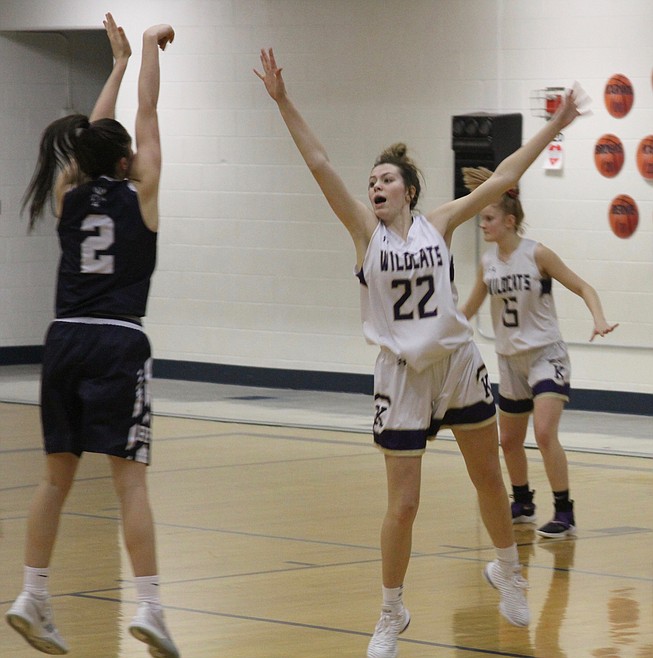 Photo by AriAna McDonald/ Hailey Cheney closes out on a Bonners Ferry shooter during the opening round of the 3A District 1 Tournament.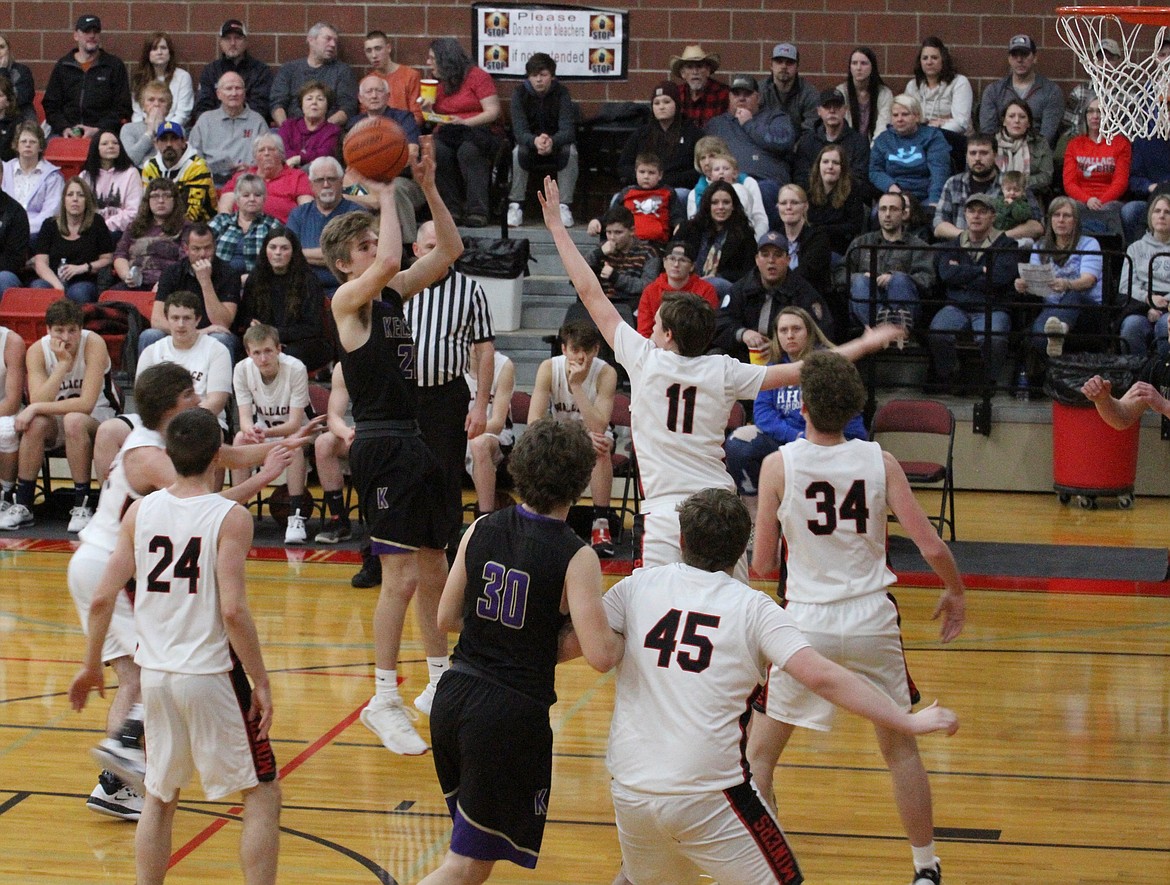 Photo by Josh McDonald/ Wallace's Will Farkas (11) attempts to block Graden Nearing's jumper during the first half of Kellogg's win over Wallace last week.
Previous
Next
|
February 21, 2020 11:32 AM
Wildcat boys knock off Tigers, Miners
Kellogg boys basketball
Kellogg 60 Timberlake 49
KELLOGG — Tiger senior Jacob James had 24 of his game-high 26 points in the first three quarters to give his team a five-point lead, but a 23-7 run in the fourth quarter gave the Wildcats the edge in the battle for first place in the Intermountain League on Feb. 11 at Andrews Gymnasium.
"Jacob was a stud tonight and everything he threw up went in," Kellogg coach Jeff Nearing said. "He had a heck of a ballgame and looked awesome tonight. We trailed most of the game, but just kept after it."
Kellogg freshman Kolby Luna hit a 3-pointer to cut the deficit to one point. On its next possession, senior Graden Nearing gave the Wildcats a lead with a pair of free throws and freshman Riply Luna hit a jumper to give Kellogg a 52-48 lead.
"Riply really got us going," Jeff Nearing said. "It was senior night, and we might have been a little unfocused for three quarters. When we buckled down and started flying around on defense, we just had a big third quarter."
Timberlake 13 14 15 7 — 49
Kellogg 11 14 12 23 — 60
TIMBERLAKE — Peightal 0, Menti 3, Higgins 0, Paslay 0, Yetter 8, McDonald 3, James 26, Dickinson 9.
KELLOGG — Bush 8, R. Luna 2, K. Luna 3, Oertli 2, Nearing 15, Miller 5, Walker 0, Jerome 13, G. Luna 12.
Mullan girls basketball
Lakeside 81, Mullan 26
COEUR d'ALENE — Sophomore Jolissa Holt, the team's leading scorer, tallied 11 of her 16 points in the first quarter as the top-seeded Knights overcame an early deficit, then rolled past the fourth-seeded Tigers in the semifinals of the 1A Division II District 1 tournament on Feb. 11 at North Idaho College's Rolly Williams Court.
Freshman Arianna Gorr, Lakeside's thirdleading scorer, added 14 points for the Knights.
"She has really contributed as a freshman," Lakeside coach Chris Dohrman said. "It's been a nice surprise."
Junior Emily Dykes scored 13 points to lead Mullan, which finished 6-12.
Talowa Fallingwater had eight rebounds for the Tigers.
Mullan 7 5 5 9 — 26
Lakeside 19 17 24 21 — 81
MULLAN — Petit 7, Haig 0, Ringsbye 0, Fallingwater 4, Frazier 2, Dykes 13.
LAKESIDE — J. Holt 16, Middleton 6, Adrian 8, Matt 4, Gorr 14, Peters 7, Anderson 2, Allen 4, Marchand 10, A. Holt 10.
Kellogg girls basketball
3A District 1 Championship
Timberlake 58, Kellogg 35
SPIRIT LAKE — Junior guard Taryn Soumas, who was named MVP of the Intermountain League following the title game, hit three 3-pointers and scored a game-high 23 points for Timberlake in its Feb. 12 win over Kellogg.
"Our defense, we did great on talking, and being there for each other," Jessen said. "Our defense is what really helped us tonight."
After Kellogg's Darian Hill hit a 3-pointer early in the second quarter, the Wildcats were still in the game, down 16-9.
But Kellogg didn't score for nearly seven minutes, as Timberlake ran off a 13-0 run, with Soumas and Jessen feeding each other for baskets, and Soumas drilling a 3 during that stretch.
Senior Jaron Figueroa, who led Kellogg with 15 points, banked in a 3 in the waning seconds, but Timberlake took 29-12 lead into the locker room.
"I was really happy with our defense through the majority of the game," Miller said. "We struggled a little bit on the defensive rebounding side, but getting out to their shooters, and controlling the paint, I thought we did a really good job. It's hard to do both."
Junior post Blayre Jeffs added 10 points and six rebounds off the bench for Timberlake, and senior Taylor Such, junior Olivia Hammond and sophomores McKennah Kronenberg and Karina Sande were pivotal on Timberlake's perimeter defense.
Kellogg finished 12 of 46 (26.1 percent) from the field and committed 19 turnovers.
"We struggled shooting," Kellogg coach Jana Nearing said. "They come out and pressure the ball really well. They're just really quick on defense; they've got fast closeouts, and they can drop back quick on the dribble-drive. We knew it was going to be difficult; we tried to spread everybody out, and tried to get some looks inside. The first half was slow, trying to figure it out; it takes a little bit to adjust to the speed."
Kellogg 6 6 11 12 — 35
Timberlake 16 13 20 9 — 58
KELLOGG — A. Van Hoose 0, Wendt 0, Allred 0, Ferrierra 2, Hill 5, Figueroa 15, Nearing 9, Cheney 2, Reed 0, Erickson 2.
TIMBERLAKE — Sande 2, T. Soumas 23, Suko 0, Hammond 2, Kronenberg 5, Austin 0, Carhart 0, Jessen 16, Bain 0, Jeffs 10, C. Soumas 0, Wall 0.
Bonners Ferry 55, Kellogg 45
KELLOGG — The third-seeded Badgers earned a trip to a state play-in game with victory over the second-seeded Wildcats in the loser-out second-place game of the 3A District 1 tournament on Feb. 13 at Andrews Gymnasium.
The Lady Wildcats were simply out of gas and it showed in a big way.
Multiple players were battling health-related issues and despite owning a 2-1 advantage in the season series, Kellogg just couldn't find the energy to get the stops needed to get past the Badgers.
As the season progressed, as many teams were peaking, Kellogg could not get their health in order, battling respiratory issues, multiple concussions, and just about anything else you could imagine.
"Of course we're disappointed," Kellogg assistant Cody Kraack said following the loss. "We know that we weren't able to put our effort forward tonight. We gave what we had, but it wasn't just wasn't enough. This is a good lesson for our younger players and now we're just thankful that everyone can get healthy."
Kellogg finished 13-9, including a rough 2-6 record during their last eight games.
Mullan boys basketball
Lake City C 62, Mullan 56 (OT)
COEUR d'ALENE — Ethan Taylor scored 24 points for the Timberwolves freshman in a win over the Tigers on Feb. 12 at Lake City High.
Luke Trodgen scored 22 points for Mullan. Bryce Snow scored 14 points for Lake City.
Mullan 16 8 11 21 2 — 56
Lake City 12 11 19 20 8 — 62
MULLAN — L. Trogden 22, Nelson 8, Hess 6, R. Trogden 17, Gallaway 2, Zingler 0, Layton 1.
LAKE CITY C — Taylor 24, Snow 14, Golding 8, An. Kammarcal 0, Hite 0, McGlathery 0, Betschart 3, Green 3, Cogley 8, Whitehead 0, Ai. Kammarcal 2.
Wallace boys basketball
Wallace 59, Clark Fork 39
WALLACE — Hayden Hogamier scored 14 points to lead the Miners past the Wampus Cats in a North Star League game on Feb. 11 at Kirby Krulitz Court.
Will Farkas, Carter Bailey and Logan Hull scored nine points each for Wallace. Josh Constantin scored 13 points for Clark Fork.
Clark Fork 9 13 10 7 — 39
Wallace 12 16 20 11 — 59
CLARK FORK — Garcia 7, SanRoman 9, P. Bopp 3, Abbott 0, Constantin 13, Keuter 6.
WALLACE — Tesky 4, Farkas 9, Hogamier 14, Bailey 9, Lo. Hull 9, Denson 8, Lu. Hull 0, Hammerberg 0.
Kellogg 53 Wallace 41
WALLACE — Graden Nearing had 12 points and three steals for the Wildcats in a nonleague win over the Miners on Feb. 14 at Kirby Krulitz Court.
"Our defensive effort after the first quarter was really good," said Kellogg coach Jeff Nearing, whose team went 0-for-8 from the 3-point line, but finished 21-of-23 from the foul line. "I really liked our defensive effort, but we didn't shoot the ball well tonight and overcame some poor shooting."
Gavin Luna had 12 rebounds, Taylor Bush and Tyler Oertli scored eight points each for Kellogg. Logan Hull scored 12 points for Wallace.
Kellogg 8 21 12 12 — 53
Wallace 14 31 0 14 — 41
KELLOGG — Bush 8, R. Luna 0, K. Luna 6, Oertli 10, Nearing 12, Miller 2, Walker 2, Jerome 7, G. Luna 6.
WALLACE — Tesky 3, Richardson 0, Farkas 8, Hogamier 9, Bailey 10, Lo. Hull 10, Denson 2, Lu. Hull 0, Hammerberg 0, Gunderson 0.
Wallace girls basketball
Genesee 65, Wallace 39
COEUR d'ALENE — Sophomore Jaden House scored 14 points for the Miners, who had their season come to an end with a loss to the Bulldogs in a 1A Division I District 1-2 play-in game on Feb. 13 at North Idaho College's Rolly Williams Court.
"I'm very proud of my girls," Wallace coach Nichole Farkas said. "They played the entire game with a fighting spirit against the toughest matchup we have all season."
Wallace finishes 15-6.
Lucie Ranisate scored 19 points for Genesee, last year's state runners-up. Genesee will open their State Tournament run against Rimrock at 8 p.m. on Thursday at Columbia High School in Nampa.
Genesee 17 17 20 11 — 65
Wallace 9 8 14 10 — 39
GENESEE — Ranisate 19, Hanson 7, Perkins 9, Zenner 5, Leseman 11, Monk 8, Osborne 9, Mayer 2.
WALLACE — Morin 6, Lowman 0, Merrick 0, Johnson 4, Specht 0, House 14, Welch 2, Hill 3, Cielke 0, Hunter 2, Bergem 8.
Kellogg wrestling
Idaho girls state championship
POCATELLO — Kellogg's Taylor Stovern finished fifth overall in the 112-pound division at Pocatello High School.
Stovern went 2-2 at the tournament, but her losses came to opponents from much larger 5A schools.
"Taylor completed a successful freshman season, finishing 21-6 for the year and earning a spot on the podium which is outstanding," Kellogg coach Scott Miller said. "She had a very good weight class and had an opportunity to win all of her matches in a very wide open bracket. She has set a very good standard for future girls coming into our program."
Taylor Stovern's results by round:
First Round: Bye
Quarterfinals: Stovern p. Marcelino Trejo (Blackfoot) 3:52
Semifinals: Mia Furman (Rocky Mountain) p. Stovern 3:30
Conso Semifinals: Liv Weiber (Eagle) p. Stovern 2:46
5th Place: Stovern p. Lauren Henderhan (Filer) 1:49
Lake City JV tournament
COEUR d'ALENE — The Wildcats were able to get some of their younger grapplers some extra matches prior to the upcoming district tournament.
Several Kellogg wrestlers ended the tournament on the podium, including Raymond Healy (106 pounds), Kayden Zimmerman (145) and Robbie Bublitz (285) who all finished in second place.
Cater Stepro (120) and Brody Hoffman (182) both finished in third, Austin Miller (170) finished fourth.
"I felt we got some really good things out of this tournament," Kellogg coach Scott Miller said. "It gave us some good matches to help prepare for Districts and gave us some areas that we need to clean up before next week. I thought all of our kids wrestled hard and found ways to win matches late. I'm proud of our three finalists and thought all three did really good things to get into the finals."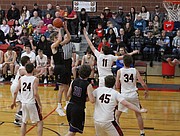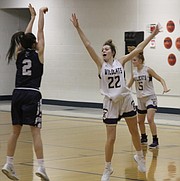 ---