Silver Valley Sports Recap: Feb. 3-9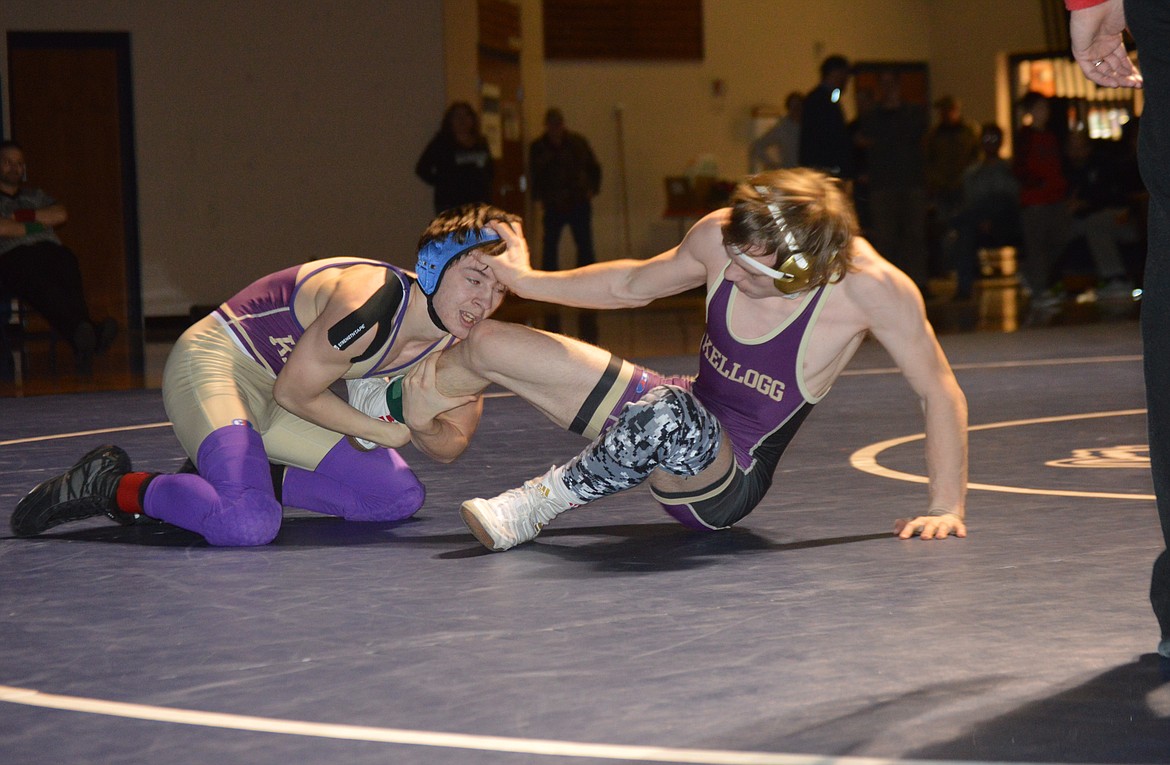 Dakota Eixenberger controls the leg of opponent and fellow Wildcat Wyatt Hei during their 113-pound matchup in the championship of the Bonners Ferry Invitational.
Photo by Teri Eixenberger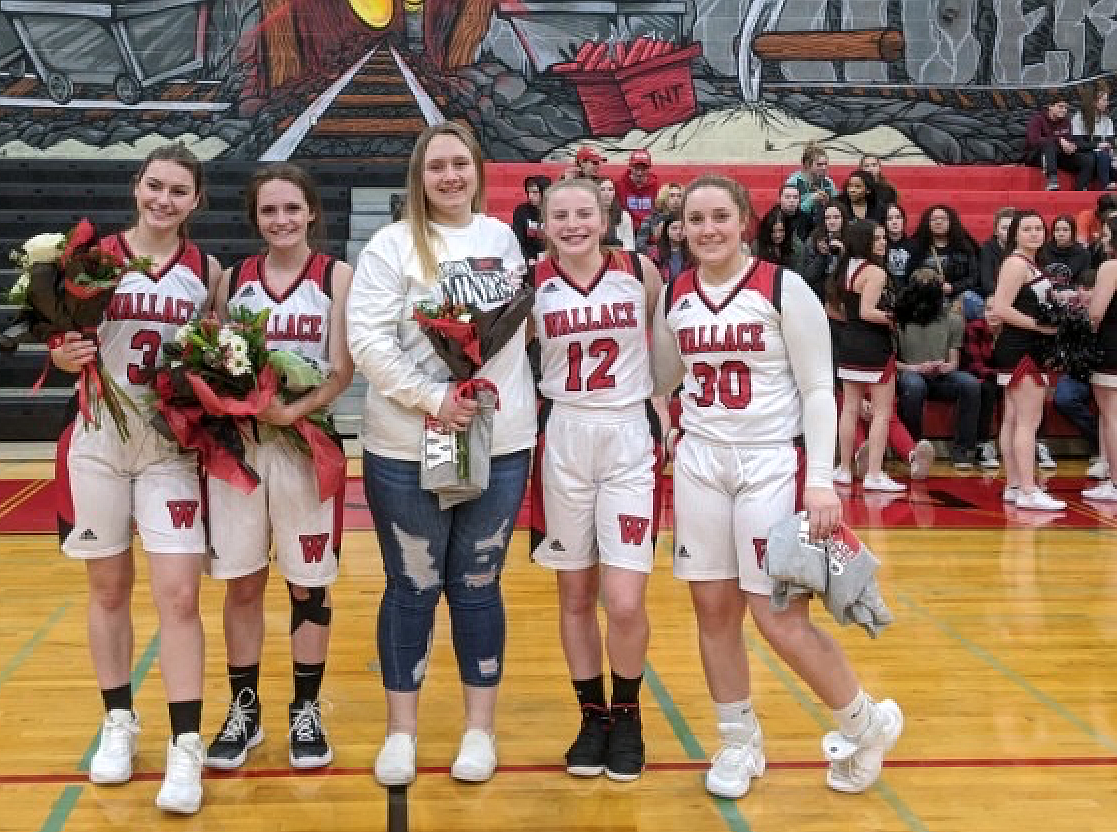 Wallace honored the senior members of the girls basketball team. Pictured from left are Megan Morin, Kailie Lowman, Shianne Stiritz, Sarah Johnson, and Skylar Hill.
Courtesy photo
Previous
Next
|
February 21, 2020 11:42 AM
Dykes' late basket carries Tigers past Kootenai
Mullan girls basketball
MULLAN — As Mullan coach Sherry Leitz describes it, junior Emily Dykes likes to shoot the 3-pointer.
So, in the biggest moment of the season, the coach was a little happy to see the junior change her game a little.
Dykes hit a jumper from 18 feet out with 17.8 seconds remaining to push the Tigers past the Warriors 20-19 in a 1A Division II District 1 play-in game at the Mullan Pavilion.
"For her to go inside, we've been emphasizing that with her," Leitz said. "It was nice to see her get to the spot and hit that shot."
Kootenai took a 19-18 lead on a basket by Jacey Grange with 2:12 remaining.
"Our girls played hard," Kootenai coach Doug Napierala said. "I'm proud of them. They did everything they could to win the game, but didn't come through in the end. We made some huge gains this year, and I'm proud of them.
Grange finished with five points and 12 rebounds, while Sarah Thaut had seven points for Kootenai, which finishes 0-13.
Talowa Fallingwater had 12 points and eight rebounds, Dykes five points, 10 rebounds and four steals and Leah Frazier three points and six rebounds for Mullan (5-11), which faces Lakeside in the opening round of the 1A Division II District 1 tournament tonight at North Idaho College starting at 6.
Kootenai 1 6 8 4 — 19
Mullan 6 1 6 7 — 20
KOOTENAI — Tiller 5, Glessner 0, Addington 0, Thaut 7, Wine 2, Grange 5.
MULLAN — Petit 0, Haig 0, Ringsbye 0, Fallingwater 12, Frazier 3, Dykes 5.
Kellogg girls basketball
Kellogg 57, Bonners Ferry 49: In their 3A District 1 opener on Monday night at Timberlake High School, the Wildcats avenged a recent loss to the Badgers to advance to Wednesday's district championship.
Kellogg (13-7) will face the host Tigers (16-4) at 7 p.m., with the winner advancing to the 3A state tournament. Bonners Ferry (9-12) and Priest River (4-14) square off in Wednesday's loser-out contest.
If the Wildcats fall to Timberlake, they will host the district's second-place game at 6 p.m. Thursday, against the winner of the Badgers-Spartans matchup.
The district's second-place game winner travels to Fruitland for a state play-in game at noon PST on Saturday.
Bonners Ferry 56, Kellogg 48
BONNERS FERRY — No further information was received from the Feb. 6 game.
The outcome left the Wildcats and Badgers tied for second in the Intermountain League; however, Kellogg won a coin flip to claim the No. 2 seed in the district tournament.
Wallace girls basketball
Wallace 51, Lakeside 43
WALLACE — Jaden House scored 13 points for the Miners in a Feb. 4 North Star League win over the Knights at Kirby Krulitz Court. Jolissa Holt scored 11 points and Samantha Adrian eight points for Lakeside.
Wallace jumped on the Knights early and then held on during a near-even final three frames.
Lakeside 7 15 10 11 — 43
Wallace 13 15 11 12 — 51
LAKESIDE — Daniels 0, J. Holt 11, Middleton 2, Adrian 8, Matt 0, Gorr 6, Peters 5, Anderson 5, Allen 0, Marchand 0, A. Holt 6.
WALLACE — Morin 10, Lowman 0, Merrick 0, Johnson 11, Specht 0, House 13, Welch 4, Hill 6, Cielke 0, Hunter 0, Bergem 7.
Wallace 47 Kootenai 13
HARRISON FLATS — Jaden House scored eight of her 13 points in the third quarter as the North Star League champion Miners beat the Warriors on Feb. 6.
"Wallace, they're a solid squad, and we're a pretty young team," Kootenai coach Doug Napierala said. "We're working to get better. We did some good things and saw some things we still need to work on."
Abby Tiller scored five points for Kootenai.
Wallace faces the third-place team from District II in a playoff game on Thursday at North Idaho College starting at 6 p.m.
Wallace 18 8 15 9 — 47
Kootenai 0 3 0 10 — 13
WALLACE — Morin 6, Lowman 0, Merrick 2, Johnson 2, Specht 2, House 13, Welch 6, Hill 7, Hunter 6, Bergem 3.
KOOTENAI — Tiller 5, Thaut 2, Wine 3, Grange 3, Glessner 0, Defoort 0, Addington 0, Donohoe 0.
Mullan boys basketball
Mullan 60, Clark Fork 46
Further information was unavailable.
Mullan girls basketball
Clark Fork (Mont.) 47, Mullan 34
MULLAN — Emily Dykes had 11 points and 12 rebounds for the Tigers, who fell to the Mountain Cats — a co-op of Superior and Alberton high schools — on Feb. 4 at the Mullan Pavilion.
Talowa Fallingwater had eight points, 10 rebounds and three steals and Leah Frazier had 10 rebounds for Mullan.
Clark Fork 16 10 10 11 — 47
Mullan 12 6 8 8 — 34
CLARK FORK — Haskins 12, Caulnta 0, Pereira 10, Patko 6, Kelsey 0, Azure 0, Milender 11, Plakke 3.
MULLAN — Petit 2, Haig 9, Ringsbye 0, Fallingwater 8, Frazier 4, Dykes 11.
Wallace boys basketball
Wallace 59, Kootenai 21
HARRISON FLATS — Logan Hull scored 15 points for the Miners in a Feb 6 North Star League win over the Warriors.
"It was a good game for us," Wallace coach Corey Miller said. "A lot of our guys that have been working hard in practice got a lot of playing time and made the most of it."
Garrett Renner scored 12 points for Kootenai.
Wallace 25 14 13 7 — 59
Kootenai 6 7 4 4 — 21
WALLACE — Tesky 0, Hogamier 9, Goldade 0, Bailey 8, Lo. Hull 15, Denson 12, Lu. Hull 4, Hammerberg 9, Gunderson 2.
KOOTENAI — Little 1, Brewster 2, Reynolds 2, G. Hysell 0, Raudebaugh 0, D. Hysell 4, Renner 12, Coppa 0.
Kellogg boys basketball
Kellogg 52, St. Maries 50 (OT)
KELLOGG — Tyler Oertli had two offensive rebounds down the stretch in overtime, and hit a pair of free throws in the final moments as the Wildcats held off the Lumberjacks in overtime at Andrews Gymnasium on Saturday, Feb. 8.
Kellogg trailed St. Maries 32-21 in the third quarter as the Lumberjacks grabbed nine offensive rebounds in the period.
"It was a really good game," Kellogg coach Jeff Nearing said. "We scored quick to start overtime, and didn't give up any field goals in overtime. We had a couple of chances to ice it in regulation, but some untimely turnovers hurt us. Defensively, St. Maries played really well. Once we got that (rebounding) issue fixed, we clawed back in the fourth and were in the game."
St. Maries fought back from a 46-42 deficit in the final 30 seconds to send the game to overtime.
Graden Nearing scored 17 points for Kellogg, while Randie Becktel scored 13 points for St. Maries.
St. Maries 4 17 15 10 4 — 50
Kellogg 12 7 11 16 6 — 52
ST. MARIES — Sands 9, Ross 4, Becktel 13, Gentry 9, Stancil 5, Peet 0, Gibson 10, Renner 0, Ledbetter 0.
KELLOGG — R. Luna 3, K. Luna 0, Oertli 5, Nearing 17, Miller 11, Walker 0, Jerome 1, G. Luna 15.
• Earlier in the week, the Kellogg boys traveled to Bonners Ferry and recorded a 73-55 Intermountain League win over the host Badgers. Further information was not available.
Kellogg wrestling
Kellogg 66, Priest River 6
KELLOGG — The Wildcats finished out their home schedule and honored their seniors on Feb. 5 during their dominant dual meet performance over Priest River.
Carter Stepro, Travis Lohr, Judson Hall, Kayden Zimmerman, and Mike Senteney all picked up pins for the 'Cats.
"I was pleased with the way that we wrestled on Senior Night," Kellogg coach Scott Miller said. "Our kids pretty much dominated the matches and it was a good way to celebrate the accomplishments of our seniors. It was good to see both Judson and Mike get victories in their last match at home. Unfortunately, Priest River forfeited at 170 so we weren't able to get Austin Stepro a last match, but a good way to finish the home season."
Bonners Ferry Invitational
BONNERS FERRY — The Wildcats finished in fourth place in a competitive field at the Bonners Ferry Invitational last weekend, Feb. 7 and 8.
On opening night of the event the Wildcats knocked off Priest River, but struggled against Lakeland in the dual portion of the event.
The Wildcats had 11 grapplers finish in fourth place or better, including Ethan Guy (120 pounds) and Dakota Eixenberger (113) who were tournament champions.
"I was really pleased with Dakota, Ethan, Wyatt (Hei), Taylor (Stovern), Travis (Lohr), and Brody (Hoffman)," Miller said. "I thought they wrestled really well throughout the day and overcame difficulties to win matches. I'm really pleased for Dakota and Ethan who won their weights. Both were dominating throughout the day and clinched No. 1 seeds for the district tournament.
"Wyatt had an excellent day also and had a big win for us in the semifinals. Taylor wrestled solidly all weekend and went 6-1, only losing to a good senior in the finals. She will be going to the Idaho State Girls Championships this weekend and probably clinched a pretty high seed with this performance. Travis and Brody came back from difficult semifinal losses to dominate on their way to third place. I'm very pleased with their performances."
Team Scores
1-Lakeland 246.5, 2-Bonners Ferry 179, 3-Timberlake 173.5, 4-Kellogg 163, 5-Sandpoint 141, 6-St. Maries 81, 7-Priest River 49
Kellogg Placers
106 - Raymond Heely 3rd Place
112 (girls) - Taylor Stovern 2nd Place
113 - Dakota Eixenberger 1st Place
113 - Wyatt Hei 2nd Place
120 - Ethan Guy 1st Place
120 - Carter Stepro 4th Place
126 - Travis Lohr 3rd Place
170 - Austin Stepro 4th Place
182 - Brody Hoffman 3rd Place
220 - Otto Sharp 4th Place
285 - Robbie Bublitz 4th Place
---