Silver Valley Sports Recap: Feb. 17-23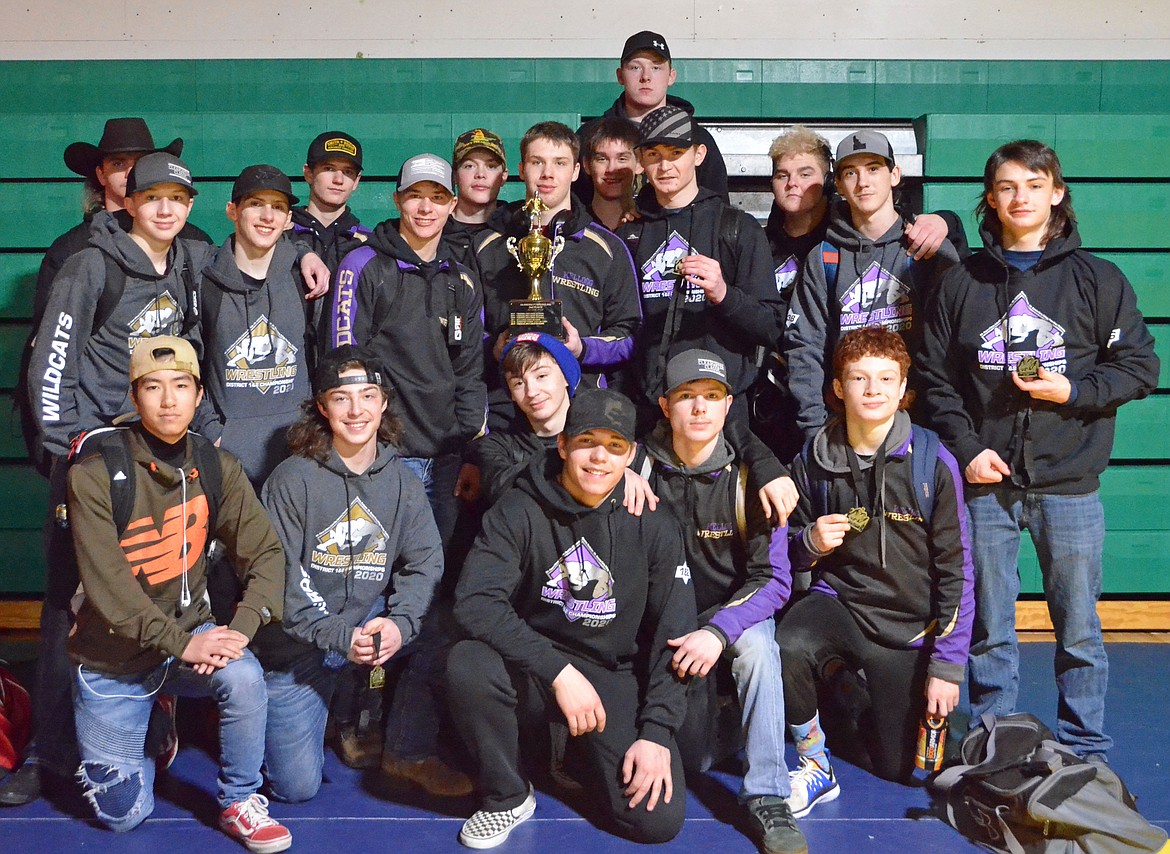 The Kellogg Wildcats hold their second-place team trophy following Saturday's 3A district tournament at Lakeland High School.
Courtesy photo
|
February 25, 2020 11:23 AM
KHS sending 13 wrestlers to state
Kellogg wrestling
District I Tournament
RATHDRUM — Thirteen Wildcat wrestlers qualified for this weekend's 3A State wrestling tournament in Nampa following a second-place team effort at Lakeland High School.
Raymond Heely, Dakota Eixenberger, Wyatt Hei, Ethan Guy, Travis Lohr, Cody Sverdsten, Judson Hall, Kayden Zimmerman, Michael Sentenay, Austin Stepro, Brody Hoffman, Carson Hudson and Robbie Bublitz all qualified for the post season and a shot to being home state gold for KHS.
Kellogg coach Scott Miller is very pleased with his team's efforts in the face of some uncontrollable adversity and is looking forward to this weekend.
"I'm really proud of this team. We battled sickness all week and didn't have the best seeding for the tournament so we knew it was going to be a difficult day," Miller said. "Each kid seemed to embrace the challenge and just kept giving themselves a chance. We're taking 13 hard-nosed kids to Nampa and look forward to wrestling against the best in the state.
"This is a team that has exceeded expectations all season. On paper I guess people don't expect much from this group, but when they get on the mat they do really good things for themselves. They had an excellent dual season and then surprised a lot of people with a solid 2nd place finish this weekend. They are just a fun group to follow."
Eixenberger (113 pounds), Guy (120), Hall (138), and Hudson (220) all were district champions and should have favorable seeds this weekend.
TEAM SCORES
1- Timberlake 299, 2- Kellogg 256, 3- Bonners Ferry 232, 4- Priest River 74
Wallace boys basketball
Wallace boys basketball
St. Maries 70, Wallace 39
WALLACE — Brett Stancil had 19 points and eight rebounds for the Lumberjacks in a non league win over the Miners at Kirby Krulitz Court on Feb. 18.
"We definitely wanted to get the tempo in our favor and thought our guards did a good job of pushing the ball up the court," St. Maries coach Bryan Chase said. "Our posts were getting to the block and going up strong. We did a good job of attacking the basket."
Coleman Ross had 16 points and eight rebounds and Eli Gibson had eight points, eight assists and five steals for St. Maries (15-5), which opens the best-of-3 2A District 1-2 championship series Monday at 6 p.m. at Troy High against the winner of Saturday's Grangeville/Orofino game.
Will Farkas scored 13 points for Wallace.
St. Maries 23 19 13 14 — 70
Wallace 13 14 7 5 — 39
ST. MARIES — Ross 16, Becktel 8, Gentry 6, Stancil 19, Peet 2, Elliott 3, Gibson 8, Renner 6, Ledbetter 0, McMaster 2, Wicks 0, Wolfe 0.
WALLACE — Tesky 2, Richardson 0, Farkas 13, Hogamier 7, Perno 0, Bailey 5, Lo. Hull 9, Denson 3, Lu. Hull 0, Hammerberg 0, Gunderson 0.
Lakeside 67, Wallace 46
PLUMMER — No stats or info were received from this Feb. 19 game.
Mullan boys basketball
Mullan 55, Sandpoint JV 26
MULLAN — Freshman Floyd Nelson hit four 3-pointers and finished with 18 points as the Tigers beat the Bulldog JVII team at the Mullan Pavilion on Feb. 18.
"Floyd was terrific on defense and was doing a good job of taking the ball to the basket," Mullan coach Paul Elston said. "It was a good all around effort tonight."
Sandpoint JV 2 9 5 10 — 26
Mullan 17 12 24 2 — 55
SANDPOINT JV — England 7, Hughes 0, Barlow 3, Johnson 0, Larson 0, Boop 4, Aexel 2, Gove 0, Lish 0, Jiles 0, Dunkel 5, MacDonald 5.
MULLAN — L. Trogden 15, Nelson 18, Hess 6, R. Trogden 7, Galloway 6, Zingler 3, Layton 0.
Mullan 57, Kootenai 33
MULLAN — Junior Riley Trogden had 15 points and led four Tigers into double figures in a victory over the visiting Warriors on senior night at the Mullan Pavilion. The Feb. 20 game was the regular season and North Star League finale for both teams.
Freshman Floyd Nelson hit three 3-pointers and added 11 points for Mullan.
"Riley was solid defensively; he does a good job back there, cleaning up the boards for us," said Mullan coach Paul Elston, whose squad jumped out to a 24-8 lead after one quarter. "We were able to get some steals out of the full-court pressure, and our transition offense worked well for us."
Senior Garrett Renner scored a game-high 24 points for Kootenai.
Kootenai 8 9 7 9 — 33
Mullan 24 7 14 12 — 57
KOOTENAI — Brewster 4, G. Hysell 0, D. Hysell 2, Andersen 0, Renner 24, Zavala 3, Coppa 0.
MULLAN — L. Trogden 11, Nelson 11, Hess 8, R. Trogden 15, Gallaway 10, Zingler 2, Layton 0.
Kellogg boys basketball
KELLOGG — The top two teams in the Intermountain League split their first two meetings ... and after winning their district openers, will break the tie on Wednesday night with a trip to the state tournament on the line.
Kellogg and Timberlake won 3A District 1 semifinals Monday night at Kellogg High School, and will meet at 7 in the district championship Wednesday, also at Kellogg High.
The Tigers used stout defense and strong execution in the fourth quarter to pull away from Bonners Ferry for a 53-40 win in Monday night's second game, after Kellogg handily won the opener, 73-39, over Priest River.
The top-seeded Wildcats shut down the visiting Spartans, opening a double-digit lead in the first quarter and a commanding 39-10 advantage at halftime.
"Defensively, we looked really good in the first half," Kellogg coach Jeff Nearing said.
Graden Nearing had 22 points, five assists and three steals for the Wildcats (15-6), with Gavin Luna adding 14 points and nine rebounds.
Caden Brennan led Priest River (4-15) with 16 points. The Spartans and Badgers square off in a loser-out game at 5:30 p.m. Wednesday at Kellogg High School.
Priest River 4 6 15 14 — 39
Kellogg 21 18 14 20 — 73
PRIEST RIVER — Matthews 2, Butler 0, Hahn 11, Bell 0, Lucas 8, Brennan 16, Thompson 2, Yount 0.
KELLOGG — Bush 4, R. Luna 5, K. Luna 3, Oertli 8, Groves 2, Nearing 22, Miller 4, Saijo-Walker 2, Jerome 9, G. Luna 14, Hoffman 0.
---