Brandt to play for Whitworth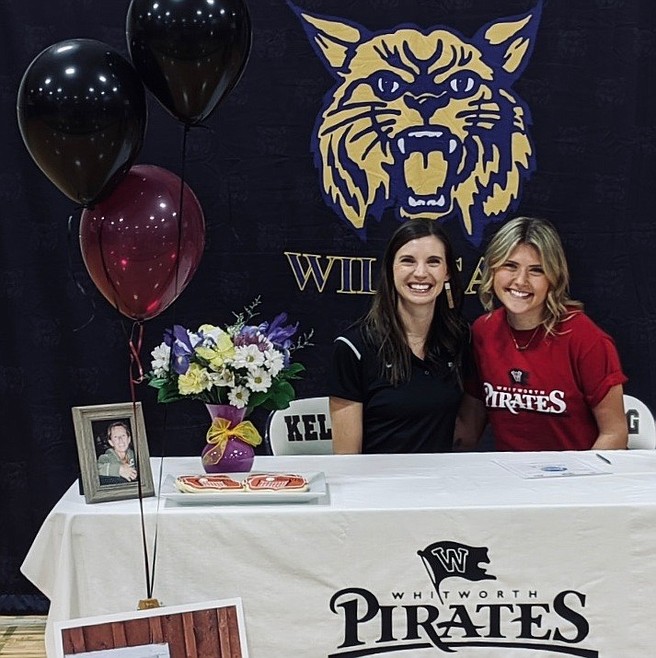 Cierra Brandt (right) sits with Whitworth volleyball coach Kati Bodecker following her signing her letter of intent to play for the Pirates. Brandt was joined by her parents Krista and Jeremy Brandt for the signing.
Courtesy photo
by
Josh McDonald
Staff Reporter
|
February 26, 2020 1:00 AM
KELLOGG — Kellogg High School volleyball standout Cierra Brandt is headed to Whitworth University to continue her athletic career.
Brandt hosted a signing ceremony last week at Kellogg High School with her family, friends, and coaches where she signed her letter of intent and took countless photos to commemorate the event.
The signing comes at the conclusion of a stellar career at KHS where Brandt was a multi-year all-league player and led the Wildcats to back-to-back state tournaments for the first time in decades.
The decision to attend Whitworth came following a campus visit where Brandt, who is admittedly superstitious, immediately felt a connection to the facility, the program, and the coaches.
"I'm a very motivated person when I have my people around me. I wanted my people to be able to come and watch and continue to support me," Brandt said. "When I walked onto the campus I got this very positive feeling in my heart, then I went in and was with the team and it was amazing to experience the team and their vibe. I just constantly had this good vibe while I was there. I knew it was right when I heard the coach give the team a motivational speech and I got really intense goosebumps and I just knew."
The emotional impact of the visit along with the fact that Whitworth is only 70 miles from home made the choice a fairly simple one for Brandt.
Brandt doesn't know what position she'll be playing. Whitworth coach Kati Bodecker is leaving that open for now, according to Brandt, due largely to a big graduating class leaving after this year and positions being fairly open.
After spending the last few seasons battling some health-related issues like endometriosis, celiac disease, and a bout of mononucleosis, all while playing at a high level, finally getting healthy has Brandt feeling like nothing can keep her from achieving her goals.
"These last few years have been great, especially this last season," Brandt said. "Finally getting healthy and being able to play at the level that I knew I could really helped me make my decision."
This hasn't always been the plan, but after cultivating a passion for the sport at an early age and then with her considerable talent, hard work, and a little help from some good genes, she feels like she is ready to tackle the college level.
While attending Whitworth, Brandt will be in the beginning stages of pursuing a career in nursing and hopes to work in cardiac health one day in honor of her grandmother Paula, who passed away following heart complications.
"I will always carry my grandma with me," Brandt said. "Whether it's on the volleyball court or in my post-sports career."
---