Brotherly love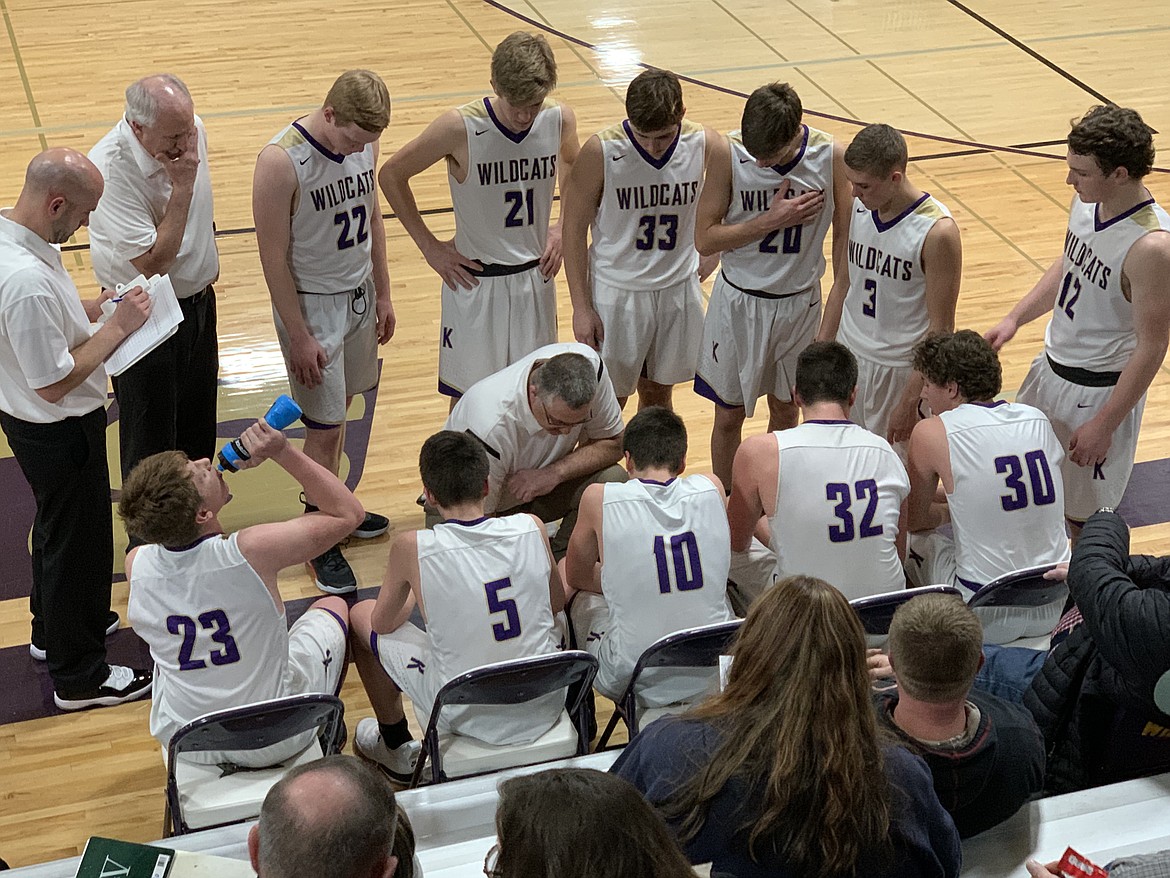 Courtesy photo/ At any given time there may be up to three Lunas (numbers 5, 10, and 32) on the floor, which has led to the term 60% Luna being a commonly used term for Wildcat fans.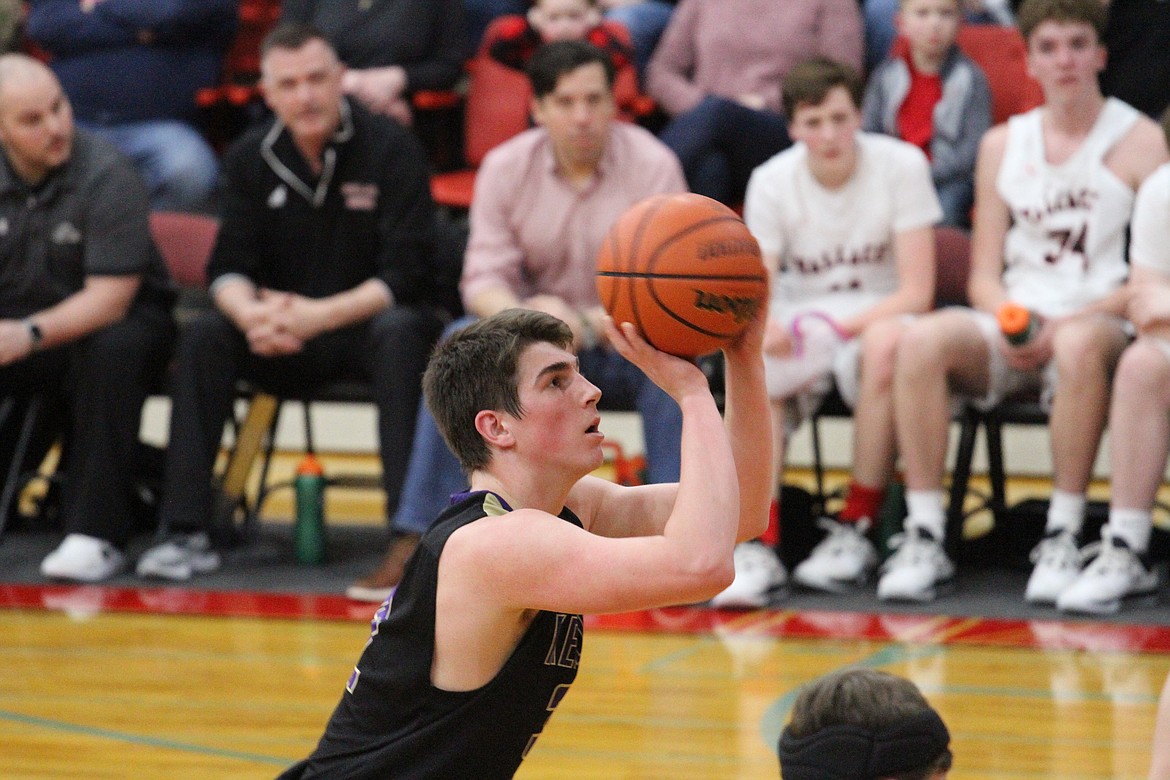 Photo by Josh McDonald/ Gavin Luna has been a major force for the Wildcats for the last three seasons. Along with his twin brothers, the Wildcats have once again found themselves in position to contend for a spot at the state tournament.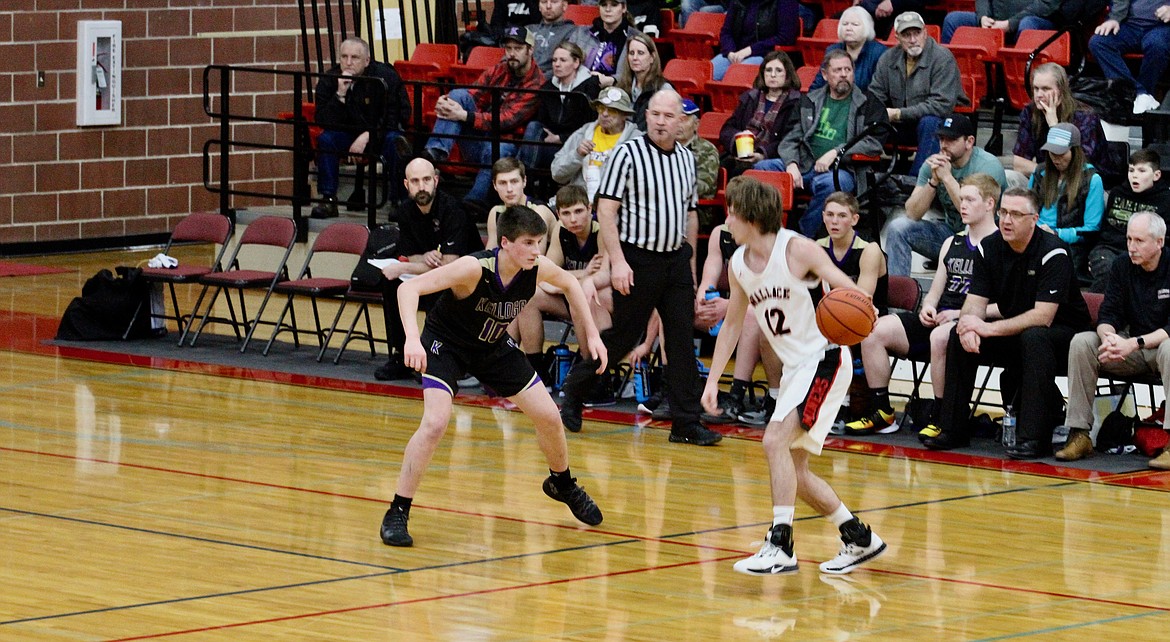 Photo by Josh McDonald/ Kolby Luna has been a vital shooter and wing defender for the Wildcats. His aggressive defense has the ability to completely change the momentum of a game.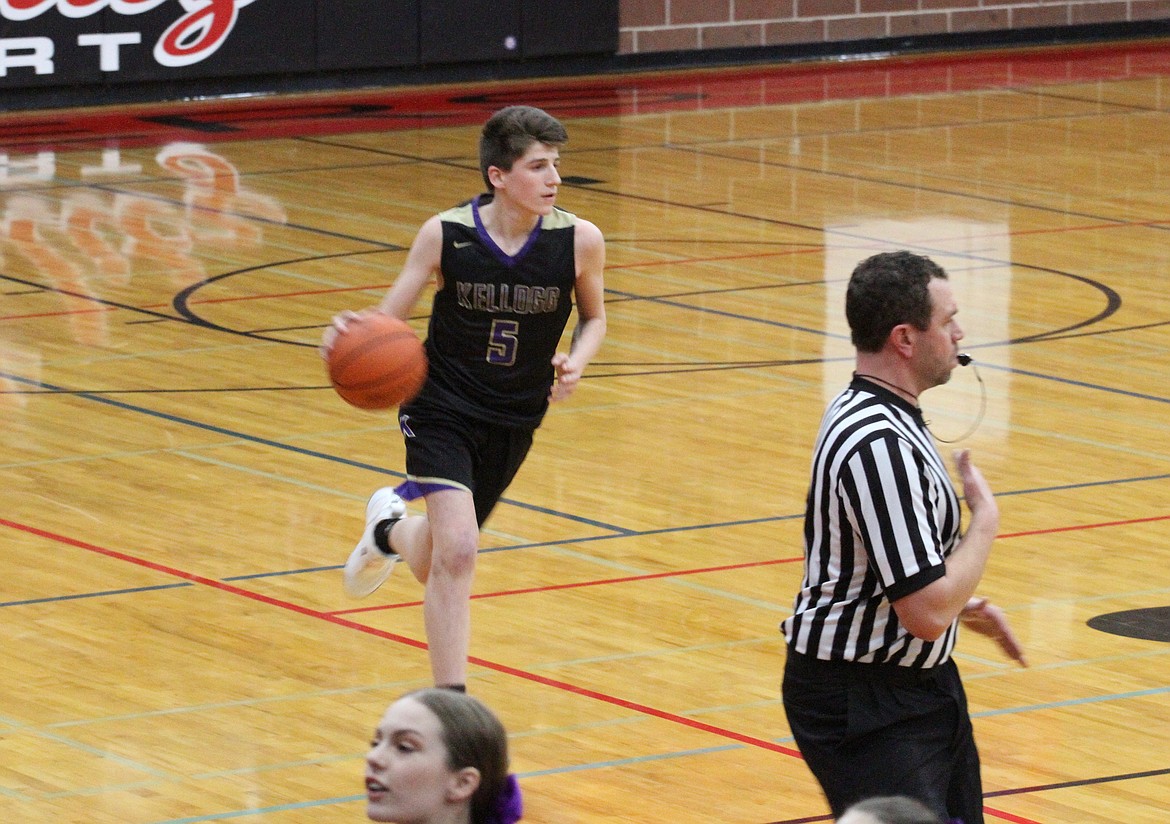 Photo by Josh McDonald/ Riply Luna primarily plays point guard for the Wildcats and is usually found initiating Kellogg's fastbreak.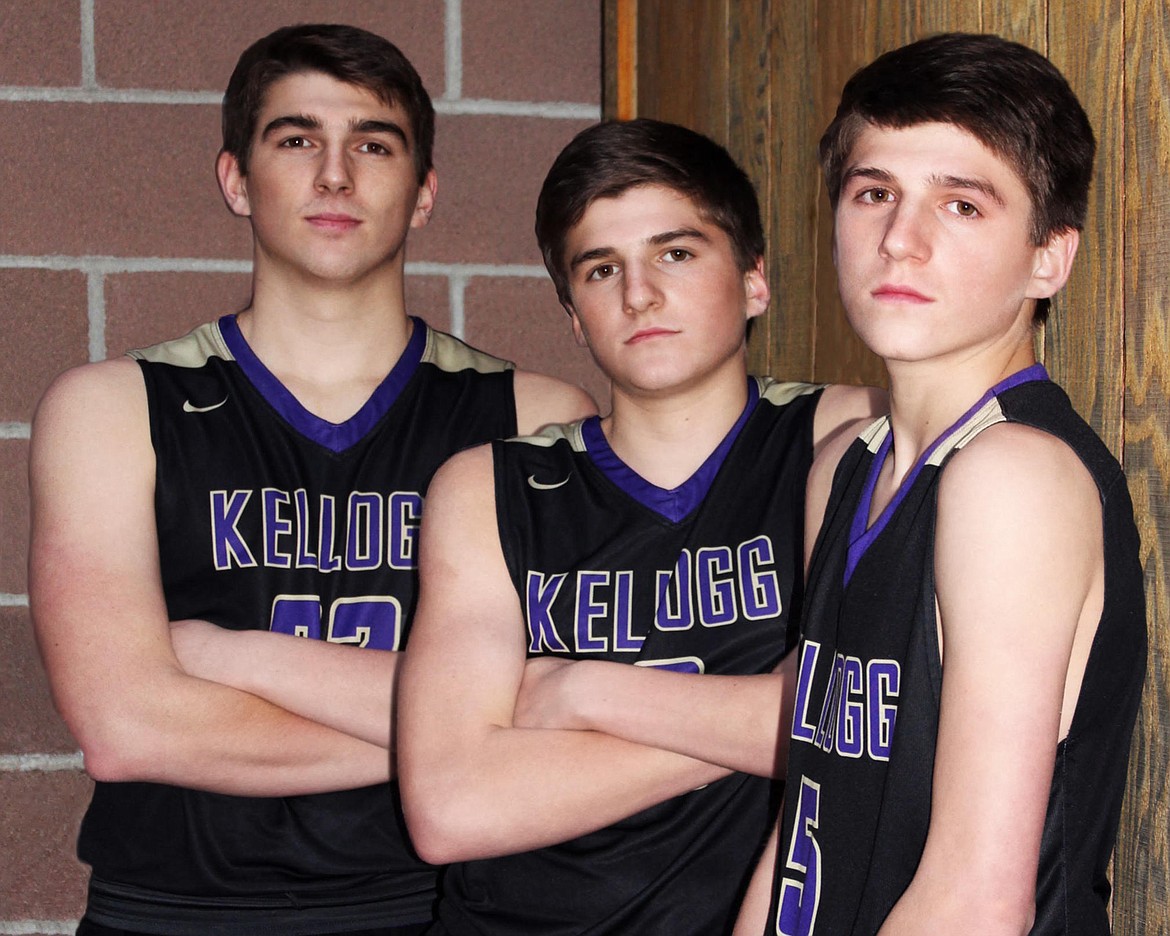 From left, brothers Gavin, Kolby and Riply Luna have had the opportunity to play varsity basketball together this season at Kellogg High School. Together, the trio has become a pretty formidible unit for the Wildcats.
Courtesy photo
Previous
Next
by
Josh McDonald
Staff Reporter
|
February 26, 2020 1:00 AM
KELLOGG — Sibling tandems in sports are not all that uncommon.
From youth sports, all the way up to the highest profile leagues in the country there are examples of siblings playing the same sport, the same league, sometimes even the same team.
Kellogg High School has a rich tradition of sibling and familial legacies within their athletic programs, but this year something rather special is happening inside Andrews Gymnasium.
A trio of brothers have come together for one season only, in hopes of capturing the elusive high school dream of winning a state championship together.
Gavin Luna has been a varsity mainstay for the Wildcats, playing massive varsity minutes since his sophomore season.
Gavin had been a part of some terrific team teams, and cemented himself as a program legend last year when he converted on a 4-point play to send Kellogg to the State Tournament.
While Gavin honed his skills as both a player and a leader, his two younger twin brothers Riply and Kolby Luna, were cutting their teeth at both the middle school level as well as the AAU circuit and had developed into pretty good basketball players themselves.
As incoming freshmen this year, the twins had no aspirations of playing with their older brother on the hardwood, in fact, due to their age they thought that it might be better for them to play a year on the JV team in hopes of actually seeing some action.
In a rotation that featured Gavin at the center spot, and electrifying shooter Graden Nearing as the team's go-to perimeter scorer, the twins didn't want to step on anyone's toes as freshmen.
Due to graduation, Kellogg walked into this season with Nearing being their one established guard player, the rest of the roster looked to be better suited as stretch forwards and centers.
"They kept talking like they wanted to play JV, because they would get more minutes," Gavin said. "I kept telling them, we're going to need you. And not on the bench. We're going to need you guys on the floor."
Needing them may have been an understatement.
One of the twins has started in every game this season, based primarily on situational need.
Riply, a more traditional styled point guard is incredibly capable at initiating and orchestrating the Wildcats' offense, while Kolby plays less at the point and more of a wing.
"We were unsure at tryouts about what team we'd make," Riply said. "We thought about if we made varsity, if we'd be impact players or if we'd be role players, or if we'd get minutes."
While Riply has started in more games than his twin, Kolby has been tasked with being a part of a second unit (both in games and practice) that strikes terror into the hearts of their opposition.
"In practice I'm always matched up on Graden or (Brandon) Miller," Kolby said. "I think it's helped me, not only playing, but to also have the confidence to match up against other schools' better players."
Kellogg coach Jeff Nearing has been around basketball for some time, he's coached siblings, his own kids, and his ability to see players individually has been uniquely tested during his first year with Kolby and Riply.
"You know, I don't think of them as brothers really," Nearing said. "They're three distinct players with very distinct skill sets. There have been a few times in practice where the twins will get into it with each other and it's comical, and there have been some times where they'll go at Gavin until he's had enough, kind of like an older dog and puppies. It usually ends with one or both of the twins on the floor. But they're an absolute pleasure to coach. All three of them are high IQ players and that can only come with experience. I think I only looked at the twins as freshmen for the first month of the season. And Gavin's really been our leader the last couple of years. All three have bought in to what we're doing."
This isn't just about a happy story where three brothers get to play together though, when all three are on the floor (or at 60% Luna as certain broadcasters like to say) good things happen for Kellogg.
Aggressive, hard nosed, physical play, blended with a level of finesse has become a staple for all three of the Brothers Luna, but their demeanor off the court is really what sets them apart.
Gavin is generally pretty stoic, and while his brothers tend not to be as reserved as their older brother, both Riply and Kolby maintain a level of quiet respectfulness due mainly to their age and their desire to make sure their older teammates get their time in the spotlight.
The aspirations to always be at the highest level possible really began for the Luna boys when they were young, when their parents Rick and Crystal, instilled in them a desire to make goals and then actively figure out solutions as to how they could achieve them.
"Riply told us the summer of his fifth grade year that he wanted to play varsity as a freshmen," Crystal said. "I thought it was funny he was thinking about that now. I gave the boys my 'goal without a plan – is just a dream speech' but he set the goal and was willing to work for it, then Kolby bought in, so the age thing hasn't really bothered us because we have been working toward that goal for such a long time."
The Luna family got a sample size of this experience during the fall, but it just wasn't the same.
In today's world of travelling athletics and AAU sports, it was really the first time that they would all be 100% bought in on one single team with a universally shared goal.
"We got to see a little of this on the football field this year but this is great, after years of running around due to opposing schedules, this is as easy as we have ever had it," Crystal said. "It's truly amazing to watch them play together, and it's something that we will remember forever."
Over the years, Kellogg has developed a reputation as a basketball school, where the level of intensity gets taken up a few notches higher than it is for some of the other sports at KHS.
The opportunity to be able to share this as brothers and as a family is not lost on any of them, but the shared experience doesn't lessen the nerves that tend to accompany being a parent in the stands, but it has also led to some quality family time.
"We get nervous for every game and we always have," Rick said. "Regardless of the sport whether it is basketball, baseball, football, wrestling, or track. We are always nervous and excited for our boys. We take lots of photos during the game, and of course watch each Wildcats Live broadcast several times afterwards as a family. The boys give each other a bad time about any mistakes that the other might have made, and certainly like to hit the rewind button to watch their own 'saucy' plays. It's great family time."
Family rivalry is also alive and well between the three and as brothers should, they know each other pretty well.
Who is the smartest: (Twins), "GAVIN!"
Who is the most aggressive: (Gavin and Kolby) "RIP!"
Who is the cockiest: (Riply) "KOLBY!" (as Gavin laughs)
Who is the fastest: (Kolby) "I honestly don't know, Gav's pretty quick, but in the long run probably me or Rip."
Who is Mom's favorite: (Riply) "Kolby! He's the baby." (as Gavin laughs again, and Kolby heavily protests) Kolby is an hour and a half younger than Riply and according to Riply, "It shows."
Who's Dad's favorite: (Twins) "GAVIN!
The regular season is wrapping up as this is being written, but Kellogg Basketball has been defined by what happens in the next two weeks as opposed to the previous three months.
"We wanted to make a run at state together," Gavin said. "I've watched them for a long time, from their travel leagues to everything else. I really felt like they were ready at the beginning of the season and I feel even better about it now. They earned their spots and I'm happy that they're on the team."
For the twins, having their big brother on the floor with them has been the perfect learning opportunity, both from a mental aspect and from a playing aspect.
"It's pretty cool and it's different," Riply said. "It's nice to have someone to go home and talk to about games and practice. What they're seeing and what they want us to do differently. Someone who is actually on the floor with us."
"When you're out there with your brothers, I don't know, you just know them a lot better, we know what each other's thinking," Kolby said. "I'm super confident when I'm out there with Gavin. If I can get him the ball, I'm getting it to him. Playing with my best friends has been my favorite part of this season. You know you can count on them and they'll be where we need them to be."
And while the proud parent moniker tends to be commonly thrown out when discussing high school sports, in this instance the proud big brother might have even more credence.
"Watching these guys develop has probably been the best part of this season for me," Gavin said. "These guys, along with some of our other teammates like KJ (Walker), have really developed and grown. I'm excited to keep watching them."
This year is the convergence for them as a family, with the twins only being freshman and Gavin headed to the University of Idaho in the fall, the boys have soaked it all in and embraced their lone season as teammates on the hardwood and no one is more proud of them than their parents.
"We love seeing them interact together on the court and depend on each other," Crystal said. "The twins have been playing together since YBL so they know each other's movements and tendencies. It's great to see them working with Gavin now, looking to him for leadership, congratulating each other, picking each other up, and looking out for each other. This makes all of the time, travel, car rides, and hotel says for practices, games, tournaments over the years, well worth it."
---