I've got this sinking feeling
County repairs sinkhole on Silver Valley Road
PINEHURST — It was a pretty standard morning for Silver Valley resident Josh Smith last Saturday. He described on his Facebook page that he was on his way to Pinehurst from Smelterville to get a cold Red Bull until he unintentionally discovered what essentially was a small cave forming under Silver Valley Road.
Smith ran over what looked like a small pothole in the road near milepost 46 as he traveled west, but the jolt that was sent through the vehicle just didn't feel right.
After getting out for a closer look, it was clear that this was no mere pothole. From a surface hole with roughly the circumference of a basketball, Smith saw a massive watery sinkhole developing underneath the road that had room enough to easily fit a full-size Volkswagen Bug.
Shoshone County work crews arrived on scene not long after Smith reported the incident and determined the sinkhole was caused by water pushing under the roadway from the neighboring flood plane. It is unknown how long the hole had been forming before it was discovered.
Shoshone County Public Works Director Jim Cason explained that to repair the damage, crews simply tore up the weakened surface asphalt and then filled the hole with more dirt.
Traffic in the area was temporarily reduced to one lane, but has since been opened back up.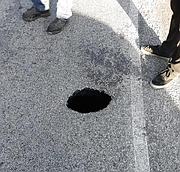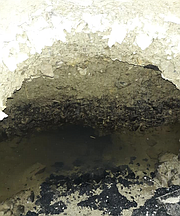 ---