Shoshone Medical Center announces top employee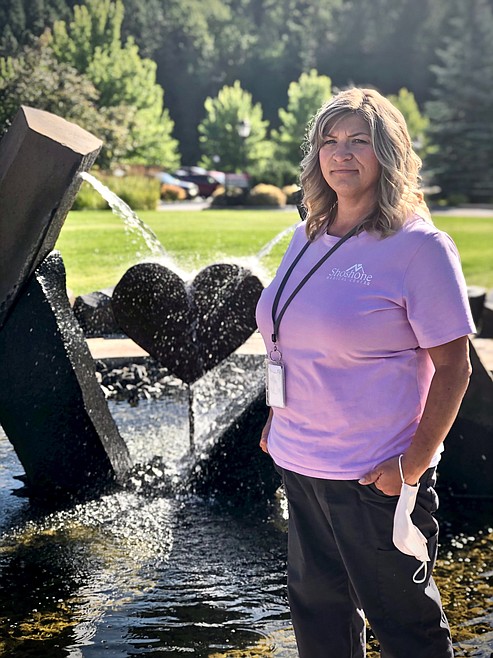 Shoshone Medical Center recently announced Brenda Larsen as its 2020 Employee of the Year. Larsen is a 20-year veteran of Shoshone Medical Center and works in the radiology department.
Photo by JOSH McDONALD
by
Josh McDonald
Staff Reporter
|
July 28, 2020 10:29 AM
KELLOGG — We may only be half way through 2020, but when you're Shoshone Medical Center's 2020 Employee of the Year you know you're doing something right.
Brenda Larsen was recently announced as rural hospital's top employee after several nominations from her peers.
Larsen joked that this was her first award since she won an employee of the month award years ago and has worked for SMC for 20 years.
As a patient service coordinator, she handles things like scheduling, department billing, and much of the clerical work in the hospital's radiology department.
While her interactions with patients may not be the most glamorous aspect of working in a hospital, Larsen enjoys her work and who she works with.
"I love the people I work with, I love working in a small hospital," Larsen said. "I really enjoy helping out our older patients, they're just a lot of fun."
SMC CEO Paul Lewis was thrilled to hear of Larsen's award and spoke highly of her ability to work well with others at the hospital, but also her efforts with patients.
"In addition to her responsibilities here, which she does a great job with, it's also the people part," Lewis said. "She's great with our patients, great with our staff. I think she is really a strong team member and exemplifies our staff standards. We appreciate her and that she's been such a great staff member for so many years."
The award came as a surprise for the normally reserved Larsen, who admitted that she was a little overwhelmed and embarrassed when it was announced that she had won.
With quality employees like Larsen, it's no surprise that SMC continues to successfully serve the residents of Shoshone County.
---