Help 'Close the Divide' with device donations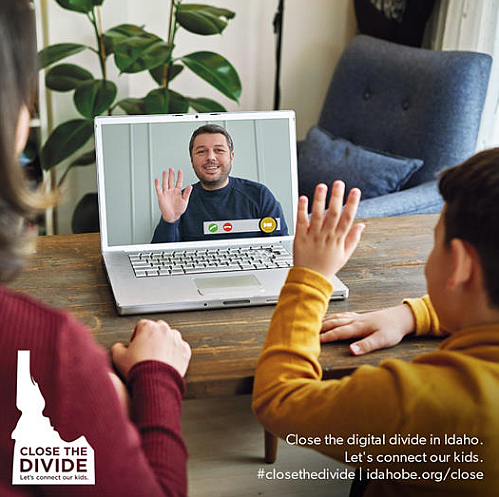 Photo courtesy of IDAHO BUSINESS FOR EDUCATION
by
CHANSE WATSON
Managing Editor
|
July 31, 2020 11:53 AM
KELLOGG — It's like how the old saying goes, "team work makes the dream work."
On Aug. 5, multiple different entities will be combining its resources to host a "Close the Divide" event in Kellogg.
Spearheaded locally by the Silver Valley Economic Development Corporation, Director Colleen Rosson explains that the purpose of "Close the Divide" is to help provide local K-12 students with technology for the upcoming school year.
"Our kids have enough challenges here with the status of our internet and online learning during this pandemic," she said. "Our schools already have a hard enough time trying to meet those needs with the limited funding they have available. If we can assist those schools and make sure our kids have the devices and internet they need to safely complete school this year, we're all in."
Held from 10 a.m. to 4 p.m. at the Shoshone County Fire District No. 2 station, this charitable event is also backed by the Idaho Business for Education group and the Innovia Foundation.
Both individuals and businesses alike are invited by the SVEDC to swing by the firehouse next Wednesday and donate unwanted or unused computers or tablets.
Minimum requirements for a device donation to be accepted would include it having:
• 64-bit x86 processor or equivalent
• At least 2GB of memory (RAM)
• USB port
• Hard drive (4GB or larger)
• Power cord
• Keyboard, Physical or On-Screen
The ideal devices would have:
• Trackpad or Touch Screen
• Wireless Network Adapter with at least Wi-Fi 5 (802.11AC) compatibility
• Webcam
• Noise canceling microphone
• Headset Support
Once collected, the devices will be taken to Coeur d'Alene, where each will be refurbished and be made ready for Silver Valley students to use this fall.
"Any laptops or tablets that can be cleaned and wiped will be given to local kiddos for digital learning," Rosson said.
In addition to helping local schools, donations to the "Close the Divide" event can also be tax deductible.
"It's going to a C3 organization, so I can give them receipts to get that deduction," Rosson said.
The IBE started the "Close the Divide" campaign in an effort to meet a serious need with students in Idaho.
A survey by the Idaho State Board of Education of local school districts shows that nearly 200,000 students do not have a computer at home and at least 30,000 do not have internet access.
"If we do not 'Close the Divide,' these students who don't have these learning tools will not have an equal opportunity to learn should the COVID-19 virus force students to learn part of the time or all of the time at home," said IBE President Rod Gramer. "It is imperative that we get these resources to students for the 2020-21 school year."
With the COVID-19 pandemic looming over the coming school year, having working technology for students is more important than ever.
"We'd like to challenge everybody to do this," Rosson said. "If you're a business that's looking to upgrade your devices, you can donate your old stuff and have that be tax deductible."
"I'm asking that everybody really dig deep and think about devices that you can donate," she added.
If you'd like to donate to the cause, but can't make it out to Kellogg, contact Rosson at director@silvervalleyedc.com and she can organize a time to come pick up the donation. If monetary donations are easier, Rosson can also assist with that process.
SCFD No. 2 firehouse is located at 911 Bunker Ave. in Kellogg.
---