SNP rolls out 'Best of the Silver Valley'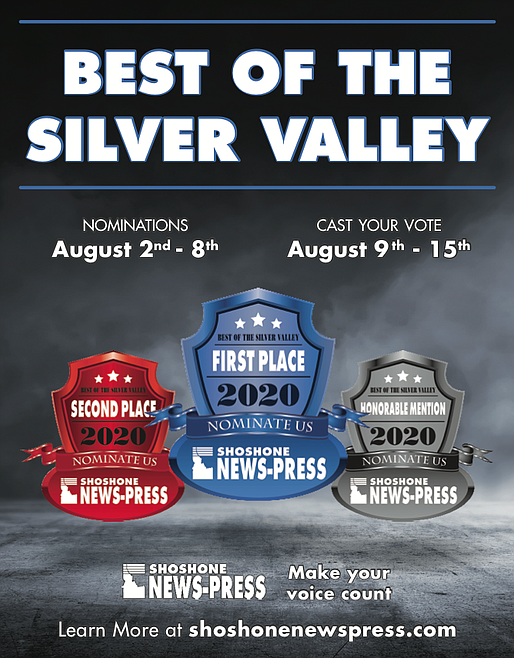 by
Chanse Watson
Managing Editor
|
July 31, 2020 11:10 AM
OSBURN — The Shoshone News-Press is launching the "2020 Best of the Silver Valley" contest this Sunday, Aug. 2. We're encouraging our readers, local business owners, managers, staff and supporters to visit the "Best of the Silver Valley" platform at https://shoshonenews-press.secondstreetapp.com/Best-of-the-Silver-Valley-2020/ to nominate your favorites in eight different categories.
These categories include: Recreation, Sips and Swigs, Chow Time, Shoshone Roots, Health and Beauty, Valley Celebs, Local Business and Automotive. The nominating period ends on Saturday, Aug. 8.
The voting period will begin on Aug. 9 through Aug. 15, and the winners of each category (first place, second place and honorable mention) will be announced in our "Best of the Silver Valley" publication on Aug. 28. In order to be included in the voting, a person or place MUST be nominated first, so don't forget to write-in your favorite nominees!
Publisher Keri Alexander is incredibly excited to launch this inaugural contest.
"It's a great opportunity for local businesses to connect with their employees and customers and build excitement for the possibility of being recognized by members of our community," she said.
Alexander has been involved with "Best of" contests during her long tenure at the Coeur d'Alene Press and she believes that it has given local businesses a real boost in morale, as well as sales profit.
"Bringing attention to local businesses, unique attractions and celebrating locally made products creates commerce and longevity to the business economy," she said.
While it is a competition, Alexander feels that it benefits every business, attraction and person that will be nominated.
Visit our website at shoshonenewspress.com on Sunday and nominate your favorites. To learn more about marketing opportunities to promote your business during the nomination and voting periods, please call our office at 208-752-1120.
---