Go check out your Silver Valley baseball team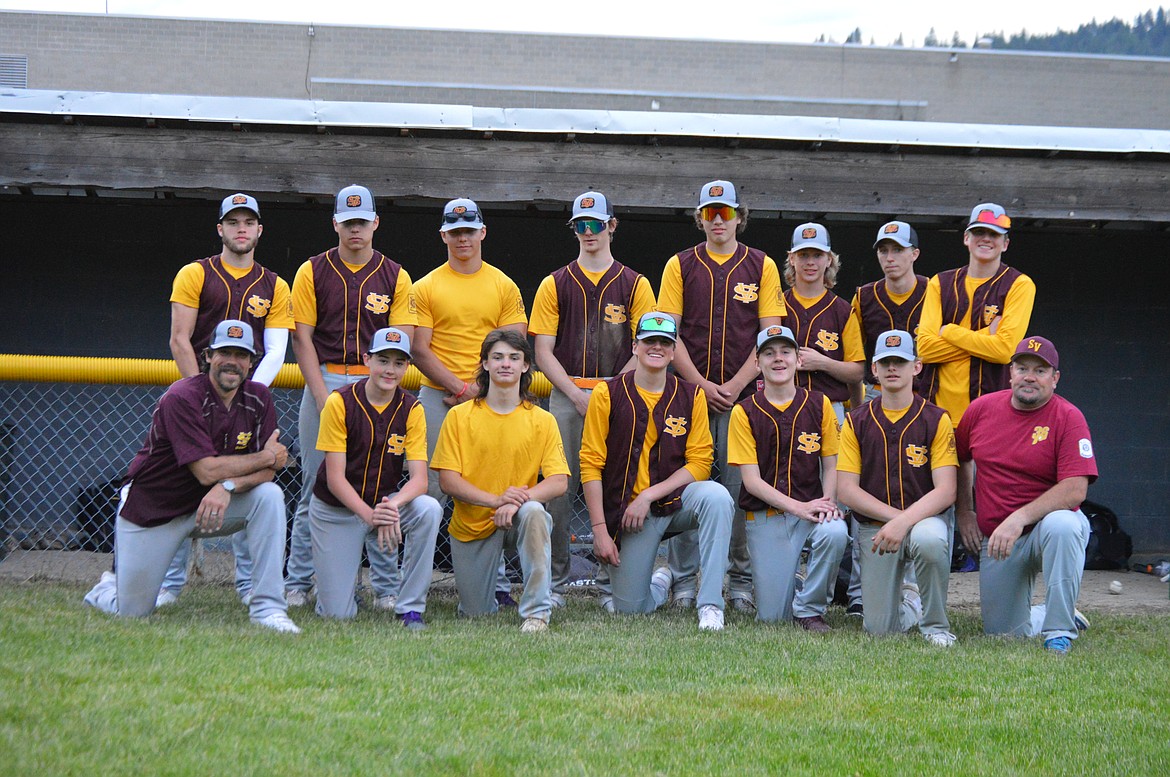 The Silver Valley Baseball Club. Pictured (from left) back row: Tony Stanziano, Brody Hoffman, Brayden Hoffman, Luke Frolich, Logan Jerome, Ramsey Rainio, Levi White and Riply Luna. Front row: Head Coach Barry Larson, Travis Eixenberger, Travis Lohr, Kolby Luna, Reed Whatcott, Parker Neff and Assistant Coach Nate Whatcott.
Courtesy photo
by
JOSH MCDONALD
Staff Reporter
|
June 17, 2020 2:39 PM
OSBURN — Spring sports may have been lost due to COVID-19, but nothing is slowing down the Silver Valley Baseball Club.
The squad opened up its season recently and is really showing some growth despite being one of the younger teams in the league.
"We're coming along well," said Head Coach Barry Larson. "The kids are starting to figure some things out and things are starting to click. We've come pretty far in a short time already."
Playing baseball in North Idaho can be challenging enough without being in the middle of a pandemic, as the weather still hasn't gotten to the point where it's consistently playable.
After several long months off, and really very little preparation for his players, Larson is working his squad back into playing form by going back to the fundamentals of the game and cultivating a love for the sport.
Larson is also pleased with the level of support both he and the team has received.
"We're young and we don't have as much experience as a lot of teams do, but we're out here working hard and learning where everyone's strengths really are," Larson said. "We have a lot of parents who have stepped up to help which is great, Nate (Assistant Coach Nate Whatcott) has done an excellent job for us as well."
The team is 1-3 to start the season, which, while not impressive to the naked eye, has Larson pretty pleased with his team's growth.
"We got thumped pretty good in our first game," Larson said with a chuckle. "But we have improved and in the game that we won, the score was like 3-2, so we had to pitch well and play defense. It showed that we had grown as a team."
Wins and losses are fun to keep track of, but for Larson there is a lot more to what he and Whatcott are teaching than just Ws and Ls.
"Obviously competing is a big part of playing a sport, but I think we are most happy with being able to get out and play," Larson said. "We have kids from all over the valley on this team and we're excited to be able to give them the opportunity to go out and compete."
The Silver Valley Baseball Club remaining schedule is as follows:
All games are double headers, so the listed time is the first game, and all home games are played at Morehouse Field in Osburn.
• June 18, vs. Sandpoint — 4 p.m.
• June 21, vs. Orofino — noon
• June 25, at Moscow — 4 p.m.
• June 29, at Grangeville — 3 p.m.
• July 2, at Coeur d'Alene High School — 1 p.m.
• July 6, at Orofino — 3 p.m.
• July 8, at Sandpoint — 3 p.m.
• July 10, vs. Camas Prairie — 3 p.m.
• July 14, at Sandpoint — 3 p.m.
• July 17, at Lakeland — 3 p.m.
• July 19, vs. Moscow — 1 p.m.
---