Another major add for SMC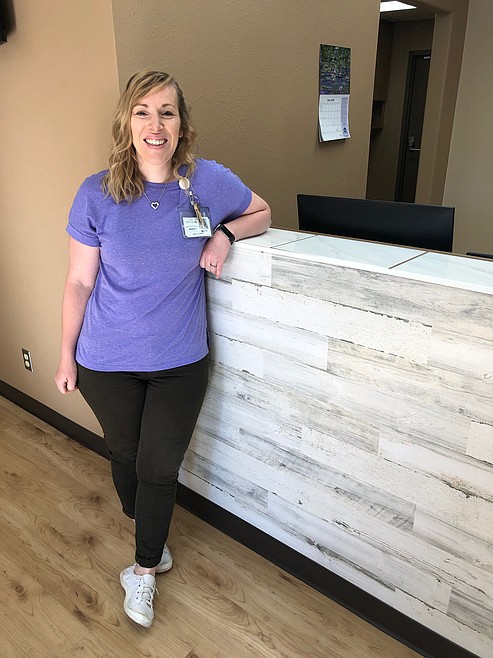 Shoshone Medical Center Social Services Manager Meghann Johnson is managing SMC Support Services, the hospital's new mental health addition to the ire growing list of services.
Photo by JOSH McDONALD
by
Josh McDonald
Staff Reporter
|
June 23, 2020 9:11 AM
PINEHURST — Shoshone Medical Center has added yet another service for the Silver Valley community with the addition of SMC Support Services.
Under the guidance of licensed clinical social worker and SMC Social Services Manager Meghann Johnson, the facility is now accepting patients and focusing on the mental health of Shoshone County's residents.
Focusing specifically on psychotherapies (mental health counseling), including individual counseling and family counseling, serving all ages of people.
Johnson also handles crisis work in SMC's emergency department as well, which falls right in line with her work at the new office in Pinehurst.
Crisis work in the ED basically has had her working with patients to make sure that they have resources available to them so they can remain stable upon discharge, assess for needs, and even do home visits when necessary to make sure that patients were able to get what they were in need of.
Johnson's work in the ED has really prepared her for her new role, even though she wasn't originally expecting what her new position would entail.
"I interviewed for the position and didn't know that all of this was part of the job," Johnson said. "When they talked about opening this place up I was like, let's do this."
Several different agencies that provide counseling services have opened and closed shop in Shoshone County, so this new addition is one that is welcomed, needed, and one that Johnson is incredibly passionate about.
"We just have a huge lack of resources here when it comes to mental health," Johnson said. "We have been open for a short time, we haven't advertised or anything, but we have a ginormous waitlist to get in here. We can't keep up, we need the services, we need the social workers."
With the expansion of Medicaid in Idaho, there are a lot more people who now qualify to receive services, including mental health, which makes the timing of the new facility very important for Shoshone County.
"People are trying to get these services that they've never had access to before," Johnson said. "I think Shoshone Medical Center is trying to look at the community they serve and ask themselves, what do we need? And this was what we really needed here."
SMC Support Services is located at 107 Church St. in Pinehurst, and is open Monday, Wednesday and Friday from 10 a.m. to 5 p.m.
---