Babe Streeter tourney goes off without a hitch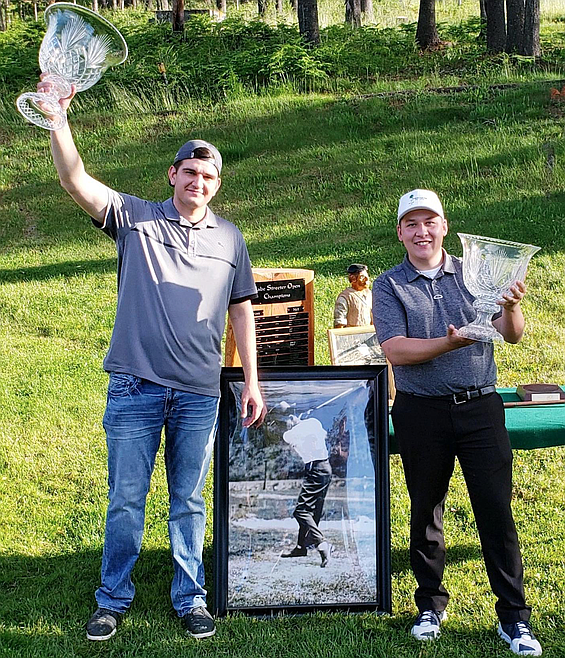 The gross overall winners of the 26th Annual Babe Streeter Tournament were Trevor Fedele and Daniel Sommerfield, who finished with a total score of 134 for the weekend.
Courtesy photo
by
JOSH MCDONALD
Staff Reporter
|
June 23, 2020 9:11 AM
BIG CREEK — This past weekend may have had some crazy weather, but it didn't stop the 26th annual Babe Streeter Tournament at Shoshone Golf Club.
The tournament is a two-man best ball tournament where each player on the team plays his or her own golf ball throughout the round. After each hole, the player with the lowest score on the hole (or "best ball") out of the two-person team serves as the team's score.
Teams from around the Silver Valley, Coeur d'Alene, and even Missoula entered into the tournament, which honors Shoshone County legend Babe Streeter.
Wallace's Lew Walde hit the opening drive and the event was on.
The two-day tournament wasn't without a few festivities during the intermission, including the highly prestigious horse race that was won by Corey Beaver and Taylor Hulstrom, Beaver also won the long-drive competition.
Tommy Pouttu, a longtime friend of Streeter and also the long-drive sponsor, was thrilled with the event and believed that his friend would've been proud with how it went.
The gross overall winners were Trevor Fedele and Daniel Sommerfield with a total score of 134 for the weekend, while the overall net winners were Robert Paul and Pat Kenyon with a net score of 123 for the weekend.
Kenyon has been a staple of the event, playing in all 26 editions of the tournament.
"It was our first time running the Babe and we couldn't be happier with the turnout," said Club managers Jason Waters and Hunter Gust. "We are always happy to do whatever we can to make it a beautiful day at Shoshone."
Gust and Waters would also like to thank their sponsors, Wallace Brewing, Silver Valley Tire, Nasco, Flame Heating and Cooling, Loving Care and More, McGillivray Environmental, Rossi Insurance, Hecla Mining Company, Hayman's Auto Body and Ace Hardware for providing the crystal trophies.
They would also like to give a special thank you to Rich Northcutt — course superintendent and all the proud members who volunteered their time last week to get the course in excellent shape.
---