Silver Bridge weight limit reduced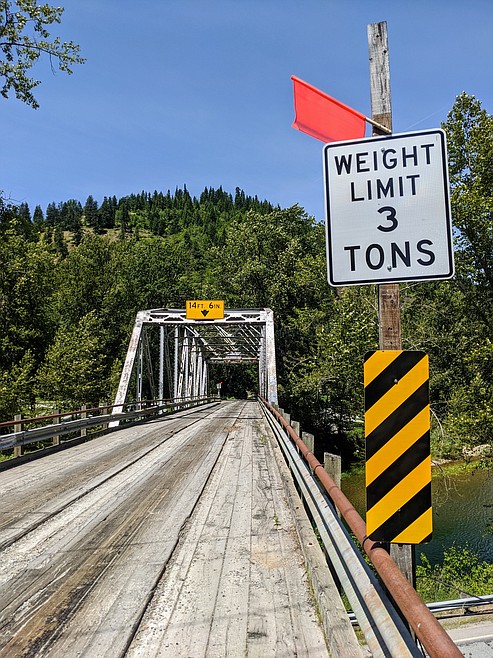 New signage posted on both sides of the Silver Bridge in Kingston warns motorists of the new 3 ton load-limit that was imposed by ITD on June 23. The bridge is slated to be closed on July 6 for one week while repairs are made.
Photo by CHANSE WATSON
by
Chanse Watson
Managing Editor
|
June 26, 2020 12:15 PM
Temporary closure slated for early July
KINGSTON — The iconic Silver Bridge that greets visitors to the North Fork of the Coeur d'Alene River and allows easy access to Old River Road may be on its legs if something isn't done soon.
On June 23, officials with the Idaho Transportation Department informed Shoshone County that their latest inspection of the bridge discovered multiple critical issues with its structural integrity. These issues are so severe that ITD has once again lowered the load-limit on the bridge to its lowest rating of 3 tons (or 6,000 pounds).
"On this last inspection, we're starting to see some continued decay of the timer support structures underneath the bridge and crushing of where that wood goes into the ground," said Megan Sausser, ITD public information officer. "That's pretty serious and that's what prompted us to drop it from 5 tons to 3 tons."
To get a better idea of what a 3-ton load looks like, a new 2020 4-door Chevy Silverado LT Trail Boss (with no added weight, such as gear or occupants) weighs in at 5,105 pounds, a 4-door 2020 Subaru Outback Ltd by itself clocks in at 3,730 pounds, and an average empty camper-trailer can be as heavy as 5,200 (but this can fluctuate wildly depending on the model).
What this new weight limit does is essentially rule out any large trucks, large SUVs, semi-trucks, large emergency vehicles such as fire trucks or ambulances, and heavy equipment (especially if they are weighted down with extra cargo) from using the bridge.
The bridge itself was constructed in 1930 and was expected to have a 50-year life span. It's safe to say that it has certainly exceeded that expectation.
To really put things in perspective, the ITD inspection team on June 2 gave the bridge an overall rating of 2 out of 9 on the National Bridge Inventory scale and also discovered a woodpecker family living in one of the support beams.
With the age of the bridge, Sausser states that this recent load downgrade should not have been a surprise to anyone at the county.
"It is well documented that this bridge has been fully decaying," she said.
Shoshone County Public Works Director Jim Cason explains that plans are already in the works to fix some of the most glaring issues found on the bridge.
"We have to go through that list of things they found during their inspection and anything that was marked as critical, we have to try to do some type of maintenance on it," he said.
With the help of an engineer that the county has hired, work crews plan to close down the bridge completely for a week starting on July 6 to conduct repairs. This July 6 date was set to avoid the heavy traffic around the Fourth of July holiday.
As of now, crews are expected to remove rotting wood on the bridge deck, repair aging piling, and replace three main supports. It is possible though that once the work is underway, more damage could be discovered and require additional repairs.
Once this work is done, ITD will come back to reexamine the bridge to see if its weight limit can be increased. Cason hopes to get the limit up to 4 tons per axle — or 16,000 pounds.
In the interim, Cason's main concern is certain vehicles or trailers having an accident.
"These big campers that are going across it, they are so far overrated that they could potentially fall through and get someone hurt," he said.
Shoshone County is currently in talks with the Local Highway Technical Assistance Council to possibly fund a brand new bridge in the future. Currently, the county does not have the estimated $8,000,000 in funds that would be needed to fund such an endeavor.
The 3-ton load-limit imposed by ITD is the lowest limit it sets. If the problem isn't rectified, ITD's next step would be to close the bridge.
For vehicles that do not meet the current weight limit, but are looking to cross the river in that area, they would need to drive further down Coeur d'Alene River Road and cross at the Bumblebee bridge.
For questions or further information, contact the Shoshone County Public Works Department at 208-753-5475.
---