SNP NOW! Podcast celebrates 1-year anniversary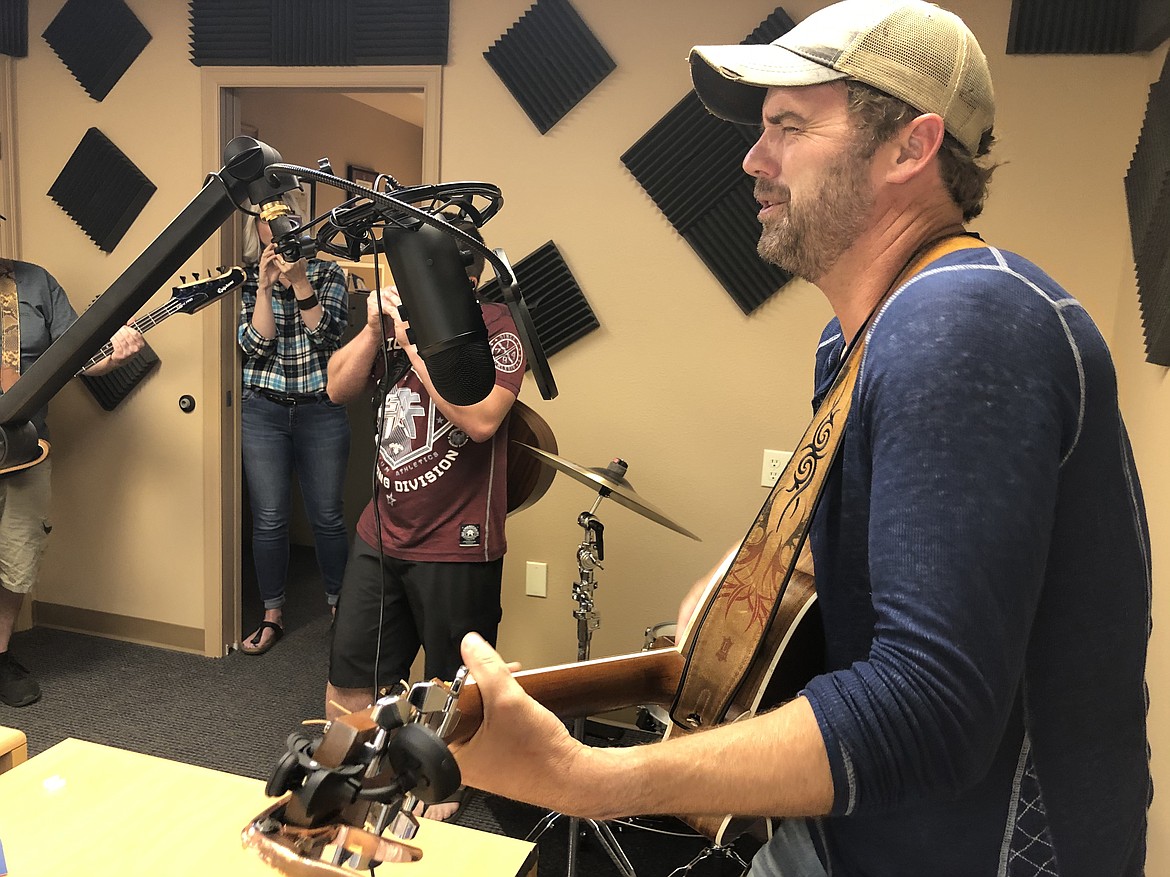 Sverwood frontman Rusty Wood belts out the chorus of "Piano Man" during the band's interview and mini-concert on the SNP NOW! Podcast.
Photo by JOSH McDONALD
by
Keri Alexander
|
June 26, 2020 12:15 PM
Hosts musical guest 'Sverwood' to commemorate milestone
OSBURN — The SNP NOW! Podcast celebrated its 52nd episode this week with a special interview and musical performance by local band Sverwood.
After launching in early July 2019, the official podcast of the Shoshone News-Press has covered everything from local events, politics, to sports and feel-good stories.
"We've certainly had a wide range of guests on our show," said Managing Editor Chanse Watson. "Josh and I have been very lucky to sit down and chat with a lot of these people."
Hosted by Watson and Staff Reporter Josh McDonald, the SNP NOW! Podcast has seen tremendous growth in its short existence and boasts some impressive listenership numbers.
As of Thursday, it has approximately 2,500 subscribers and hundreds of listeners from all over the world.
On Apple Podcasts, listener Sarah Birkbeck explained in a review that she loves keeping up with the news from her hometown while she lives overseas.
"Podcasts are my favorite medium for information," she said. "Being able to keep up with current events and goings-on in my beloved Silver Valley while living abroad in the U.K. makes my heart happy!"
To commemorate the momentous 1-year anniversary, the SNP NOW! team brought in the insanely popular local band Sverwood (pronounced like severe – wood) to lay down some jams in the studio and be the podcast's first musical guests.
Sverwood has been playing together for a few years after friends Chris Sverdsten and Rusty Wood (Sver-Wood, get it?) began covering songs together.
After a couple years as a two-man show, they added Greg "Wheels" Breazeal to come in and play bass guitar for them, as well as sing.
Wood, a singer and guitar player, and Sverdsten, who also plays guitar and seemingly does a little bit of everything (including playing a killer harmonica), decided roughly three months ago that they needed to add the final piece to their band and that's where drummer Barry Barckley came in.
"We brought Barry in just recently," Wood said in the Episode 52 interview. "We're slowly building up into a real band."
Covering songs can be tricky, but this group seems to have found their niche in the bluesy-rock and country realm, making them a perfect fit for the region's musical tastes.
"We're a cover band, we want to play stuff that people like," Wood said. "We play a lot of country, everything from the '60s up to modern. Songs that people recognize."
Playing music locally can be a challenge due to the difficulty in finding venues and events, as well as staying fresh so people don't get (for lack of a better word) bored with your act. Because of this, the group is constantly adding covers to their musical repertoire.
Each member of the band shares a pretty diverse perspective as to what they enjoy most about playing.
"Personally, my favorite part," Sverdsten said. "It's a dive bar most of the time, and you're playing your heart out and you see some people you don't know, like five or six people walk in and it gives you that exhilaration and rush. My lead guitar gets so much better right then."
"When you see people jump on the dance floor, that's when our night starts," Wood added.
For Wheels, a self-admitted introvert, it's almost a spiritual thing to be up on stage.
"I'm up on the stage, I close my eyes and feel the music and it just hits my soul," he said.
The band plans to stay busy this summer and will be playing a few small local gatherings, but make sure to follow their Facebook page to stay up to date on all of their upcoming shows.
To hear just a small taste of their work, check out Episode 52 of the SNP NOW! Podcast by visiting https://snpnow.buzzsprout.com/ or subscribe to the show on your favorite podcast library, such as Apple Podcast or Spotify.
---