SCSO holds drug enforcement emphasis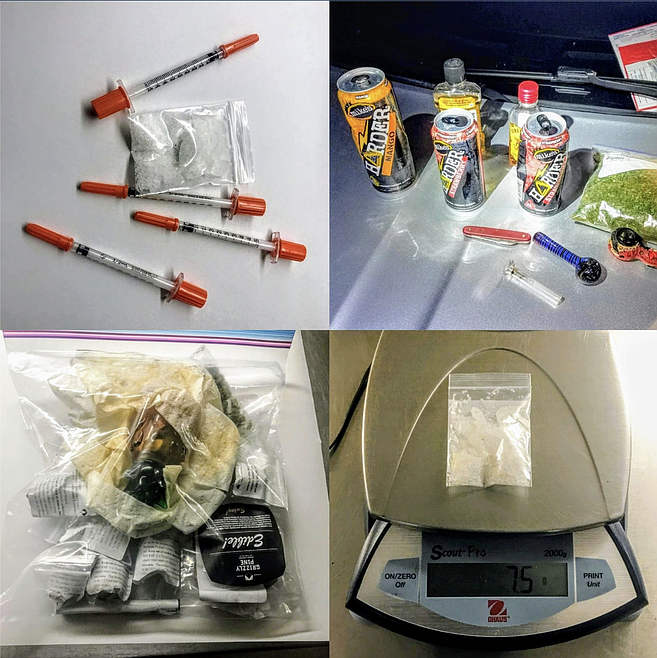 Clockwise from upper left: Needles and a baggie of methamphetamine seized Friday night during the Shoshone County Sheriff Office's west-end drug emphasis; A large amount of marijuana and several open containers of alcohol; Another baggie of methamphetamine found by law enforcement; Marijuana and drug paraphernalia.
Photos by the SHOSHONE COUNTY SHERIFF's OFFICE/
by
Chanse Watson
Managing Editor
|
June 30, 2020 10:20 AM
Operation yields drug seizures, felony arrests
SMELTERVILLE — The Shoshone County Sheriff's Office had an eventful Friday night last week, as they and other assisting agencies conducted a special emphasis operation that focused on drug crime.
Specifically focused on the west end of the Silver Valley, Shoshone County Sheriff Mike Gunderson explained that the emphasis on June 26 had almost all-hands on deck.
"Everybody was available," he said. "Summer is in full-swing, so we figured we better get out there."
With the help of personnel from the Osburn Police Department, Idaho State Police, Idaho Fish & Game, U.S. Forest Service, and the Bureau of Land Management, lots of ground was covered from Cataldo to Kellogg.
Among the many SCSO deputies involved, the emphasis also was able to utilize both of the agency's drug detection K-9s — deputy Lulu with handler Ben Abshire and deputy Midnight with handler Darius Dustin.
These two were kept busy throughout the night, as law enforcement conducted a total of 48 traffic stops and needed K-9 deployment on 10 of them. Of those 10 K-9 deployments, six yielded positive alerts, indicating the presence of illegal substances in that particular vehicle.
In total, the six-hour emphasis from 5 to 11 p.m. yielded nine arrests — four for felony drug charges, two for felony warrants, one for DUI, and two for misdemeanor drug charges. With the arrests also came multiple seizures of various amounts of illegal drugs such as heroin, methamphetamine, miscellaneous prescription pills, and marijuana.
Gunderson stresses that this wasn't the first time law enforcement has dealt with the specific individuals who were arrested Friday night.
"These are people that have been popped multiple times in our community for felony drug violations," he said.
This emphasis was the second held by SCSO this year, with the first occurring on Memorial Day weekend and focusing on DUIs/illegal parties.
Holding these types of operations allows most on-duty deputies to focus on specific places and types of crime, as they don't have to worry about responding to normal calls for service in other places (these calls are covered by another designated deputy).
"We just want to make sure that we're getting out there and the public sees us picking out certain areas in these communities that we get complaints for," Gunderson explained. "It's more of a community action response and trying to take the drugs off the streets."
The Shoshone County jail bookings for June 25-28 can be found at https://shoshonenewspress.com/news/2020/jun/29/jail-bookings-june-25-28-8/ or inside the June 30 print edition of the Shoshone News-Press.
---