The Pride of Kellogg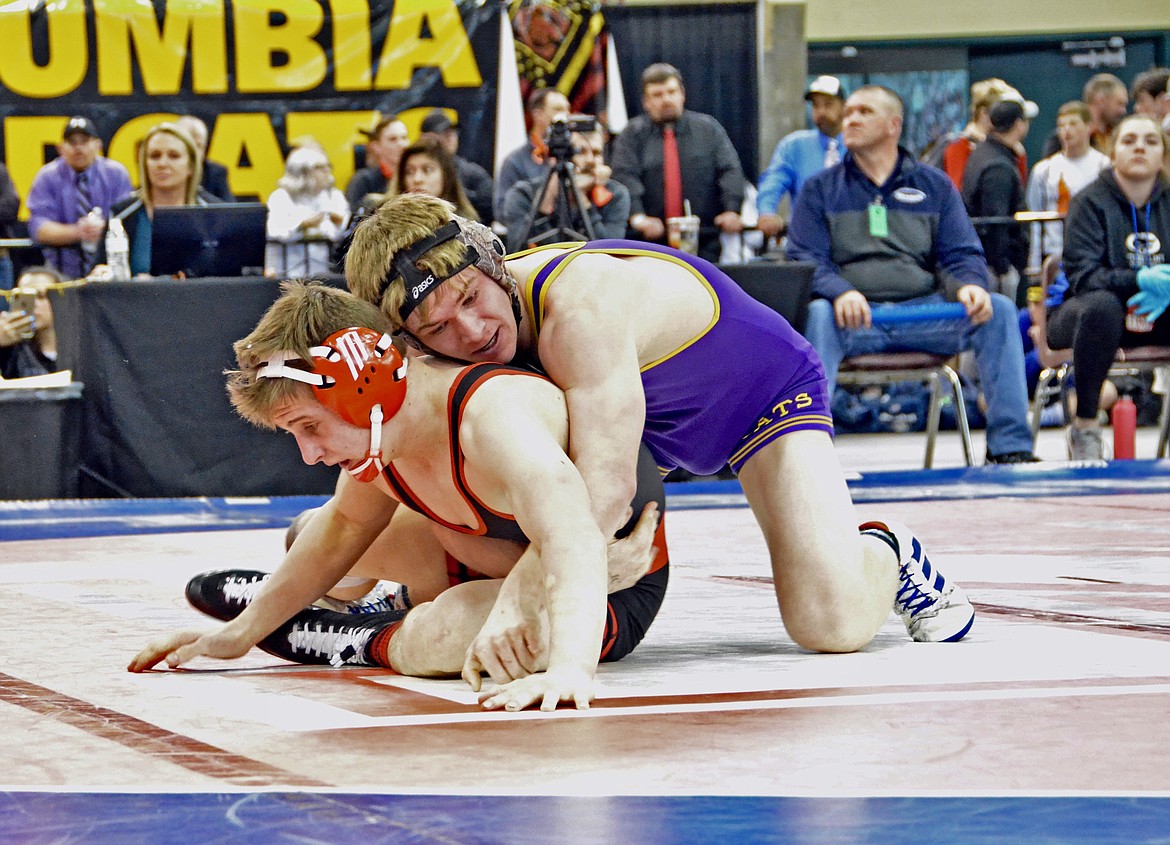 Judson Hall rides South Fremont's Beau Hackworth during the championship round of the State Wrestling Championships. Hall won the match 5-1.
Photo by AMY MILLER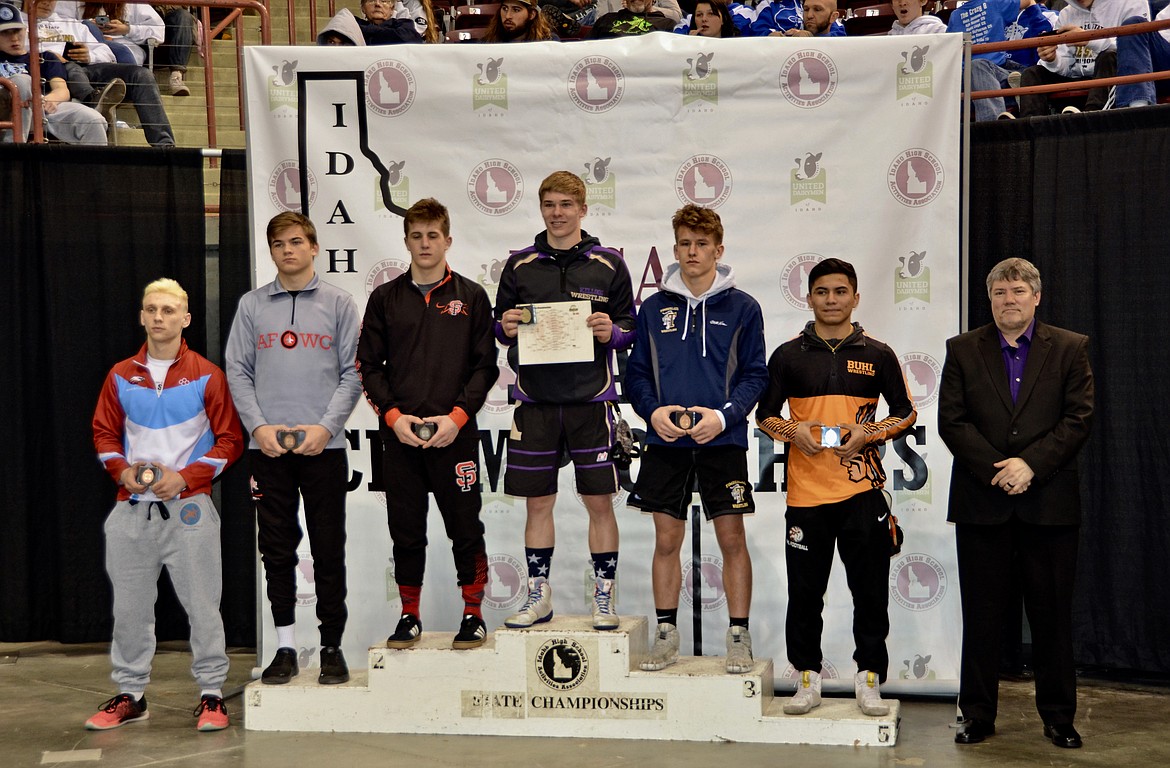 Kellogg's Judson Hall stands at the top of the podium after winning the 138-pound championship at the 3A State Wrestling Championships in Nampa. Kellogg head coach Scott Miller is standing on the far right.
Photo by AMY MILLER
Previous
Next
by
JOSH MCDONALD
Staff Reporter
|
March 3, 2020 10:38 AM
KHS's Judson Hall caps off senior season with 3A state title
KELLOGG — A near 14-year mission was completed on Saturday afternoon when Judson Hall claimed the 138-pound crown at the 3A State Wrestling Tournament in Nampa.
Hall, a senior at Kellogg High School, has been a wrestler since before he was even attending regular school.
A state championship was always the goal, and after coming within just a few breaths of the finals the last two seasons, he knew that this was his last shot and he had to make the most of it.
"It was an awesome feeling," Hall said of winning the championship. "I've been wrestling since I was four and since I started I knew that I wanted to be a champion."
Inside the massive Ford Idaho Center in Nampa, Hall made himself at home, picking up the four wins to while only surrendering a single point (a penalty point) in the championship match.
His first opponent was a familiar face as he took on Bonners Ferry's Chad Maas.
He made quick work of him, picking up the pin 40 seconds into the first round.
Next up was Ismael Salas from Buhl, Hall got fancy and used an armbar to force a pin with just four seconds remaining in the opening round.
The semi-final round had been the thorn in Hall's side for the last two years, but he was able to exercise those demons as he used a half nelson in the third round to pin Ryker Permann from American Falls.
In the championship, it was the top seeds of the 138-pound division as Hall was set to face South Fremont's Beau Hackworth.
Hackworth had actually knocked off Hall's cousin, Ethan Jerome (Timberlake), with a last second escape that earned him the semi-final win earlier in the tournament and sent Jerome to the other side of the bracket where he finished third.
"In the finals, I just kinda rode him," Hall said. "I scored two takedowns and an escape and then just rode him out."
In the moment following the win, Hall, who is usually a very reserved individual, was overcome with emotion.
"I don't know, it was such mixed emotions. I found my coaches and hugged them, but I really wanted to get to my dad and my mom and give them a hug," Hall recalled. "They've been there for me since day one. When I finally got to my dad, he picked me up and I told him, 'I did it!' and then he said, 'yes you did. I'm so proud of you.' All of us were pretty emotional."
Hall's win was a terrific stamp on an impressive career, and a great payoff considering the years of work to perfect his skills, but in the moments before he got to his dad, he took a second to reflect on his faith and thanked God.
"I was grateful to God because I know that he helped me in that match," Hall said. "I said a bunch of prayers prior to wrestling each match, which I know helped because I'm usually pretty nervous before a match and right before the finals I had this calm come over me. I just knew he was going to be out there with me and work with me and through me. He knew the work I had put in and I feel like he wanted to show me that the hard work would pay off."
Hall's coach, Scott Miller, was incredibly pleased with the effort he got from his senior leader and heaped praise on his performance in Nampa.
"I'm so proud of Judson," Miller said. "He was an outstanding leader all year and worked hard to reach his goal as a state champion. Sometimes it seemed as though Judson was under the radar to the rest of state, but now he is recognized as the best 138-pounder in the state. He gave up only 1 point all tournament and that was a penalty point. He was just dominating and his championship is not only well deserved, but also extremely satisfying."
Hall, a four-time Intermountain League district champion, had been in the thick of things at the state level since his freshman season, but after not placing his freshman year, and then finishing in third and fifth in his sophomore and junior years respectively, he knew that he had to change his approach.
He decided to take a simple, but profound approach to his senior season.
"I worked hard," Hall said. "Harder than I ever had before. I think I tried to treat every single practice, event and match like it was going to be my last match ever. As a senior, I knew this was my last shot, but I knew that I had to take that idea to another level. I couldn't loaf around in practice, I needed to go as hard as I could every chance that I could."
Hall is incredibly thankful for his family who supported him, his coaches, but also thanked KHS alums Will Yergler and Preston O'Neill, who came to practice and worked with him.
"I'm just so thankful for everyone who helped me along the way," Hall said. "No one ever gave up on me, even when I struggled. My parents, my coaches, everyone, I'm just so thankful for the support."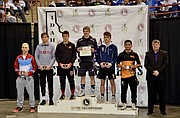 ---