Wallace trio snags all league honors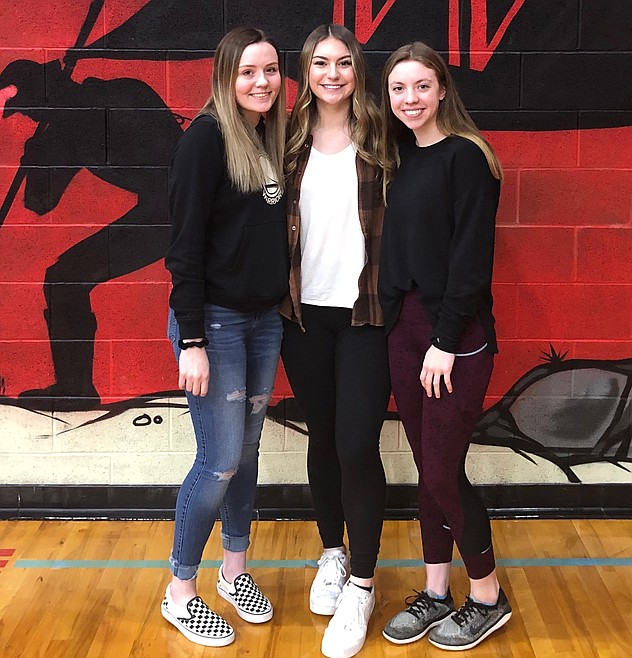 Wallace basketball players Jaden House, Megan Morin, Ellie Welch were named to the North Star All-League teams.
Photo by Josh McDonald
by
JOSH MCDONALD
Staff Reporter
|
March 10, 2020 12:48 PM
WALLACE — The Lady Miners had three players recently named to the North Star All-League team.
Senior Megan Morin, and sophomores Jaden House and Ellie Welch, were standouts for their squad this season and led Wallace to one of their most successful seasons in recent memory.
Despite coming up short in their play-in game against Genesee, Wallace finished 15-6, primarily due to the play of their all-league trio.
Morin, a stretch forward, had been a part of the program for four years, but blossomed into a steady rebounder and complimentary scorer this season which added to her value on the floor.
"I think I came into this season a little more focused because it was my senior year," Morin said. "I also went to a few camps last summer, which I think helped me get more aggressive."
Morin's teammates were pleased with her extra development, and gave Wallace the ability to stretch the floor.
"Megan was great defensively and gave us a lot of extra opportunities with her rebounding. But I think her ability to step out and hit shots really made us tough to guard," House said.
That space led to a lot of dribble drive opportunities for the rest of the team.
"I think we worked well with each other this season, better than any group I had been a part of before," Morin said. "We had zero drama in the locker room and I think we all had the same goals."
All three players shared their fondest memory of the season, a mid-January contest against Kellogg where they lost by a single point.
"We played so well during that game and everyone was playing with high energy the entire game," Welch said. "Everyone played their hardest, we all wanted it so badly. Even after we lost, no one came into the locker room with their head down. We felt so good about how we had played."
House shared that memory, but also talked about enjoying the wins over Lakeside and how important they were for the team moving forward.
"We had lost down there so many times, and the environment is usually pretty hostile," House said. "I think knowing that we can go there and win is a big deal for us."
Next season Wallace will be joining a new league with Lakeside and Genesis Prep, which will eliminate the play-in game that they have struggled with.
"Overall I think our attitudes this season really set us apart from some of the other teams we've had," Morin said. "We all came ready to work and play as a team and I think it showed."
"We are definitely going to miss Megan," House said. "She was always willing to work hard and never got down on herself and just had a way of figuring out how to make an impact for us no matter what was going on. If she wasn't scoring well, she'd play lockdown defense and get rebounds. Like, she always found a way to help the team."
---