Myrtle 'Liz' Elizabeth Berg, 86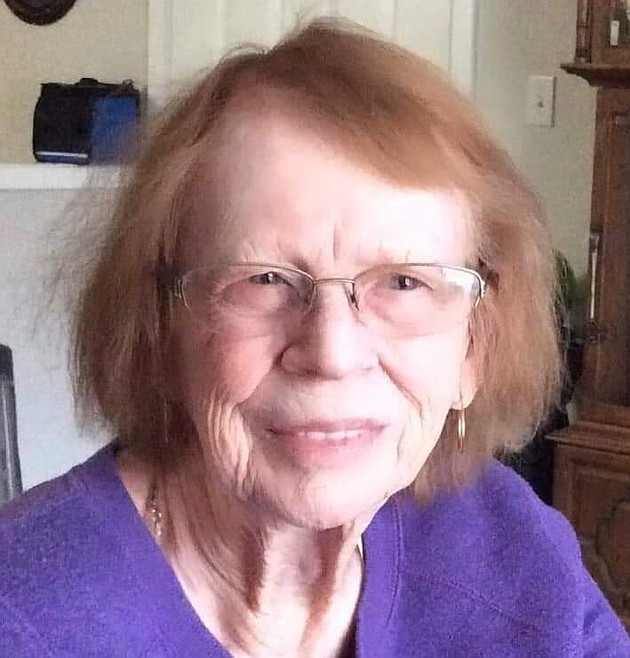 Myrtle "Liz" Elizabeth Berg (86 years young) — Myrtle (Mom) passed away following an accidental fall at her home.
She was fiercely independent and a determined latter-day Republican. Born in the backwoods of Kentucky, she and her 10 brothers and sisters learned about poverty and the value of looking upward and onward. As a teenager, she left the hills of North Carolina and followed her sister, Ruby, to the then "Fabulous Valley" of Idaho and enrolled at Kellogg High School.
While living in Kellogg, Idaho, she made many lifelong schoolmate friends. She also met the love of her life, Donavon, "Casey" Berg, (Dad), a hardworking Zinc Plant man. Being courted as she worked behind the Pik Kwik deli counter, Mom and her beau started a whirlwind love affair and they married at the Coeur d'Alene Hitching Post.
Soon, Casey was drafted and sent to Fort Knox, Ky., and Mom, then "on the nest," was allowed to live with her in-laws in Northern Minnesota.
Upon completing high school, she joined our father in Kentucky and there gave birth to their first of three children, Dawn Renee. Following Dad's service duty, the young family moved back to Kellogg, where Dad resumed his employment with Bunker Hill Zinc Plant and was happy to be near other family in the area; Fisher, Mellon, Berg, Beeler and Ross. After son, Kim, was born, they moved to Smelterville, Idaho. Myrtle continued to devote her energies to raising a family and working food service jobs.
In the early 1960s, she was Brownie Leader, Den Mother, PTA president, ceramics crafter, Frontier Days concessionaire, float builder, chili feeder, Sunday School teacher, Avon Lady and huckleberry picker. She and the family were blessed with another bundle of joy, Carla Sue, in 1962. About this time, Mom pushed hard for the city of Smelterville, to change its name to "Silverville." Her efforts failed — she always regretted that. Mom was determined to look onward. She began her college education at the age of 35 and along with other Valley students, traveled to NIJC in Coeur d'Alene to earn her A.A. in education. She then completed her teaching degree at the University of Idaho and was proud to retire from Kellogg School District. No. 391. Her precious teaching memories included students and staff at Canyon, Silver King and Pinehurst elementary schools.
As much as she loved teaching, she was equally excited for summer as she and so many dear friends loved to play softball under the tutelage of Coach Red Hoskins. She also loved roller skating, bowling and playing pool. She was not afraid to live 100%.
Following Dad's death, she reached out to find someone to fill the void. This was heartbreakingly unsuccessful and she lived alone for the following 35 years.
Most recently, she lived on her own in Spokane, Wash., at San Souci Park. Until the day she died, she drove to get her own groceries and often made plans to meet up with her friend and former colleague, Jean Bachmeier, in Worley, Idaho, or one of the casinos. Mom enjoyed court TV and puzzle books, Seahawks, "Jeopardy" and "Wheel of Fortune" at home.
She was still blessed with a sharp wit, memory and seemingly harsh honesty. Always known as a fierce defender of her beliefs, recently she mellowed into a softer soul (except when it came to politics). Along with precious memories, we will miss her spunk, her hugs and her spirit. Love you Mom.
Myrtle is survived by her daughters, Dawn Fisher and Carla Berg Gallegos, both of Spokane Valley, Wash.; by her son and daughter-in-law, Kim and Jill Berg of Spokane; grandchildren, Stephanie, Renee, Casey, Jesi K, Jeni, Alex and Kaitlyn; several great-grandchildren; her brother, Robert (Regina) Cable of North Carolina; several in-laws; numerous nieces, nephews, great-nieces and great-nephews.
She was preceded in death by her husband, "Casey," and by each of his siblings; nine of her siblings; son-in-law Steve Fisher; five nephews and two nieces.
A remembrance service will be held at 11 a.m. Saturday, March 14, 2020, at Riplinger Funeral Home & Crematory, 4305 N. Division, Spokane, WA 99207. She will be laid to rest privately with her true love, "Case." GODSPEED.
---