Wildcats play well, but come up short during state tournament run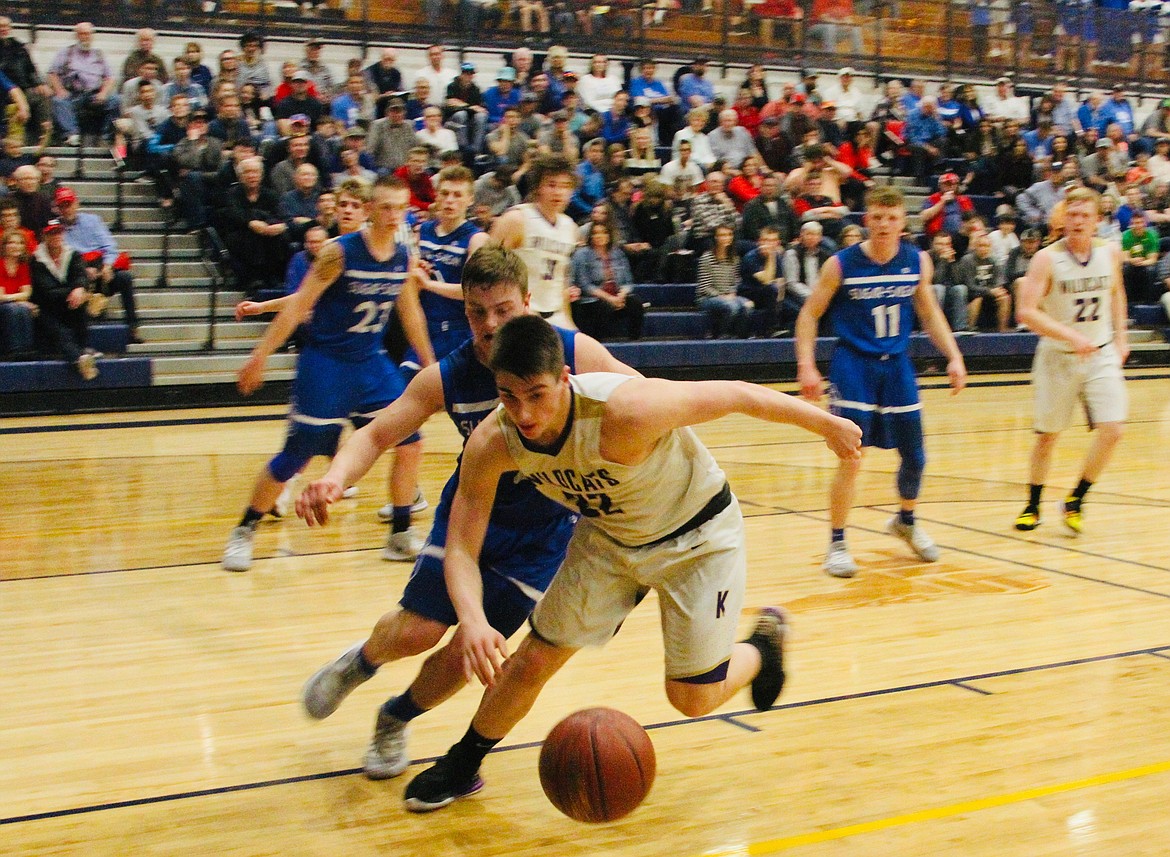 Photo by Josh McDonald/ Kellogg's Gavin Luna scrambles for a loose ball during the Wildcats' game against Sugar Salem.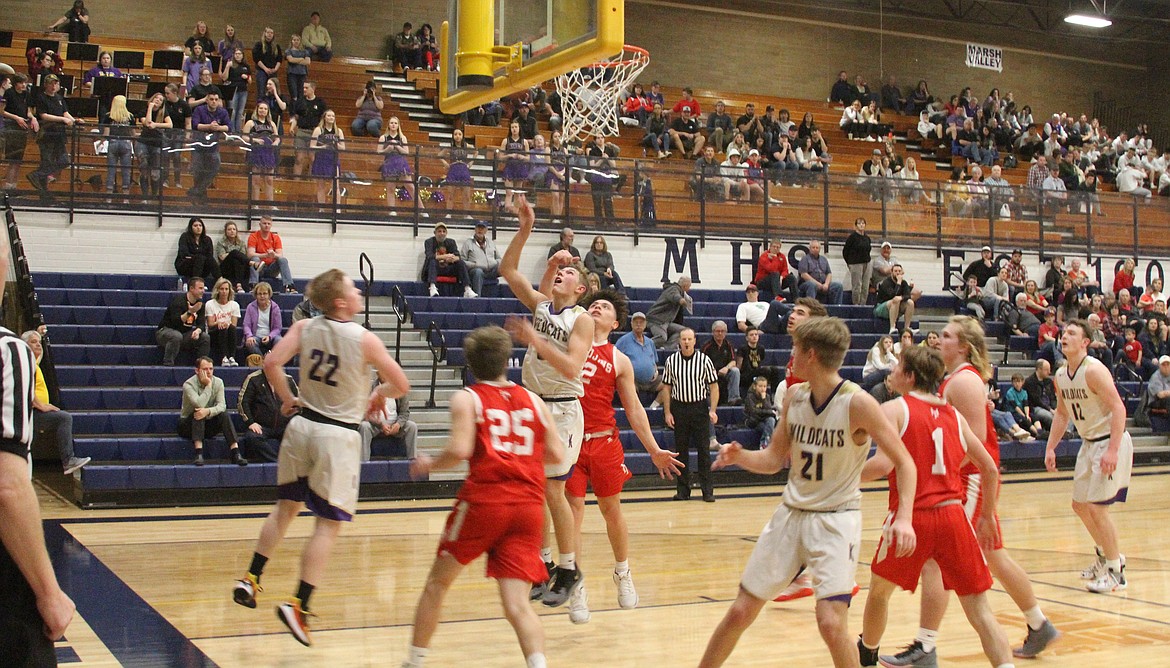 Above: Kellogg's Taylor Bush finishes a lay-in during a decisive third quarter run for the Wildcats during their 56-48 win over Homedale at the 3A State Tournament. Right: Kellogg's Gavin Luna scrambles for a loose ball during the Wildcats' game against Sugar Salem.
Photos by Josh McDonald
Previous
Next
by
JOSH MCDONALD
Staff Reporter
|
March 13, 2020 1:47 PM
MERIDIAN — The Kellogg Wildcats wrapped up their basketball season on Saturday with a loss in the consolation championship (fourth place) game to Snake River.
Despite some gutsy performances during the tournament, the Wildcats had a few missteps as well which ultimately were their Achilles' heel.
In the opening contest against eventual champions Sugar Salem, the Wildcats led at the end of the first quarter and trailed by just two at halftime, but then everything unraveled as the Diggers used a 15-4 run in the third quarter to put the otherwise evenly-played game away.
Kellogg would rebound to defeat Homedale in the consolation semifinals, in a competitive game that kept their trophy hopes alive.
In the fourth place game, Kellogg came out firing against Snake River, but then stalled out offensively in the second quarter, which proved to be the real difference maker in the game.
The field of eight teams at the 3A level this year was as seemingly evenly-matched as there has ever been, something Kellogg coach Jeff Nearing definitely noticed.
"I just don't think people understand how the level of play changes down there," Nearing said. "There is a reason that each team is playing down there, and it's usually because they're playing their best ball of the season."
Kellogg's first and third games stood out in particular, likely due to the Wildcats' offensive struggles.
"I think we got better looks against Sugar than we did against Snake River, Graden (Nearing) in particular," Nearing said. "Sometimes shots don't go in. And it could be for a number of reasons. The defense is tighter down there, there is the pressure of the finality for the seniors, and then just nerves. You might score 17 in a half and then get 20 points in the third quarter, but it is different and there is no way to replicate it."
Senior Graden Nearing capped off his Wildcat career with another terrific individual effort at the state tournament, where he averaged just under 17 points per game to lead Kellogg.
Coach Nearing, like his players, was disappointed to come home empty handed, but still looks at this season as another successful one for the Wildcat Basketball Program, which has been in eight of the last nine 3A State Tournaments.
"I'm damn proud of this group," Nearing said. "Obviously, it's more fun to win and we don't ever want to come home without some hardware, but to do that you have to come down and, at the very least, win two out of three games and it's not easy. Like I said, the level of play down there just goes up."
Kellogg will end its season with a 17-8 record.
KELLOGG STATE TOURNAMENT BOX SCORES
Quarterfinal, 3/5
Sugar-Salem 8 18 15 22 — 63
Kellogg 13 11 4 20 — 48
KELLOGG — Bush 2, R. Luna 0, K. Luna 10, Oertli 2, Groves 0, Nearing 11, Miller 9, Walker 0, Jerome 2, G. Luna 12. Totals 18-59 6-14 48.
SUGAR-SALEM — Clark 11, T. Harris 19, Guymon 0, Garner 0, Ostermiller 0, Nead 2, Miller 11, K. Harris 0, Gordon 0, Parkinson 7, Bean 4, Pinnock 0, Michaelson 2, Handy 7, Schulthies 0. Totals 21-42 17-24 63.
Consolation semifinal, 3/6
Homedale 10 11 4 23 — 48
Kellogg 6 14 12 24 — 56
HOMEDALE — Strong 4, Lomeli 8, Uranga 6, Fisher 5, Llamas 4, Hernandez 5, Quijano 0, Kincheloe 1, Dines 15. Totals 16-38 10-18 48.
KELLOGG — Bush 8, R. Luna 0, K. Luna 2, Oertli 8, Nearing 22, Miller 5, Walker 1, Jerome 4, G. Luna 6. Totals 17-46 20-31 56.
Consolation championship, 3/7
Kellogg 11 3 20 8 — 42
Snake River 6 11 19 11 — 47
KELLOGG — Bush 5, R. Luna 2, K. Luna 0, Oertli 5, Groves 0, Nearing 17, Miller 5, Walker 0, Jerome 3, G. Luna 5. Totals 15-43 8-11 42.
SNAKE RIVER — Young 7, Ibarra 13, Watt 7, C. Anderson 3, Coombs 0, Poulter 4, Wray 12. Totals 14-39 15-21 47.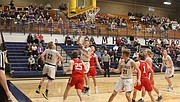 ---