Oh, pretty flowers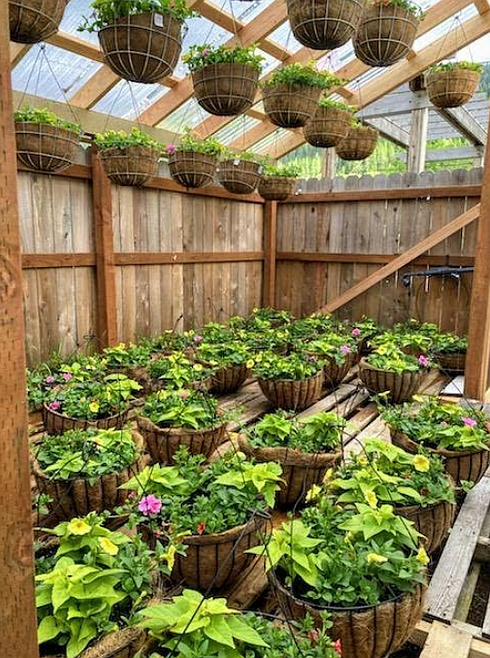 The completed hanging flower baskets in the Wallace Flower Project's greenhouse. These baskets are set to be hung all around the city of Wallace on June 1, as long as the weather cooperates.
Photo by SARAH MURPHY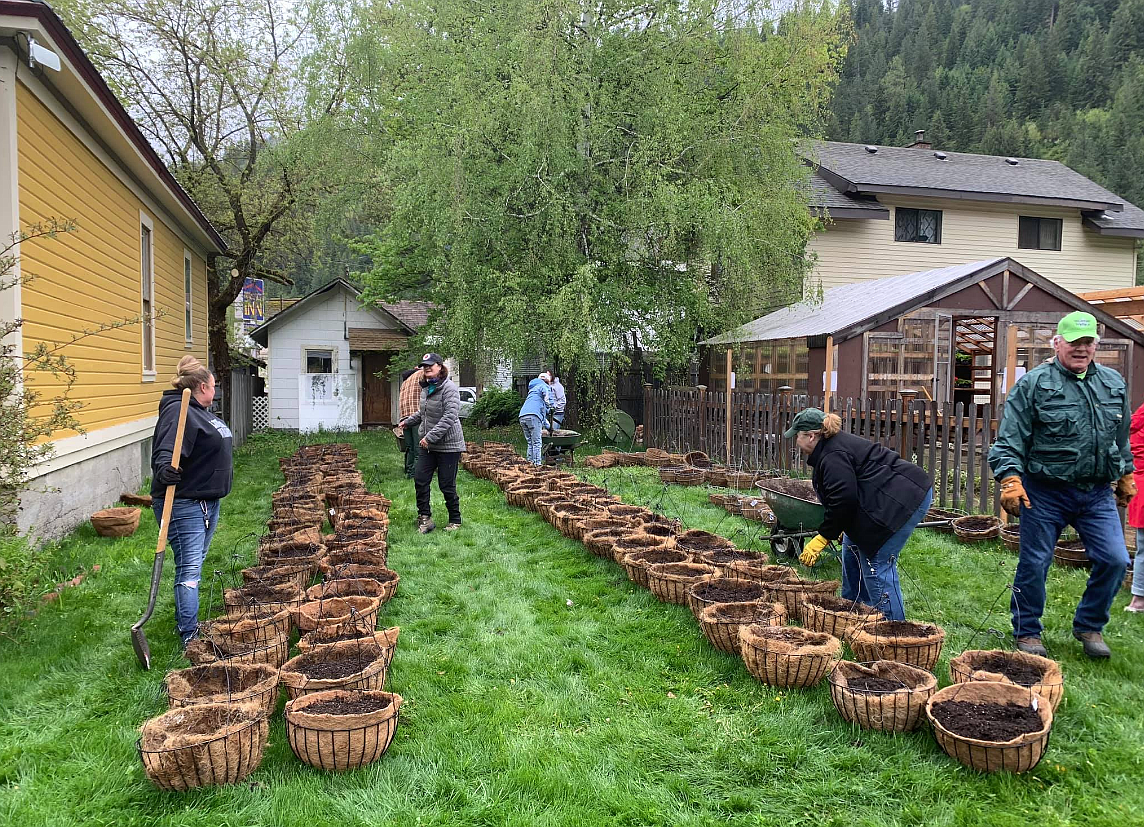 Wallace Flower Project volunteers prepare to place flowers in the pre-made hanging baskets on May 16. Project members assembled the hanging baskets the previous day.
Courtesy photo
Previous
Next
by
CHANSE WATSON
Managing Editor
|
May 22, 2020 10:47 AM
Wallace Flower Project assembles hanging baskets
WALLACE — With the COVID-19 pandemic forcing events to cancel left and right, it's a tremendous achievement nowadays when anything involving a group of people is completed.
Thanks to the members of Wallace Flower Project and more than 40 volunteers, that's exactly what happened last Saturday when 250 hanging flower baskets were assembled for the purpose of adding some color to the city of Wallace.
Wallace Flower Project president Elmer Mattila explains that the 501(c)(3) organization has been committed to building and hanging these flower baskets in town for 23 years with the purpose of welcoming locals and tourists during the summer months.
"The Wallace Flower Project is an effort that relies on volunteers, charitable donations and city sponsorship," their website states. "At least 30 individuals, numerous businesses and local community foundations have worked with us to accomplish this success. The project was built on the vision of Ron Garitone and years of service by Iris Cantamessa and her helpers."
This year's process began in November 2019 when the Wallace Flower Project committee met to discuss what flowers they would be getting.
"Every year, the committee decides a different flower arrangement and color scheme," Mattila said.
This year's chosen color scheme is orange, yellow and red. Once this decision was made, the selected flowers were ordered in January for a springtime delivery.
For roughly 20 years, the Project has ordered its flowers from Blumengarten Greenhouse in the Spokane Valley.
Mattila said the amount of flowers was consistent with last year's amount and cost $4,200.
"Luckily, we have a good track record. We normally get the same amount of flowers every year."
The truckload of flowers, each one in its own little pot, arrived on May 13 and were unloaded by volunteers.
Then on May 15, the real preparation work began with Wallace Flower Project members assembling hanging baskets and getting everything ready for planting.
On May 16, dozens of volunteers from the community arrived at the group's greenhouse to help plant the flowers in their new baskets. Board member Sarah Murphy explains that each basket can hold about eight flowers with soil.
The completed baskets were then hung in the Project's greenhouse to "harden off," or adjust to its new surroundings and temperature.
Barring any adverse weather, the hanging baskets are planned to be hung around the city of Wallace on June 1. In addition to the normal volunteers the group has counted on already, Shoshone County Fire District No. 1 has stated that they will assist in the process.
Mattila would like to thank everyone who contributed to this year's assembling event and is looking forward to getting the flowers out into the community soon.
For more information on the Wallace Flower Project, visit www.growwallace.org.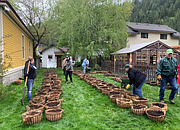 ---