Kellogg Elks support Snack Pak program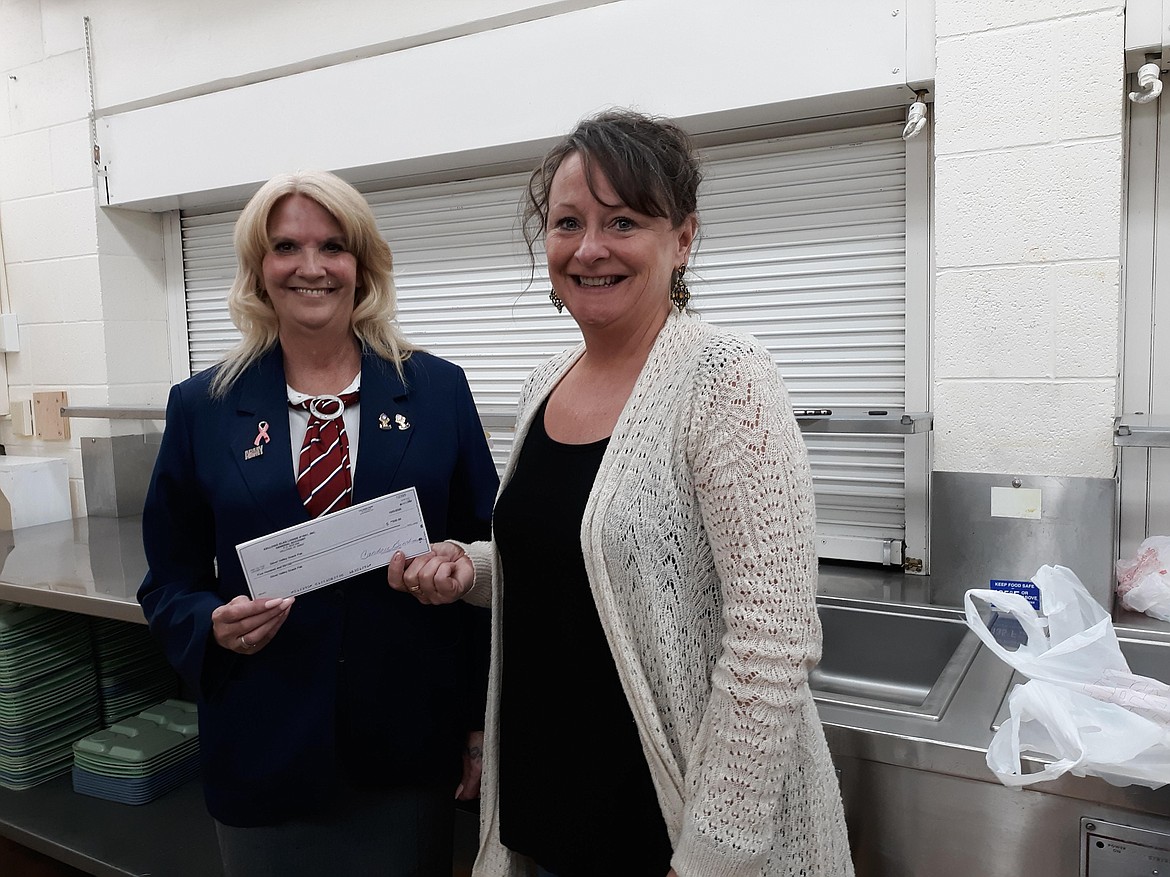 Kellogg Elks Exulted Ruler, Cari Nimrick, presents Silver Valley Snack Pak Program President, Christy Jacobs, with a check for $5,500.
Photo by CAROL YOUNG
by
CAROL YOUNG
|
November 9, 2020 6:08 PM
KELLOGG — Utilizing grant opportunities provided by the Elks National Foundation (ENF) Community Investments Program, the Kellogg Elks Lodge is pleased to announce support of the local Silver Valley Snack Pak program by donating $5,500 to purchase food for students enrolled in the weekend program. Two ENF grants were obtained in order to provide the funding, including the Beacon Grant at $3,500 and the Gratitude Grant at $2,000.
Due to COVID-19, the Elks chose to partner with an established service program better equipped to serve our local population instead of starting a new, independent project. The Silver Valley Snack Pak program was chosen based on need, number of people the program could help, support of our community and children, and an established distribution process.
The program is dedicated to supplying 100 weekend Snack Paks each week to students at Pinehurst Elementary School. In some cases, the Snack Paks are all the food the students have over the weekends. Food choices are specifically selected to provide healthy, child friendly, easy to prepare meals along with snacks so the students can self-serve over the weekends. Dedicated volunteers along with funding from grants, private and groups keep the Snack Pak program viable.
The program has a Board of Directors headed by officers which include Christy Jacobs, president; Michelle Groves, vice president; Mary Bren, treasurer; and Trecia Brantz, secretary.
"The Kellogg Elks are amazing!" Jacobs said. "I had no idea how much you guys have done for the community. What a blessing!"
Since the Community Investments Program began in 2005, the Elks have funded more than 27,000 grants to help Lodges build stronger communities. Elks use grants to combat food insecurity, support people experiencing homelessness, serve veterans and military members in need, and promote youth community service.
When the ENF program began in 2005 with a budget of $350,000, it was never imagined that budget would nearly quadruple in just over a decade. This year, the ENF will invest $13.7 million in the Community Investments Program to help Elks support building stronger communities.
Donations to the Snack Pak program can be mailed to "Silver Valley Snack Pak, P.O. Box 81, Pinehurst, ID 83850."
100% of donations go directly to support the students.
---