Kellogg Police Department Roll Call: Nov. 4-11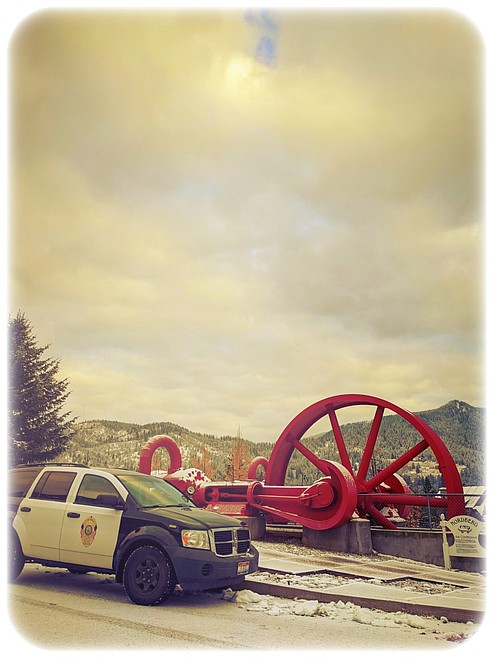 Kellogg Police Department shot of the week.
Sgt. Paul Twidt
by
SGT. PAUL TWIDT/Kellogg Police Department
|
November 12, 2020 12:31 PM
• Traffic accident S. Division and Market. Report taken.
• Vehicle in the middle of the road on the 200 block of E. Idaho. Helped the owner push it to the side of the road so he could get a tow. Cleared, motorist assist.
• Courtesy transport from Shoshone Medical Center to a residence in Kellogg. Cleared, public assist.
• Dispatched to the 300 block of W. Mission Avenue. regarding found property (possible drugs). Discovered it was not a controlled substance. Cleared, public assist.
• Assisted District 2 & 1 Fire with making entry into a residence on a medical call on the 500 block of Main Street. Report was taken.
• Provided courtesy transport from Shoshone Medical Center to their residence on Main Street.
• Responded to the 600 block of Bunker Avenue for a noise complaint. Verbal warning was given.
• Assisted county with a possible unlawful entry in Wallace. Turned out there was no unlawful entry conducted.
• Domestic 100 block E. Portland. Verbal only, parties separated. DV pamphlets given and report taken for information/documentation.
• Dispatched to Silver Mountain to a bathroom where its door had been locked for some time. Reporting party was worried an individual may be down inside the bathroom and needed medical attention or was squatting. With the generous help of District 2 hose draggers, we were able to gain entry into to bathroom and discovered no one inside. Reason for door being locked was because the door handle's safety measure had failed.
• Gave a written warning for a vehicle being parked in the pool parking lot after hours.
• Landline regarding a possible missing person, however K76 was able to locate said person quickly and they were code 4.
• Assisted medical in the 100 block of North Street, due to the circumstances and being first on scene, K76 had to force entry into the residence to get to the individual-Cleared assist.
• Traffic stop with a vehicle after they pulled away from the gas pump, with the nozzle still inserted into their car right in front of K76.
• Report of a gun shot in the 400 block of Brown, spoke with numerous residence all were code 4, and was not able to locate the source as well as no further shots were heard. Cleared, UTL.
• Attempt to locate stolen vehicle, taken from Kellogg in Shoshone County.
• Assist K76 with "shot fired" call in the 400 block W. Brown, nothing located and nothing heard. Neighbors contacted and stated they did not hear anything either.
• Interview at the Kellogg Police Department for ongoing investigation.
• Tagged several vehicles for removal.
• Set up a forensic interview.
• Radar Patrol Cameron Avenue.
• Bunker Avenue school patrol.
• Landline request to Health and Welfare reference priority 1 case, other agency assist.
• Civil paper service Attempt x3/Served x2.
• Dog for drop-off at the pound (found in the county). After waiting at the pound, advised dispatch. After they contacted the RP, they were able to track down the owner and the pound was no longer needed.
• Landline request regarding harassment. After speaking with RP, all of this took place in the County, referred to Shoshone County regarding possible battery.
• Assist county with possible felony warrant service 10 block E. Cameron, subject was not there with vehicle (fictitious license plates).
• Watched as snow slowly covered the city.
• See now the Vikings have won two straight and now my hopes are up. I'm positive my hopes will be crushed like a toad beneath the harrow soon enough.
• No other calls for service … K74 is thinking this has a little to do with Eastbound I90 from Wolf Lodge over Fourth of July Pass being closed since earlier this afternoon.
• Assisted county with transporting a juvenile to the 300 block E. Park in Elizabeth Park. Clear other agency assist.
• Patrol meeting. Thanks K75!
• Evidence work.
• NIBRS errors fixing.
• Cameron Avenue radar patrol.
• Abandoned vehicle paperwork.
• 200 block of Main Street, report of a utility pole leaning on a building. Street lamp leaning on the building at the corner of W. Portland and Main (northeast corner). While out with the pole, passerby stopped and said it had been like that since yesterday. Report taken, completed and copy left for Street Department.
• Received narcotics information and attempted to locate person/vehicle from the information and was unable to locate.
• Responded to the 100 block of W. Idaho Avenue for a malicious injury to property. Report was taken and investigation is on-going.
• Conducted foot patrol on the 300 block of W. Cameron Avenue and W. Brown Avenue.
Be happy, be safe, stay warm.
---