This Rad Tech is pretty cool too...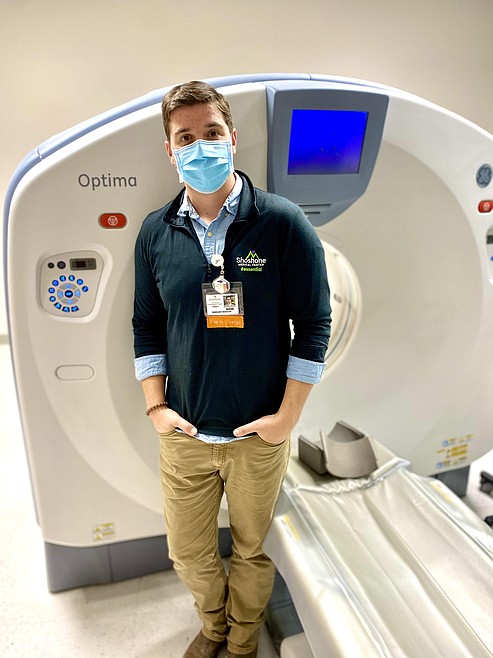 Shoshone Medical Center Radiology Manager Casey Winchel stands alongside the hospital's CT scan machine.
Courtesy photo
by
JOSH MCDONALD
Staff Reporter
|
November 14, 2020 9:53 AM
OSBURN — Nov. 8 through 14 is National Rad Tech Week, so the SNP NOW podcast made sure to bring in one of Shoshone Medical Center's raddest rad techs, Casey Winchel.
Radiologic technologists (Rad Techs) are the health care professionals who perform diagnostic imaging procedures, such as X-ray examinations, magnetic resonance imaging (MRI) scans and computed tomography (CT) scans. They may also specialize in specific techniques such as cardiovascular-interventional radiography, mammography or sonography. Rad techs are also responsible for accurately positioning patients and ensuring that a quality diagnostic image is produced.
Winchel is SMC's radiology manager and has been with our local hospital for the last six years. He has been a radiology technician for 11 years after completing four years of schools and various programs.
While his job has many responsibilities, most of them boil down to one very simple concept — he can basically see inside of you, whether it be X-ray, MRI, ultrasound, CT scans or DEXA (Dual-energy X-ray absorptiometry).
At a smaller hospital like SMC, rad techs like Winchel get even more responsibilities and are asked to use their skills in imaging to help with things like placing IV lines, as well as helping with things like CPR.
"In a bigger facility you would not do as much and it's more specialized. They have code teams where you respond, but you respond to do your part," Winchel said. "It's kind of facility-dependent but that's one of the things that I like about our facility. Being a little smaller I get to do a lot of different things. It's not just X-rays — it's a lot of areas in the hospital and that patient care process."
On top of getting a lot of days off (just kidding), Winchel loves his job because of the interaction that he gets to have with his patients and the opportunity he gets to be a positive part of their lives.
"When you see folks in the hospital, if they're coming to you through the emergency room, they're usually having a terrible day and they're scared," Winchel said. "Most people aren't coming there because everything is going well, they're nervous about their exam, they're nervous about the results. Being able to interact with them, give them a good experience, hopefully take some of the fear and tension away from them. Being able to help through something that is usually difficult — that's pretty gratifying."
SMC has been at the forefront of imaging technology and even recently upgraded their capabilities in the ultrasound department.
"We have most of the available options at our facility," Winchel said. "We have as modern equipment as anywhere I've been."
The DEXA scan is particularly cool.
DEXA is a means of measuring bone mineral density using spectral imaging and uses two X-ray beams, with different energy levels that are aimed at the patient's bones. When soft tissue absorption is subtracted out, the bone mineral density can be determined from the absorption of each beam by bone.
Winchel does have a favorite imaging method of his own though.
"We're getting more and more into ultrasound-guided vascular access," Winchel said. "That's very neat. It's a little different every time and takes a little more creativity, you have to find the right vessel with the ultrasound machine. You have to have a knack for placing the IV, making sure it stays viable as an access point."
To hear the full interview with Casey Winchel, check out SNP NOW, the official podcast of the Shoshone New-Press, which is available online at shoshonenewspress.com, Spotify, Apple Podcasts, PlayerFM, and on most major podcatchers.
---