Tigers season comes to bittersweet close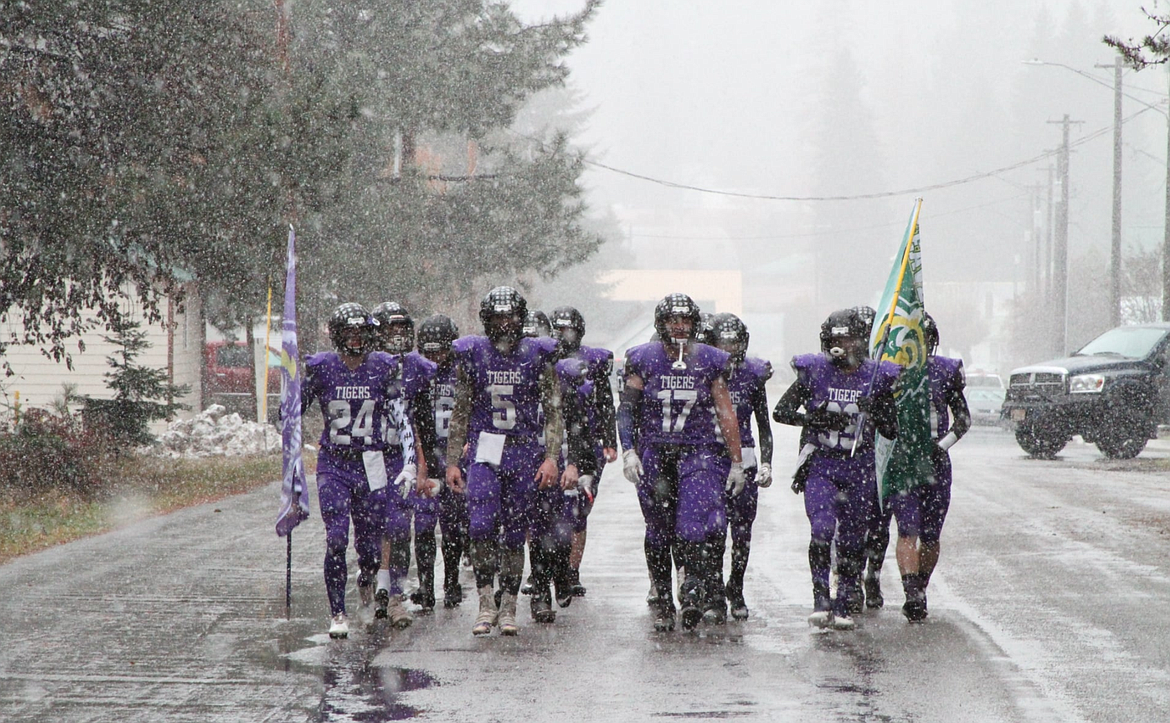 The Mullan/St. Regis Tigers finished their season this last weekend in the 1A D2 State Semifinals, losing to Dietrich in a game that they were clearly over matched, but that hasn't stopped anyone from these two communities from being incredibly proud of what they were able to accomplish during this season.
Courtesy photo
by
JOSH MCDONALD
Staff Reporter
|
November 18, 2020 2:43 PM
DIETRICH –– It was not the storybook ending that the Mullan/St. Regis Tigers were looking for, in fact they didn't make it to the final chapter, but for the small cooperative of schools on either side of the Idaho-Montana border this season was nothing but a success.
In a matchup between the number one and four teams in the 1A D2 media polls the better team was just that – better.
There's no easy way to tell someone that you lost 64-0, but the Tigers accomplished enough this season that one game won't define them and third place is absolutely better than anywhere that they have finished in a very long time.
"We are going to do our best to not let missing out on first or second take away from celebrating third in the state," Tiger head coach Stetson Spooner said.
The Blue Devils outgained the Tigers 565-119, flipping the script on a Mullan team that hadn't struggled when it came to posting gaudy stat lines.
"It was a tough day, their top nine were faster than our top three and there hasn't really been anyone else who I've seen that from," Spooner said. "They game planned for our two horses and they did very well, we didn't get the one on ones that we got all season."
Defensively, the Tigers forced three turnovers – but that was countered by five of their own that killed any of their momentum and kept them a safe distance from ever scoring.
Dietrich quarterback Brady Power had 129 yards rushing and 167 passing, accounting for five touchdowns.
"That Power kid, man he's all-state caliber," Spooner said.
Growing pains hurt, but this is a vital part of the evolution for this fledgling program.

In just the third year of their co-op, Mullan/St. Regis has taken positive steps each year since uniquely joining forces in 2018.
"Year one, we go .500 and undefeated at home," Spooner said. "Year two, we split the league championship, win the tiebreaker, host a playoff game. This year we won the league outright, we hosted and won a playoff game, and we finished in third. We're taking the right steps."
Mullan/St. Regis is only losing two seniors as well, which is a terrifying thought as their aforementioned two horses, North Star League Co-MVPs Luke Trogden and Adam Ball, are coming back as seniors along with nearly their entire team in tow.
The third-place finish is Mullan's best since an appearance in the semifinals in 2006 and the first football trophy for St. Regis since 1989.
"These communities are so supportive and we're so thankful for all of the people who have been there supporting us along the way," Spooner said. "I love the way our communities, both the Tiger communities and the Silver Valley as a whole, rally around our kids and celebrate their successes. It matters to these kids."
Spooner also couldn't wrap up his season without extending his kindness to his opposition and he believes that the team his squad was on the field with on Saturday was absolutely the best team in the state.
"Hat's off to Dietrich, I really do hope that they win the state title," Spooner said. "They were character and class personified. If Dietrich wasn't so far away I'd want to play them every season just because of the gracious hosts that they are and the way that their kids played the game. They are the gold standard for what a program should be."
Dietrich (10-0) will advance to the 1A D2 State Championship game this Saturday, while Mullan will end their season at 8-2 and third place.
---