Happy International Newspaper Carrier Day!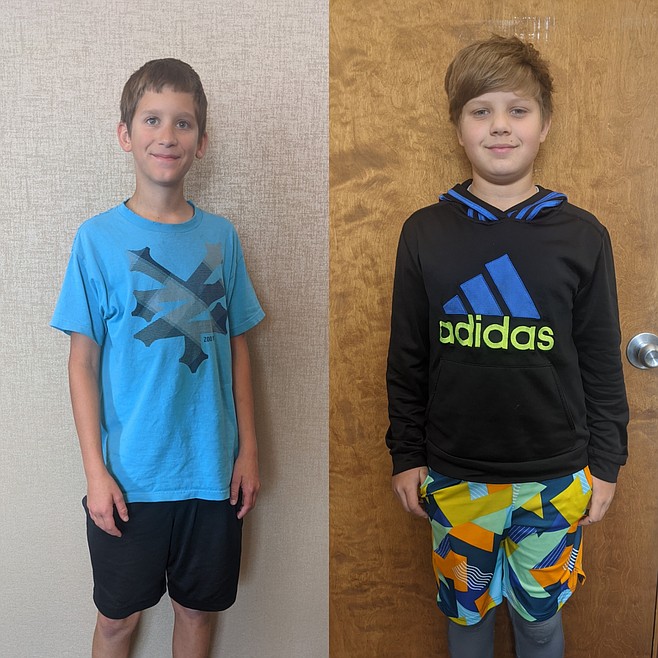 (From left) Shoshone News-Press paperboys Ephraim Moffett (Osburn) and Colten Imes (Mullan). These two are the only carriers under the age of 18 employed with the News-Press.
Photo by CHANSE WATSON
by
CHANSE WATSON
Managing Editor
|
October 8, 2020 2:58 PM
The role of paperboy has been synonymous with newspapers for what seems like their entire existence. Decades ago, it was a given that some local kid (just looking to make a little extra cash) was going to be the one making sure that you had your paper on your doorstep. While paperboys have become largely a thing of the past, that doesn't mean that they are completely extinct.
The Shoshone News-Press currently employs two youth carriers (under the age of 18) and both have drawn quite the little fanbase for themselves.
In honor of International Newspaper Carrier Day (Oct. 10), we at the News-Press decided to take a little closer look at these two ambitious young men.
The first one in the spotlight is Ephraim Moffett, a homeschooled eighth-grader who has been working for the News-Press since November 2019.
"It's been pretty good!" he said of his job. "I like it a lot."
Two days a week, Moffett has the responsibility of delivering the afternoon edition of the News-Press to roughly 70-100 homes in the Osburn area.
His standard mode of transportation while delivering papers is his trusty bike.
"I get my bag and I put the papers in there, then it really depends on the house, but I'm usually able to get it (to the house) from the road."
If the house is far away or has a delivery box, he simply pops off his bike and walks the paper up.
In the winter, his parents help him out by driving him around to the homes.
When it comes to getting the job done, the biggest challenge he faces is addresses.
"The really hard part can be how the homes are listed. They might accidentally say the wrong address," he said. "I had this one house that was listed as "1286," but its actual address is 1268."
Being responsible, Moffett tucks away the money he earns into a savings account for college and a future mission's trip.
In school, he enjoys writing essays (especially fiction narratives) and learning about science.
• • •
The second News-Press paperboy is Colten Imes, a seventh-grader at Mullan Jr./Sr. High School who has been with the News-Press since June/July 2020.
Imes explains that he mainly wanted to get the job because he wanted to get a dirt bike, which he actually uses to deliver his papers (most of the time) across Mullan.
"After school, I head over and drop my school backpack off, grab my paper bag, head to the gas station, get the papers, and just start from there," he explained.
Tasked with delivering to roughly 40 homes, Imes can usually knock out his route in about two hours (three if he has to use his pedal bike).
The thing he enjoys the most about being a paperboy is getting tips, ever so often, from readers he delivers to.
When Old Man Winter rolls around, he hopes that he can get some studded tires for his dirt bike so he can still deliver on it.
At school, Imes is looking forward to being in shop class, where he hopes to fix stuff and work on different things.
---