Silver Valley Sports Recap: Oct. 5-11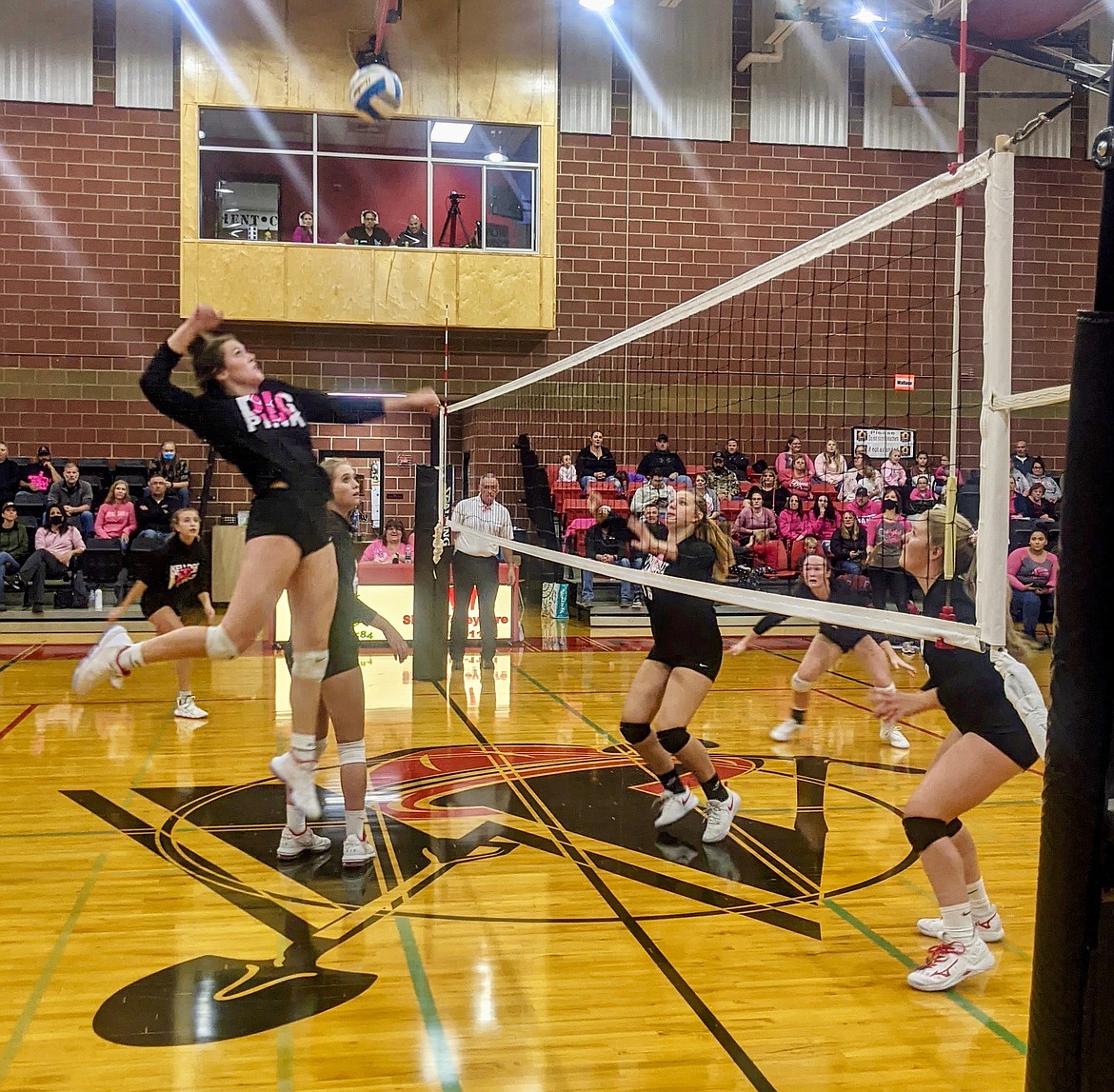 Kellogg's Hailey Cheney skies for one of her many kills during Dig Pink at Wallace Jr./Sr. High School. The Wildcats knocked off Wallace in three sets.
Photo by CHANSE WATSON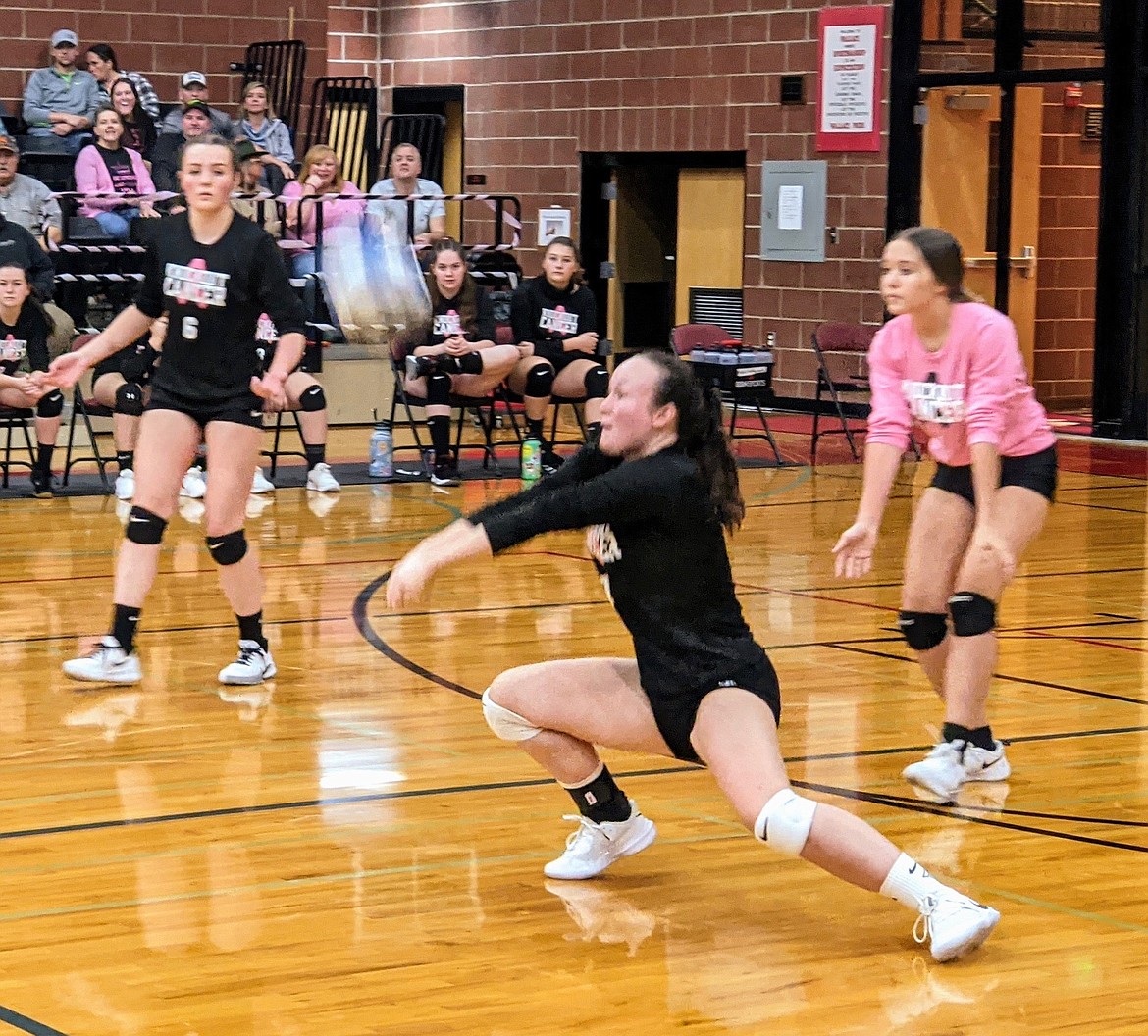 Miner Kendall Lohr Digs out a Wildcat hit during Dig Pink at WHS. The event is an annual cancer fundraiser between the Wallace and Kellogg volleyball teams.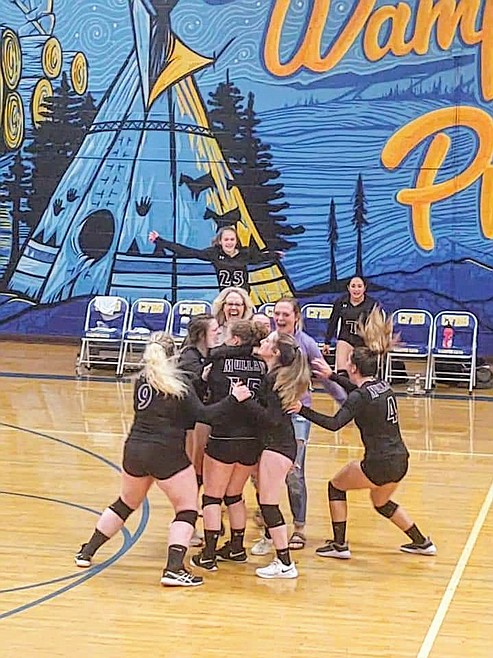 The Mullan Volleyball team celebrates after a big win on the road in Clark Fork.
Previous
Next
|
October 12, 2020 1:17 PM
MULLAN VOLLEYBALL
CLARK FORK — The Mullan Tigers staked their claim as the North Star League's top volleyball squad on Thursday night with a big win over the Wampus Cats (20-25, 25-23, 25-22, 27-25, 15-11).
The 5-set thriller put Mullan into a tie with Clark Fork for first place in the NSL with district play just a few weeks away.
Seniors Talowa Fallingwater and Emily Dykes were the steady hands for the Tigers, with Fallingwater grabbing six kills and eight blocks to lead Mullan, Dykes had four kills of her own.
"We had outstanding team play tonight with each and every one of these girls stepping up," said Mullan Assistant Coach Kami Rasmussen.
Mullan has found that their success lies in their serving, and with a 95% success rate from the service line it's no surprise that Mullan wins matches where they have possession of the ball more.
Mullan is also getting some much needed help from their underclassmen, including freshman Jazzmyn Nelson who is, "doing an outstanding all-around job," as one of the team's youngest players.
KELLOGG VOLLEYBALL
Oct. 6
Kellogg d. Bonners Ferry
KELLOGG — The Wildcats expeditiously handled their northernmost Intermountain League opposition 26-24, 25-8, 25-18.
In the opening set it seemed like Bonners had Kellogg's number, but the Wildcats battled back to take momentum and then never conceded it back to the Badgers.
Hailey Cheney had 11 kills, Grace Nearing had 23 assists, Piper Rainio had 25 digs and Maddie Cheney had three blocks to lead the Wildcats.
"I was happy how we remained headstrong and made the necessary fixes to eliminate the errors from the first match," said Head Coach Steph Brunner.
Oct. 8
Kellogg d. Cd'A Charter
KELLOGG — The host Wildcats defeated the Panthers 25-12, 25-9, 25-19 at Andrews Gymnasium to clinch their second straight Intermountain League title.
It couldn't be served then it was definitely killed as the Wildcats were near perfect from the serve line while dominating the net en route to their league championship.
With the win, Kellogg has earned the right to play every match of the upcoming district tournament at Kellogg.
Hailey Cheney led the way with 12 kills, Grace Nearing had 22 assists and Piper Rainio had 17 digs to lead the Wildcats.
"I'm pleased with how our hitters are playing right now," said Coach Steph Brunner. "They are listening to our back row players and are seeing the court well and hitting holes for us. We did struggle with a few errors, but we hope to keep our momentum going and finish the season strong."
WALLACE VOLLEYBALL
Oct. 8
Wallace d. Lakeside
PLUMMER — Jaden House had eight kills and seven aces as the visiting Miners beat the Knights 25-20, 25-15, 25-12 in Scenic Idaho Conference play at Ron Miller Court.
Kynadee Gilmore had nine digs, Riley Valley 31 assists, Elli Welch two blocks for Wallace.
"They served really well; their serves took us out of being able to mount an offense," said Lakeside Coach Brad Veile. "They hit the ball well; they're just a quality team."
Oct. 10
Kellogg d. Wallace
WALLACE — It was Dig Pink Day at Wallace Jr./Sr. High School as both schools embraced raising money for local cancer relief groups in a fun and pink setting.
Kellogg continued their winning ways, but Wallace made them work for it despite only lasting three sets 25-15, 25-14, 25-23.
The Lady Miners played well, but one aspect of their game struggled which really put the game in the Wildcats' favor.
"Kellogg played very well, especially Hailey Cheney in the second set," said Wallace Coach Katie Bauer. "We executed our game plan, but we just could not hit the ball. We made 18 hitting errors to Kellogg's eight and ultimately that was the difference."
Riley Valley had 15 assists, while Jaden House had seven kills and four blocks for Wallace.
Kellogg's Big Three of Hailey Cheney, Grace Nearing and Piper Rainio led the Wildcats with 14 kills, 26 assists and 13 digs respectively, while freshman Emily Coe led the team with three blocks.
MULLAN FOOTBALL
Oct. 9
Mullan 72
Clark Fork 38
CLARK FORK — "Tonight went almost as good as could be hoped for," Mullan Head Coach Stetson Spooner said of his team's performance last week.
The Tigers continued their romp through the local eight-man scene and have a chance to lock up a second consecutive Northstar League championship this week against Kootenai.
Mullan may be the deepest eight-man football team in North Idaho, with multiple players vying for touches — all of them capable of putting the ball in the endzone.
Sophomore quarterback Caleb Ball completed four of his five attempts for 110 yards and four touchdowns, while also rushing for 195 yards and two touchdowns.
Junior Luke Trogden ran for 168 yards and a score, while also grabbing a 47-yard pass for another.
Mullan amassed an astounding 833 yards of total offense during the rout, while also giving their younger players much of the second half to fine tune their skills.
KELLOGG FOOTBALL
Oct. 9
Timberlake 45
Kellogg 18
KELLOGG — A late start and some missed opportunities doomed the Wildcats in their IML opener on Friday night at Teeters Field.
Timberlake jumped out to a 21-point lead before Kellogg got on the board.
It wasn't for a lack of effort, but more a lack of manpower as the Wildcats played roughly the same 12-13 players for the entire game and the Tigers made the most of their opportunities.
Whether it be failed fourth-down stops, blown coverages in the secondary, or some leaky defense against the run, Kellogg struggled early and then just couldn't make up the difference once they got their offense going.
Sophomore quarterback Riply Luna had a quality outing for Kellogg, throwing three touchdown passes, some of them in spectacular fashion.
The game started an entire hour later than scheduled due to an accident on Fourth of July Pass, which had the final possessions being played well after 10 p.m.
"That wasn't what we were hoping for," Timberlake Coach Kelly Amos said of the accident, which delayed kickoff of the game one hour, until 8 p.m. "We got to the field at 7:25, but everyone started late so it really wasn't as big of a factor."
Kellogg will host Priest River for senior night this week at Timberlake.
WALLACE FOOTBALL
Oct. 9
Wallace 12
Kootenai 6
HARRISON FLATS — Kody Richardson caught a 25-yard touchdown pass from Hayden Hogamier in the fourth quarter for the Miners in a nonleague win over the Warriors.
Kootenai, playing its first game since Oct. 26, 2018, against Kendrick due to low numbers within the program, led 6-0 at halftime.
Richardson scored on a 15-yard run to tie the game in the third quarter for Wallace (2-4), which hosts Lakeside in a Scenic Idaho Conference game on Oct. 23 at Sather Field in Silverton.
"I was extremely proud of how our team played — they deserved this win," said Wallace Head Coach Jared Young. "The hard work and dedication these kids have shown, I'm so happy for them to get a W. We had to earn this one, Doug (Head Coach Doug Naperiela) had Kootenai ready for their first game this year and we didn't know what to expect. Their kids battled hard and are some tough kids. Hats off to Kootenai for the way they played."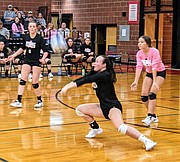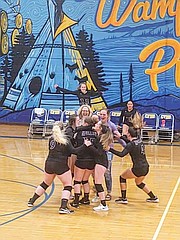 ---