Silver Valley Sports Recap: Oct. 12-18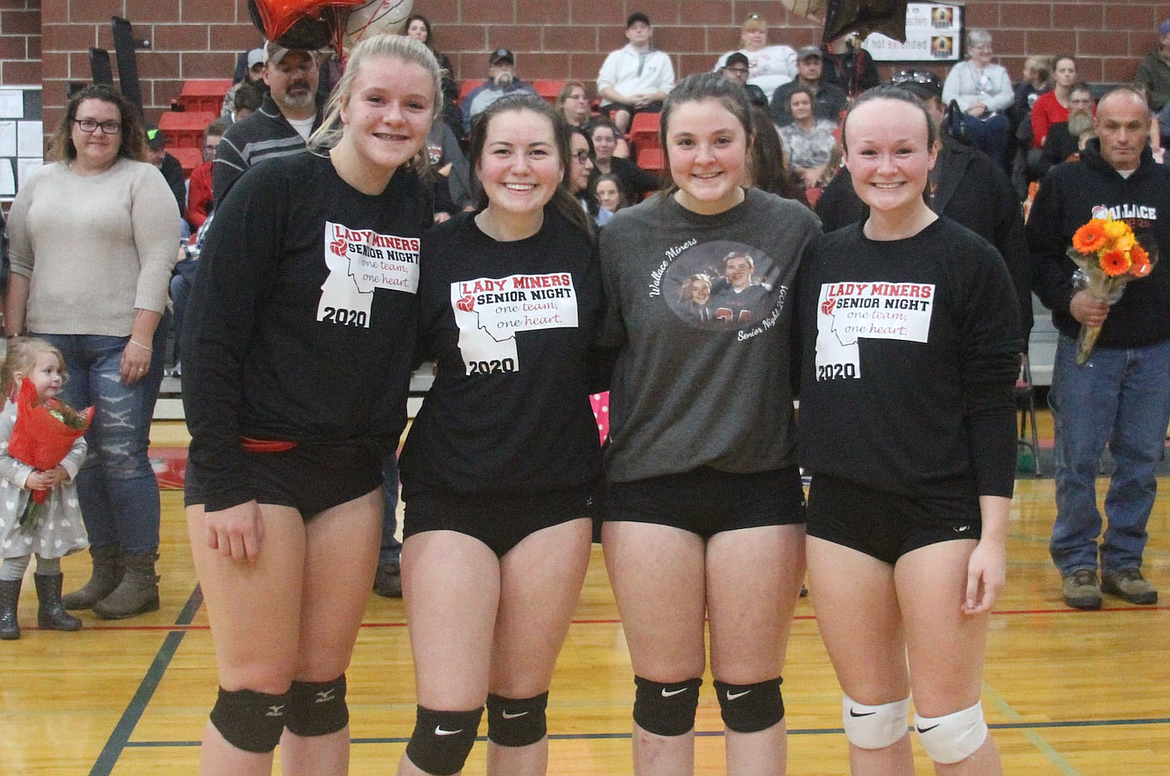 Wallace Miner senior volleyball players Chloe Cielke, Cora Frank, McKenna Merrick, and Kendall Lohr were celebrated prior to their Scenic Idaho League championship match against Lakeside last week.
Photo by Les McPHAIL
|
October 21, 2020 12:43 PM
KELLOGG VOLLEYBALL
Kellogg d. Timberlake
KELLOGG — The Kellogg Wildcats captured their second straight Intermountain League volleyball title Thursday night, outlasting the Timberlake Tigers 25-20, 25-19, 23-25, 30-28 on senior night at Andrews Gymnasium.
Prior to the game, fans celebrated the three Wildcat seniors Rosie Campbell, Piper Rainio and Kaitlyn Williams.
While coach Steph Brunner and her squad completed one of their season goals in completing a second consecutive sweep of the Intermountain League, for only the second time in IML play this year they were forced into the championship rounds.
After two competitive sets where Kellogg was able to pull away late, Timberlake made sure that they didn't go down without a fight and took set number three.
The fourth and final set had the feel of a heavyweight fight, with both teams going punch for punch until the final play.
That final play is one that most Wildcat fans will remember for a while.
Hailey Cheney buried a kill deep in the corner that forced the line judge to make the determination on whether it was in or out of bounds – after deliberating with the head official it was determined that Cheney's kill was in and the Wildcats were in turn victorious.
Cheney finished with 23 kills and 26 digs to lead the Wildcats, Grace Nearing chipped in 39 assists, both Hailey and her sister Maddie both finished with two blocks apiece.
"I think we played well when we started with a pass and had a plan for what we wanted to do on the court," Brunner said. "I do feel like Piper and Hailey's passing was huge for us, as well as Maddie, Hailey, and Grace's serving."
The pursuit of a complete match is one that Brunner has been seeking all year from her team, and while there have been glimpses of what they're capable of, there have also been games where the Wildcats' errors seemingly are the only thing keeping their opposition in the match.
That sloppiness is one of the things that Brunner will be looking to mop up in the coming days as Kellogg navigates the district tournament and looks toward a 3A State Tournament berth.
Sami Wilfong had 26 assists and three aces, Brooke Jessen added 16 kills, 15 digs and three blocks, while Jaycie Pratt nine kills and eight digs, and Braylee Pratt 10 digs for Timberlake.
Kellogg (11-2, 8-0 IML) will host either Priest River or Bonners Ferry tonight (Tuesday) in the semifinals of the District I Tournament.
Also Tuesday, No. 3 seed Timberlake will play No. 2 Coeur d'Alene Charter Academy (7-4) at 6 p.m. at Holy Family Catholic School in Coeur d'Alene.
WALLACE VOLLEYBALL
10/15
Wallace d. Lakeside
WALLACE — Jaden House had 13 kills and seven digs as the host Miners wrapped up the Scenic Idaho Conference title with a 25-15, 25-23, 25-19 victory over Lakeside at Kirby Krulitz Court.
Wallace honored their seniors Chloe Cielke, Cora Frank, Makenna Merrick and Kendall Lohr prior to the game.
"We were picking up a lot of their balls," Lakeside coach Brad Veile said. "Wallace just keeps coming at you, and they hit the ball really well. We were in the right spots and got the ball up, but just couldn't put it away. That was our best defensive effort of the season, and against a really tough team too."
Riley Valley had 38 assists for the Lady Miners.
The Lady Miners ran through the SIC competition this season, finishing 4-0 and earning the right to host their first district championship match in nearly a decade.
They will await the winner of Genesis Prep and Lakeside to determine who they will play in the District I Championship on Thursday at 6 p.m. with a trip to the State Tournament on the line.
KELLOGG FOOTBALL
Kellogg 45, Priest River 14
KELLOGG –– The Kellogg Wildcats got back on the winning track last weekend, knocking off their IML rivals in a game that could have playoff implications in just a few weeks.
After giving up the opening kickoff and falling behind 7-0 in just 14 seconds, Kellogg responded with a 32-0 run.
It was an air raid highlight reel for Kellogg, as Riply Luna connected with brother Kolby Luna, KJ Walker, Jayce Garcia, and Austin Miller for scores as he threw for well over 250 yards on the evening.
Freshman quarterback Reed Whatcott was forced to run a series early in the game after Luna's helmet came off during a play, Whatcott kept the ball and bounced off a few linemen before stretching over the goalline for a score.
The Wildcats let off the gas in the fourth quarter, electing to give significant snaps to some of their younger players who didn't have the luxury of a junior varsity season.
Whatcott was picked off late and returned for a Spartan score.
"We played well on both sides of the ball but we need to get better on special teams. We gave up the opening kickoff for a touchdown and we need to fix that," coach Dan Davidian said. "Defensively we did not give up any points which is always the goal. We got solid production from our front, linebackers, and secondary. Offensively, we moved the ball well most of the game."
Davidian was happy to see his team get a win, but now has to get his team prepared for the game that will determine if his team has any prayer of qualifying for the 3A State Playoffs.
A rematch with Bonners Ferry.
Earlier this season the Wildcats lost to the Badgers 14-13 in Bonners Ferry, giving up the opening kickoff and then a touchdown in the final minute, in a game that they otherwise controlled from horn to horn.
"We need to get our pass protection cleaned up especially for this week against Bonners," Davidian said. "We have a solid chance to earn a spot at a play-in game if we can win this week and we will be working hard to make that happen."
That game will be at Teeters Field on Friday evening at 7 p.m. and will also be Kellogg High School's homecoming game.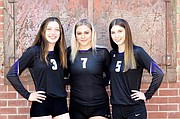 ---