Silver Valley Sports Recap: Oct. 19-25
|
October 26, 2020 11:52 AM
WALLACE VOLLEYBALL
Wallace d. Lakeside (1A D1 District I Championship)
WALLACE — Wallace outlasted their SIC rivals Lakeside 25-8, 17-25, 25-8, 28-26 in the 1A Division I District 1 championship at Kirby Krulitz Court.
Lakeside gave them a little more than they had in their previous matchups, but the outcome was the same nonetheless as Wallace marched into the 1A State Tournament with their first District I Championship since 2013.
The Lady Miners earned the right to host the district championship match after winning the newly formed Scenic Idaho League, the Knights came ready to play and nearly pushed the Miners into an uncomfortable fifth set.
Jaden House and Riley Valley were a wrecking crew for Wallace, tallying 23 kills and 55 assists respectively.
Their play was vital for Wallace, as the Knights didn't allow for many errors.
"Riley and Jaden both had amazing games," said Wallace Head Coach Katie Bauer. "Riley was setting very well and hustled to every single ball. Lakeside made it tough on us; they made very few errors and they were digging a lot of our attacks. I'm so proud our team was able to pull through; it is hard to beat a team three times in a row."
Wallace will now have a few days to prepare for Friday's matchup with Oakley (the second seed out of District IV) in the opening round of the 1A DI State Tournament at Jerome High School at 1 p.m. (MST).
KELLOGG VOLLEYBALL
Kellogg d. Bonners Ferry (3A District I Semifinals)
KELLOGG — Kellogg swept visiting Bonners Ferry 25-21, 25-18, 25-18 in their semifinal match at Andrews Gymnasium.
Kellogg earned the right to host every district match that they played in by going undefeated in their regular season Intermountain League schedule.
The reigning and defending IML champs enjoyed a spirited opening contest in their first tournament game, but Kellogg pulled away at the end of every set to advance to their third consecutive district championship match.
Sisters Hailey and Maddie Cheney hit the ball at will, finishing with 17 and 13 kills respectively, most of them set up by Grace Nearing and her 35 assists.
Kellogg d. Timberlake (3A District I Championship)
KELLOGG — The Wildcats outlasted Timberlake in five incredible sets 25-18, 22-25, 24-26, 25-8, 15-13 to qualify for their third straight state tournament.
The visiting Tigers did something that only one other team had done all year in forcing the fifth set and had it not been for the heroics of Grace Nearing they may not have won the match at all.
During the match's final two sets Nearing put the team on her back, including a spectacular pancake that sent Andrews Gymnasium into a frenzy and gave the Wildcats a much needed boost of momentum.
"Grace ran her court tonight," said Kellogg Head Coach Steph Batchelder (Congrats on that by the way!) "She caused a lot of momentum shifts in big moments, she had that pancake late, the serving, she knew when and where to attack."
Nearing finished with 29 assists and eight aces, while Hailey Cheney had 29 kills and Piper Rainio had 21 digs.
Kellogg will take on Kimberly (second seed out of District IV) in the opening round of the 3A State Tournament at Twin Falls High School on Friday at 1 p.m. (MST).
KELLOGG CROSS COUNTRY
District Meet — Oct. 22
FARRAGUT STATE PARK — Kellogg junior Shaye Sullivan was the 3A District I girls champion with a time of 20:59.7, and the Kellogg Boys Cross Country Team qualified for the state meet once again.
Fellow junior Lacey Medina also qualified for state with her fourth place finish while running at less than 100%, but head coach Jeff Smith believes that she'll be closer to that when the state meet rolls around.
Pacing the boys team was Makai Peak (17:35.4) who finished third overall and helped secure his teams' second place finish overall.
The state cross country meet will be next Friday (5A, 4A, 3A) at the Portneuf Wellness Complex in Pocatello.
MULLAN VOLLEYBALL
Clark Fork d. Mullan (1A D2 District I Championship)
MULLAN — In a battle of the North Star League's co-champions the host Tigers couldn't hang on to some early leads and fell to Clark Fork 25-17, 25-19, 25-21 at the Mullan Pavilion.
After beating Clark Fork earlier in the season and sweeping Kootenai, Mullan earned the right to host the championship match by way of a tiebreaking coin flip.
Losing in three sets, the Tigers would charge out of the gate at the start of each by putting up multiple points in a row, but then struggled to keep the momentum going.
"We started out on fire," coach Dawn Mckinnon said. "And then this game can just change like that."
Mckinnon was sad with how things ended, but proud of the season as a whole.
"It was a tough loss, I was hoping to give them a tougher fight than that, darn it!" she said. "I'm proud of these kids though, they work hard. Overall, a great season. I hope the kids keep their heads up."
With the win, Clark Fork claimed the North Star League's lone berth to state at Burley High School this weekend.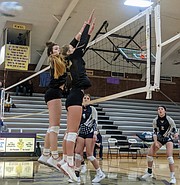 ---