Rauenhorst for the win!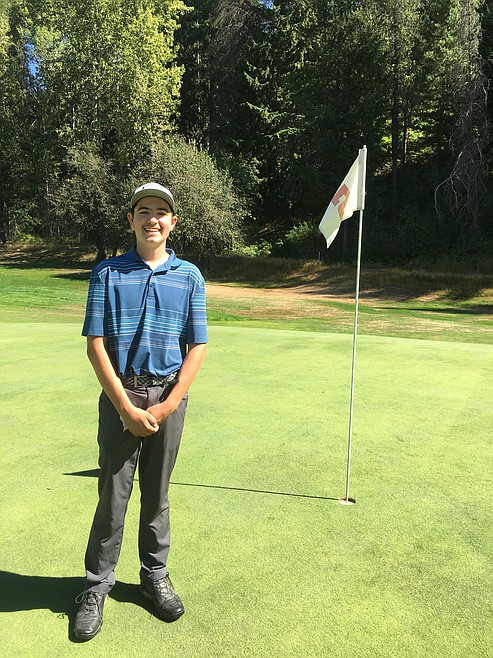 16-year old Archie Rauenhorst won the Pinehurst Golf Course Club Championship the past weekend, making him the youngest champion in club history and the captain of Pinehurst's team for the 2021 Miller Cup.
Courtesy photo
by
JOSH MCDONALD
Staff Reporter
|
September 3, 2020 10:19 AM
PINEHURST — If you Google the word phenom you'll be presented the following definition.
A person who is outstandingly talented or admired, especially an up-and-comer.
Archie Rauenhorst is a phenom.
This past weekend the 16-year old won the club championship at the Pinehurst Golf Course in rather dominant fashion, knocking off many top local golfers that included family, friends, and former champions.
The annual competition pits the club's top 16 scorers for the season against one another in match-style play.
Match play golf awards points based on who wins the hole, unlike the commonly used stroke play.
Knocking off locals Cade Finlay, his own father Hank Rauenhorst, Hogan Samuelson, and finally Taylor Hulstrom (Hulstrom and Hank being former club champions themselves).
"It was a lot of practice, a lot of hard work," Rauenhorst said. "I've played so much, almost every day, especially with school letting out early. It felt good.
Rauenhorst birdied the last four holes to give him a 5-point lead with only four holes left to play in the championship match, securing him the win and propelling him into the annals of the club's history, which dates back to the 1930s.
With the win, Rauenhorst enters an elite group of father/son tandems who have been club champions.
Archie and Hank, along with Stan and Jamie Edwards and Mike and Sean Biotti are the three pairs of father and son champions.
Rauenhorst is also the youngest champion in club history, which makes his winning all the sweeter.
Club member Brian Biotti gushed about Rauenhorst and stressed why it's so important for the guys his age to keep playing golf and to stay involved at the Pinehurst Golf Course.
He also detailed a particular responsibility that comes with the championship crown.
"Archie and the rest of the kids that are his age – that's the future of this club and its future for the next, well until these guys have kids," Biotti said. "It's really important that we try and nurture our juniors and bring them up to speed. You know, Archie's the youngest club champion ever and that means he's the captain of our team for the Miller Cup next year. If it weren't for these kids coming up I don't know that we would be functioning here. It's really an important thing that we've always been big on supporting the junior programs here, it's just so important."
---