Silver Valley Sports Recap: Aug. 31-Sept. 6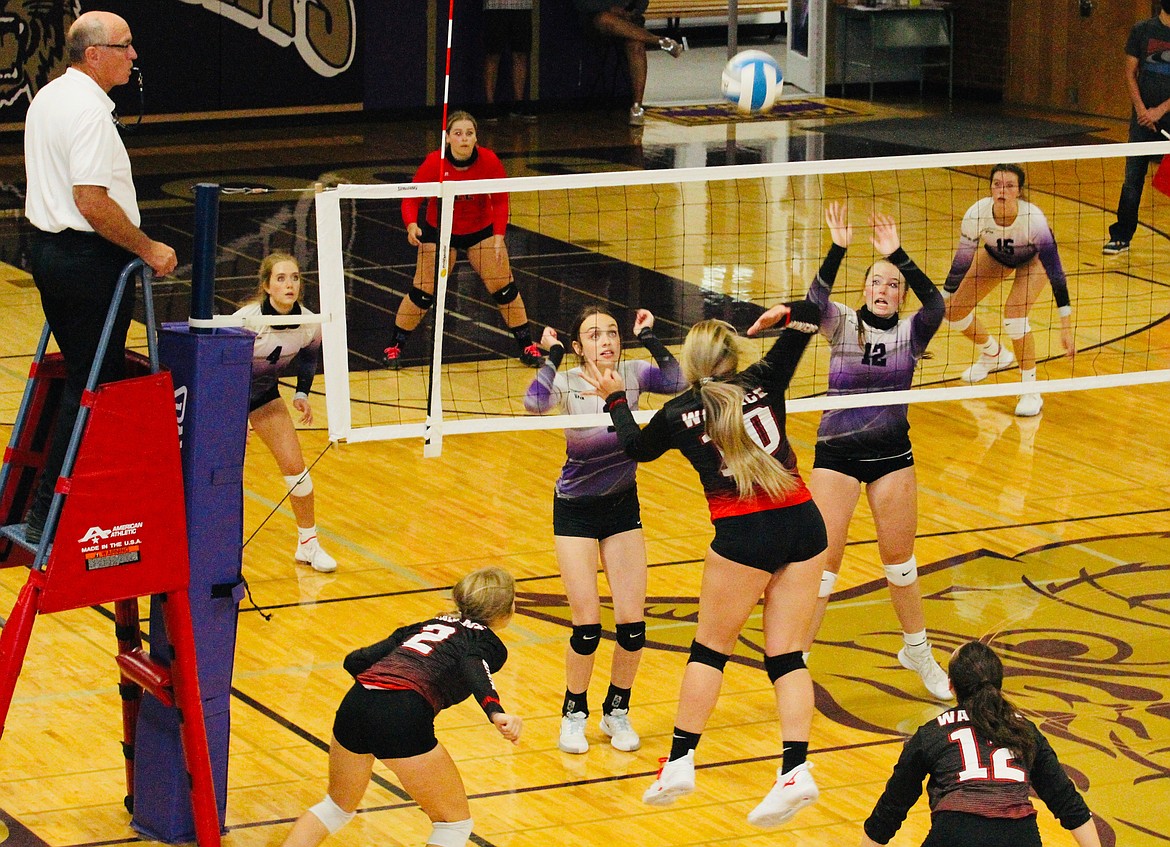 Wallace's Chloe Cielke squares up for the kill as Kellogg's Faith Bryant and Maddie Cheney prepare for the block. Kellogg picked up the win over their rivals in three sets.
JOSH McDONALD
by
JOSH MCDONALD
Staff Reporter
|
September 7, 2020 11:04 AM
KELLOGG VOLLEYBALL
KELLOGG –– The Lady Wildcats were pushed to the limit in the first set, but still swept their Silver Valley rivals the Wallace Miners, 26-24, 25-10, 25-22 at Andrews Gymnasium.
Juniors Hailey Cheney and Grace Nearing made the most of their team's home opener leading the Wildcats with 12 kills and four blocks, and six kills and 21 assists respectively.
Not quite the dominant performance head coach Stephanie Brunner was hoping for, there were aspects of the match that she liked as well as things she did not.
"I feel like we came out pretty flat and error ridden," Brunner said. "We had some moments of good play though. I feel like we worked on our system plays and for the most part we did a good job. It's our first home match and I'm happy that we came out with the win."
The Miners were a very game opponent for the Wildcats, despite being their first match of the season they came out and pushed Kellogg to the brink in the opening set, which forced coach Brunner's team to make some adjustments.
"Wallace did a good job monopolizing on our mistakes," Brunner said. "They played scrappy and had a lot of good hustle plays."
Freshman Maddie Cheney was the Wildcats' hero in that initial set, with four key aces that pulled Kellogg back into the game and propelled them to the win.
Kellogg is on the road this Thursday to take on the Lakeland Hawks in Rathdrum.
WALLACE FOOTBALL
9/4
Wallace – 22
Mullan/St. Regis – 64
SILVERTON –– The Miners get their offense going late after spotting the visiting Tigers a 28-0 first quarter lead.
"All in all it was a good night," Mullan head coach Stetson Spooner said. "Big time players making big time plays early for us. And then we were able to get our young guys a lot of reps late in the game."
Sophomore quarterback Caleb Ball threw two touchdowns and ran for two scores for the Tigers.
Last season Mullan beat Wallace by a combined 120-0 in two matchups, this time around Spooner was complimentary of the Miners' progress and how they've rebounded despite having low numbers.
"So much credit to coach Jared Young," Spooner said. "He has his guys playing hard. They have a couple of older guys who carry a huge workload. Kudos to them for staying hungry and being quality examples to their younger guys."
Mullan/St. Regis (2-0) hosts Arlee (MT.) in St. Regis on Friday night, while Wallace (0-2) is slated to host Kootenai at Sather Field.
MULLAN VOLLEYBALL
8/31
N.I. Christian d. Mullan
COEUR d'ALENE — The host Royals defeated the Tigers 25-16, 25-23, 23-25, 17-25, 15-10 in non-league play at Holy Family Catholic School.
No statistics were available.
Mullan is on the road to take on Kellogg's JV team on Wednesday evening at Kellogg High School.
WALLACE VOLLEYBALL
9/1
Kootenai at Wallace, ppd.
WALLACE — Last week's non-league match at Kirby Krulitz Court was postponed, due to a shortage of players at Kootenai.
No makeup date was announced.
9/5
Wallace Tri-Match
Wallace d. Kootenai; Wallace d. Deary
WALLACE –– The Lady Miners completed a sweep of their special Saturday tri-match with the Kootenai Warriors and Deary Mustangs.
No stats were received.
Wallace hosts Genesis Prep on Thursday at Kirby Krulitz Court.
---