Firefighters battle four North Idaho blazes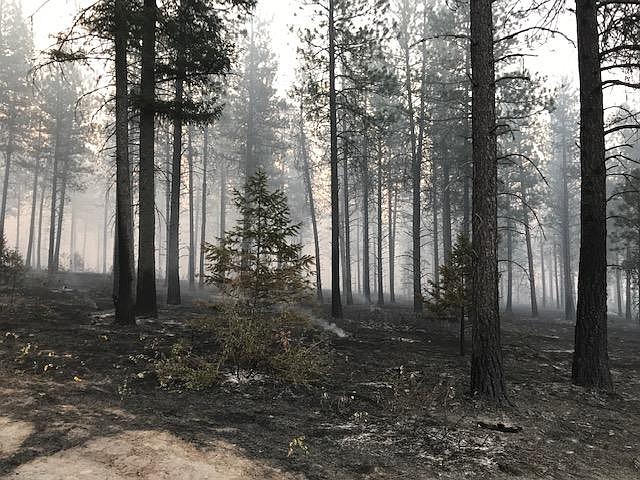 The Hunter 2 Fire near Blanchard peaked at 700 acres Tuesday, but crews are making headway on the blaze near Blanchard. Most restrictions and evacuations have been lifted. (Photo courtesy of Karen Robinson/IDL)
by
CRAIG NORTHRUP
Hagadone News Network
|
September 10, 2020 1:07 AM
Firefighters are closing in on the Hunter 2 Fire that forced travel restrictions and evacuations in and around Blanchard.
Crews continue to water down their perimeter around the fire, which officials estimate has not exceeded the 700 acres it swelled to Monday during the height of Labor Day windstorms that fanned wildfires across the West.
"Firefighters made good progress yesterday on containment of the Hunter 2 Fire," Idaho Department of Lands public information officer Karen Robinson reported in a statement Wednesday. "Fire lines are constructed around the perimeter and crews are working today to improve them and to suppress the fire inward from the lines. A helicopter is dropping water on hotspots and along the line."
Almost all road closures and restrictions have been lifted in the Blanchard area. Only Hunter Road, Stone Road, Stone Road Cutoff, Flying Geese Way, Akre Heights Drive and their branch roads remained closed as of press time Wednesday night.
"More crews are suppressing fire around home sites inside the fire area and increasing protection for those structures to make it safe for people to return home," Robinson said shortly before the travel restrictions were lifted.
Blanchard's Hunter 2 Fire is one of four fires impacting the area. The Callahan Fire, which started Tuesday in the northeast corner of Kootenai County south of Smith Mountain, has reached 20 acres. The Forest Service dispatched a crew to fight the fire; an aircraft and additional crews have since been ordered. FS Road 4530, which leads up Smith Mountain, has been closed for safety reasons while teams continue to battle the Callahan fire, which is considered a high risk to spread due to the area's steep terrain and ground conditions.
Crews continue to fight the Bernard Fire near Bayview, which grew another 38 acres Tuesday to reach 188 total acres as of press time. No evacuation orders had been issued to Bayview residents.
That fire started near the water and has since burned the hillside as it climbed. While the fire is a relatively safe distance south of town and not deemed a risk to Bayview residents, its isolated location amid steep terrain has made the task of battling the blaze difficult. Ten Forest Service roads in the area have been either closed or partially closed while crews continue to fight the fire on the ground, as well as from the air.
The largest fire on North Idaho's radar more than tripled in size between Tuesday evening and Wednesday afternoon. The Sunnyside Complex Fire, a combination of the Clover and MM 49 fires near Orofino, erupted from 700 acres Tuesday to more than 2,500 acres by press time Wednesday. Forest Service and IDL crews are fighting the Sunnyside Complex Fire, a fire fueled by timber and uphill terrain. Buildings and homes have burned in that fire, though officials cannot yet confirm how many have been destroyed.
---