Water bottle donation fills hole in school supply need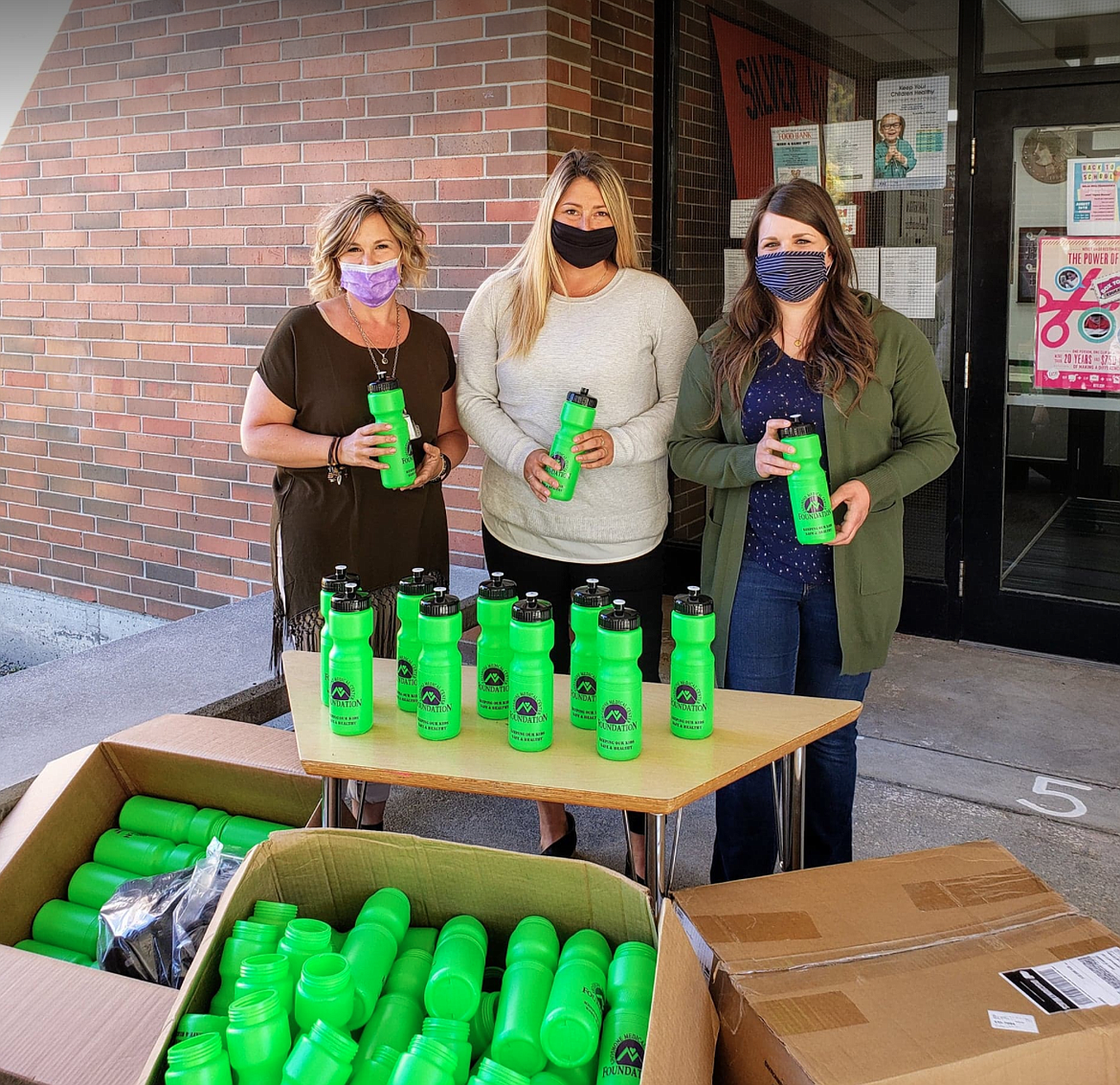 Shayleen Jerome and Ashlee Myles with Shoshone Medical Center, and Wallace PTO President Jess Caraway handed out reusable water bottles to students at Silver Hills Elementary School on Wednesday. The water bottles were purchased by the SMC Foundation using a grant from the Innovia Foundation and were handed out at all of the elementary schools in the Silver Valley.
Courtesy photo
by
JOSH MCDONALD
Staff Reporter
|
September 10, 2020 10:06 PM
Not in a million years would anyone have thought that the most sought after school supply item would be a reusable water bottle — but this is definitely a strange time.
COVID-19 has forced everyone to do things differently, perhaps no group more than schools.
In the wake of unprecedented early closures during the 2019/20 school year, schools were forced to create reopening plans that staggered attendance, eliminated much of the social aspect of schools, and put an emphasis on sanitation that seems unrealistic at times.
One of the casualties of the schools' efforts to make their facilities safer… drinking fountains.
A staple of school features, the drinking fountains posed a unique issue where they would have to be sanitized after every use to be even remotely safe for use in general — let alone when the world is gripped by a pandemic.
This issue prompted Shoshone Medical Center Foundation Executive Director Ashlee Myles to spring into action.
She first applied for and was awarded a grant through the Innovia Foundation, which she then used to purchase reusable water bottles for all of the elementary school students in the county.
"The foundation had planned to do something for back-to-school, but the schools asked us to hold off because they didn't know what they would need," Myles said. "Then, Jess Caraway, the PTO president at Silver Hills said that they were struggling with water bottles. Even though it was on the supply lists, so many kids showed up without them. I heard the same concerns from the other schools so we purchased water bottles."
Myles and SMC Business Development Coordinator Shayleen Jerome dropped the water bottles off to the schools on Wednesday.
Myles has now set her sights on another grant from Innovia, with the goal of purchasing and installing hands-free water bottle refill stations for all of the schools where one is needed.
The Innovia Foundation is a community foundation for Eastern Washington and North Idaho and since 1974, the foundation's endowment has grown to $135 million.
Through the generosity of donors and the passionate support of nonprofit and community partners, Innovia Foundation has awarded more than $81 million to organizations that improve lives.
---