Lady runners will lead KHS in 2020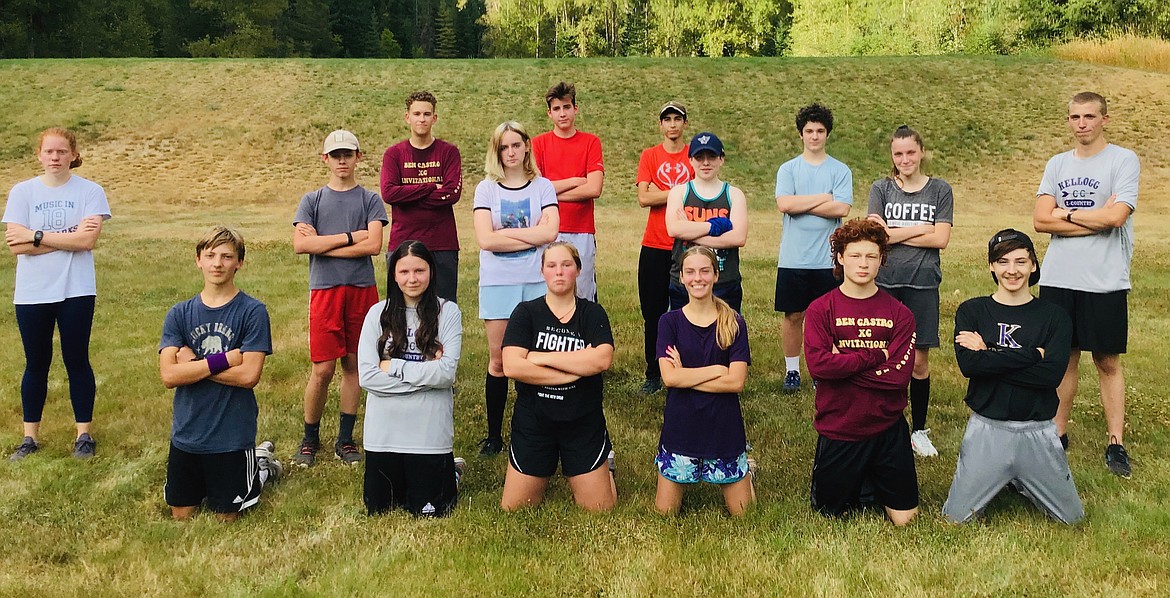 Courtesy photo The Kellogg cross-country team pictured from left (back row) are Charles Bergem, Thomas Moffett, Izayah Jaramillo and Brenton Swainston. Middle row is Shaye Sullivan, Luke Smith, Jayden Bruce, Aiden Miller, Lacey Medina and Levi White. Front row is Makai Peak, Meredith Duce, Brooke Benning, Paige Carlson, Raymond Healy and Dakota Eixenberger. Not pictured are Hyrum Lakko, Elijah Lakko and Ethan Guy.
Courtesy photo
by
JOSH MCDONALD
Staff Reporter
|
September 11, 2020 11:23 AM
KELLOGG –– The Kellogg High School cross country team is switching gears this year.
After the last few years with solid male teams representing the Wildcats, it's time for the ladies to really carry the purple and gold banner.
Fortunately, head coach Jeff Smith has a pair of studs at his disposal this year.
Juniors Lacey Medina and Shaye Sullivan qualified as individuals for the 2019 State Meet, and should find themselves there again later this fall.
The boys team is going to lament the loss of program stalwarts Garrett Miller and Judson Hall, but has some incoming youth that should infuse some energy into the program.
In his seventh season as the leader of KHS XC, Smith is headed into the uncertainty of sports in 2020 with one of the larger teams during his tenure.
But that isn't hampering his enthusiasm for his team.
Cross country is one of the least riskiest sports for high school athletes according to the guidelines set forth by the Idaho High School Activities Association, which should put runners, coaches and families at ease.
"We have last year's male middle school champ on our boys team," Smith said. "We also have a lot of new runners in the program as well. But this is a good group of competitive kids."
There is no information posted as of yet concerning the 2020 State Meet, however the Wildcat runners will certainly be looking forward to Oct. 22, when they will have the opportunity to compete for district gold at Farragut State Park.
---