Kellogg volleyball looking to build off previous years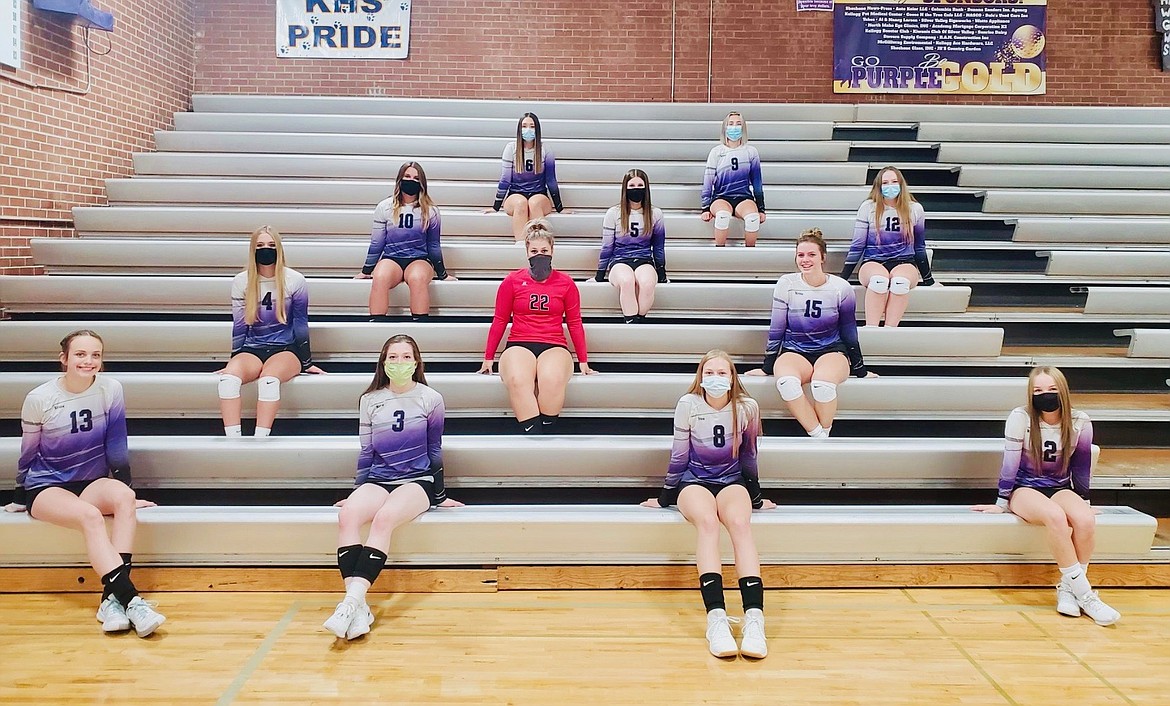 Photo by CALEB McDONALD The Kellogg volleyball team pictured from left (front row) are Faith Byrant, Rosie Campbell, Emily Coe and Gracie Sawyer. Second row is Grace Nearing, Piper Rainio and Hailey Cheney. Third row is Jezzy Hall, Kaitlyn Williams and Maddie Cheney. Back row is Caitlin Pipkin and Macy Jerome.
Caleb McDonald
by
JOSH MCDONALD
Staff Reporter
|
September 11, 2020 11:54 AM
KELLOGG –– Sometimes, even the most positive of seasons can end on a sour note.
Last season the Lady Wildcats found themselves in that position.
After a dominant run to the state tournament, which was played at Lake City High School, the Wildcats won their opening match against Snake River before being upset by Filer and running out gas in a loser-out match against Gooding.
Many in attendance believed the Wildcats were one of the top three teams in the tournament, but they lacked that big match experience which ultimately cost them their bid for state hardware.
Third year coach Steph Brunner has guided the Wildcats to back to back state tournaments after a 25-year drought and has her sights set on continuing that streak.
That being said, she expects her squad to do a lot of early season developing before they hit their stride.
"I believe this year will be a big growing season for us," Brunner said. "I think mid-season we will really start getting into our groove. A huge plus is they are a dedicated and eager group which will help bring us along quickly."
The Wildcats should be favored to repeat as Intermountain League champions, but Timberlake will be a test for Kellogg as per the usual.
But with juniors Hailey Cheney and Grace Nearing leading the charge, and once senior Piper Rainio is back to full health the Wildcats will be formidable to say the very least.
Rainio brings an energy to the team that is hard to replicate as she finds herself in the middle of every possible play.
Kellogg will be experienced for sure, but will they be cohesive is the real question.
"We have some returners who are used to playing with each other but on the flip side to that coin our weakness is the majority of this team hasn't played together before," Brunner said. "Another strength is that we have a phenomenal setter (Nearing) who will get to every ball. She has a variety of tricks in her bag. Hailey can run every hit successfully and her and Grace work well together. We have some taller girls that have long arms which provides us with a great reach for hitting and blocking."
Brunner obviously wants to punch that third ticket to state, but along the way she will be setting regular goals for each match, which is a tactic that she hopes will help the team hit their stride sooner rather than later.
---