New coach, new style for Wildcats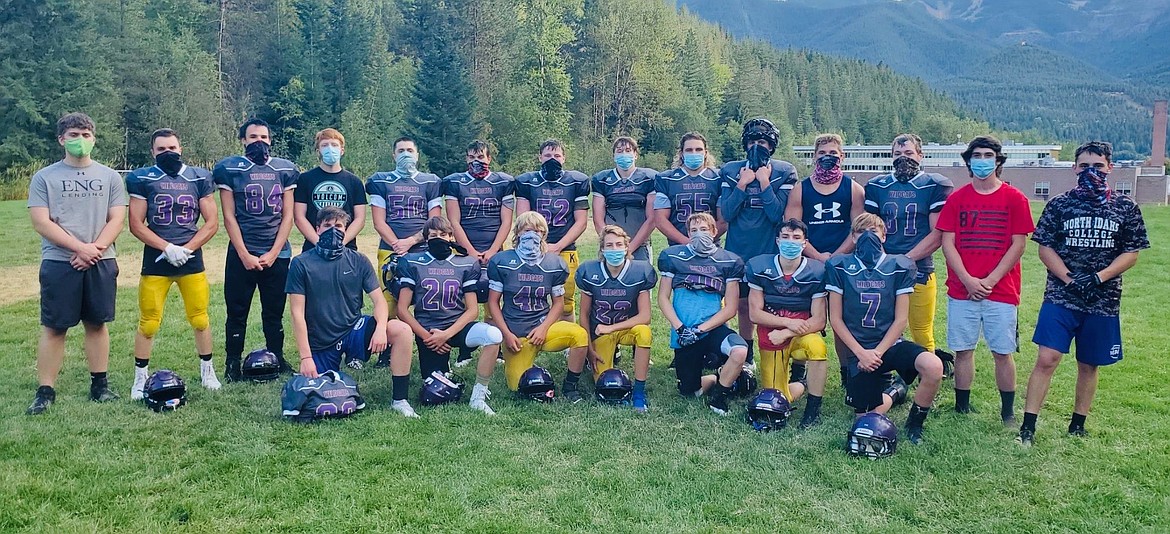 Photo by CALEB McDONALD The Kellogg football team pictured from left are (back row) Chane Britton, Aaron lehto, Tanner Lee, Skylar Britton, Hayden McDonald, Loren Duffy, Carson Hudson, KJ walker, Otto Sharp, Ripley Luna, Brody Hoffman, Austin Miller, Deaton Bauer, and Tanner Bisaro. Front row is Kolby Luna, Ridge Oertli, Ramsey Rainio, Kolter Wood, Jayce Garcia, Travis Lohr, and Reed Whatcott. Not pictured James King and Jeff Crawford.
Caleb McDonald
by
JOSH MCDONALD
Staff Reporter
|
September 11, 2020 11:40 AM
KELLOGG –– Under new leadership, the Kellogg Wildcats will be looking to make a fourth straight run to the 3A State Playoffs, at least that is new head coach Dan Davidian's goal.
Davidian, the principal at Kellogg Middle School, is staring down the barrel of a young team in a mixed bag of a league.
Davidian is well aware of the monster that lurks in Spirit Lake, but believes that his team should still match up competitively against Bonners Ferry, Priest River, and the defending Intermountain League champs from Timberlake.
"Our goal is to win the league but we know that will be tough," Davidian said. "We respect our league opponents and know that league games are tough but we will not waver on trying to reach the goal of winning the league."
With COVID-19 severely limiting how football teams are being run, as well as declining numbers, the Wildcats have forgone a junior varsity team and will field a squad that has a blend of upper and underclassmen.
Those players have been tasked with learning a new system on both sides of the ball, while many are playing both sides of the ball.
"Carson Hudson, Austin Miller, Aaron Lehto highlight our returning seniors who will be big for us and our up and coming sophomores Riply and Kolby Luna will make a big impact this season," Davidian said. "We are a young team with a lot of skilled players at skill positions. We do not have a lot of depth but feel confident we can match up well with teams in our league. We are incorporating an up-tempo offense and a new 3-4 defense which gives us the flexibility to mix up blitz packages and stunts and have a solid pass rush. Our real weakness is our depth. We will be playing several players both ways and we have to up our conditioning which is what we do at practice with our up-tempo system."
Like many programs, the Wildcats weren't able to have any sort of real summer sessions, which had them coming into the season completely unable to predict what or who they would have at their disposal.
But with so many underclassmen, Davidian is hoping that this season acts as a solid launchpad for learning his new system.
Last season the Wildcats went 3-5 during the regular season (2-1 IML), before losing their seeding game to Teton in the state playoffs.
Kellogg plays non-conference games against Bonners Ferry and Priest River before taking them on once again for conference purposes later in the season, which bodes well for the Wildcats potential win/loss records when it comes time for seeding the 2020 playoffs.
The Wildcats shut out both Bonners and Priest during the 2019 campaign.
---