Reloaded Tigers ready for anything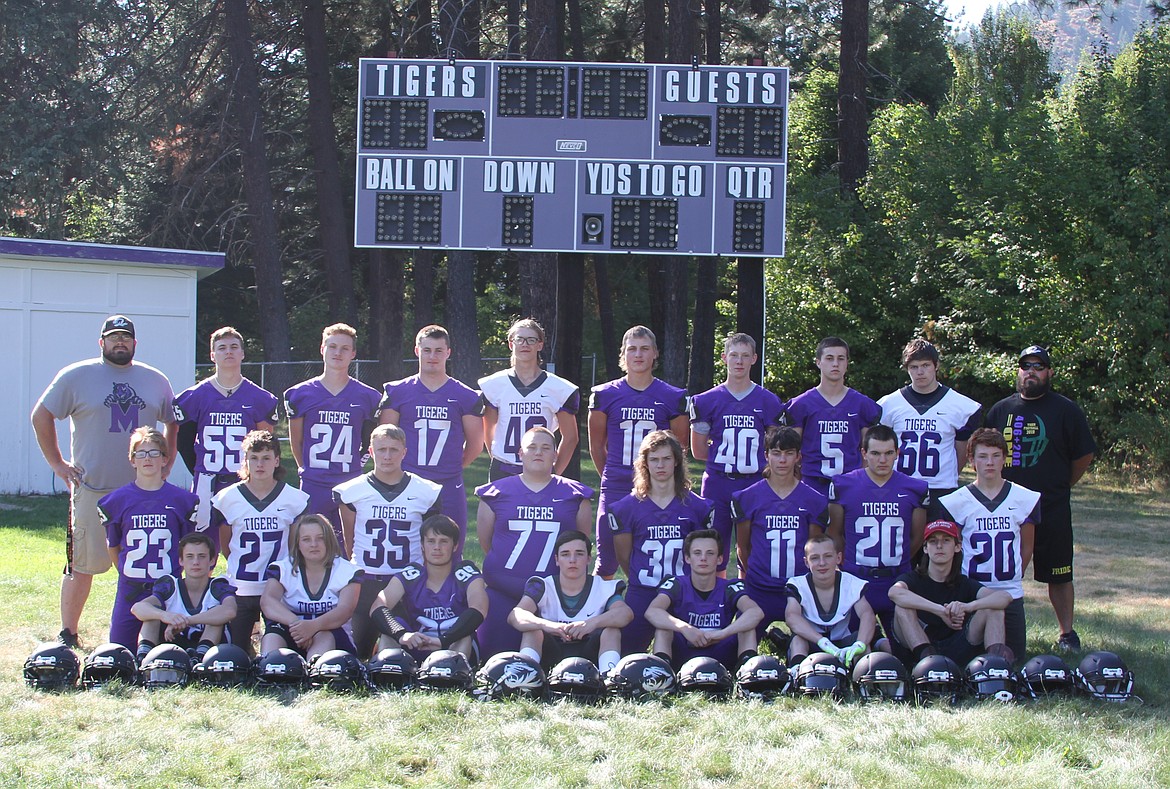 Courtesy photo The Mullan football team pictured are (back row, from left) Coach Stetson Spooner, Blake Layton, Riley Trogden, Noah McKague, Luke Trogden, Nate Franks, Caleb Ball, Ben Lowman and coach Jesse Allen. Middle row: Trystan Zingler, Alex Trogden, John Pruitt, Blake Knoll, Kason Lowman, Floyd Nelson, Xavier Milton and Austin Zingler. Front row: Stephen Petit, Dakota Driggers, AJ Jermyn, Josh Houston, Logan Petit, Brenton Brooks and manager Aiden Stack.
Courtesy photo
by
JOSH MCDONALD
Staff Reporter
|
September 11, 2020 12:14 PM
MULLAN/ST. REGIS –– Fresh off of an exhilarating and humbling 2019, the 208/406 Tiger football team is making 2020 their redemption tour.
With a downsized league consisting of just them, Clark Fork, and Kootenai (maybe??), the Tigers are in a key position to not only win their league, not only host a playoff game for the second straight season, but also find themselves in a favorable matchup in their opening round game.
Last season the Tigers were fun to watch and this season should be no different, but this year they will have the experience that was gained during last year's 82-34 playoff loss to Kendrick.
The Tigers went to hell and back to get to that playoff game, winning their league by way of a dramatic Kansas Tiebreaker at Lakeside.
This year, the biggest hurdle for Mullan/St. Regis will be Clark Fork and themselves.
After a decade of leading the Tiger Football Program, Stetson Spooner is basically an elder statesman in the North Star League and is getting his team mentally prepared to play, as well as to not play should the season fall victim to COVID-19.
"As much as we challenged our players with building off of the league title from last year and pushing to repeat that and by winning in the postseason, that scared feeling lies in the back of our minds every second of the challenges that may be presented to just finish the year," Spooner said. "That being said, the guidelines and protocols put in place and the effort the kids are putting into being safe seem to be holding strong for these last two weeks of practice."
The Tigers are deeper than they have been in more than a decade with 21 rostered players and a handful of returning all-league studs, including senior Riley Trogden, junior Luke Trogden, junior Adam Ball, as well as second year starter, sophomore quarterback Caleb Ball who all have seemingly gotten bigger and faster in the 10 months since last season ended which is good because that will be an area of lack for Mullan this year.
"Similar to last year, we lack size and are still relatively young," Spooner said. "Our strengths would be similar as well. We remain fast at numerous positions. Offensively we are a little more versatile but still thrive on the huge plays and defensively we love to fly around."
Should Mullan punch their ticket to the playoffs again, they would host the second seed from District III, which would allow the Tigers to avoid an opening round matchup with District II.
"They have been a roadblock for the District I eight-man squads for some time now," Spooner said.
---