The trials of rebuilding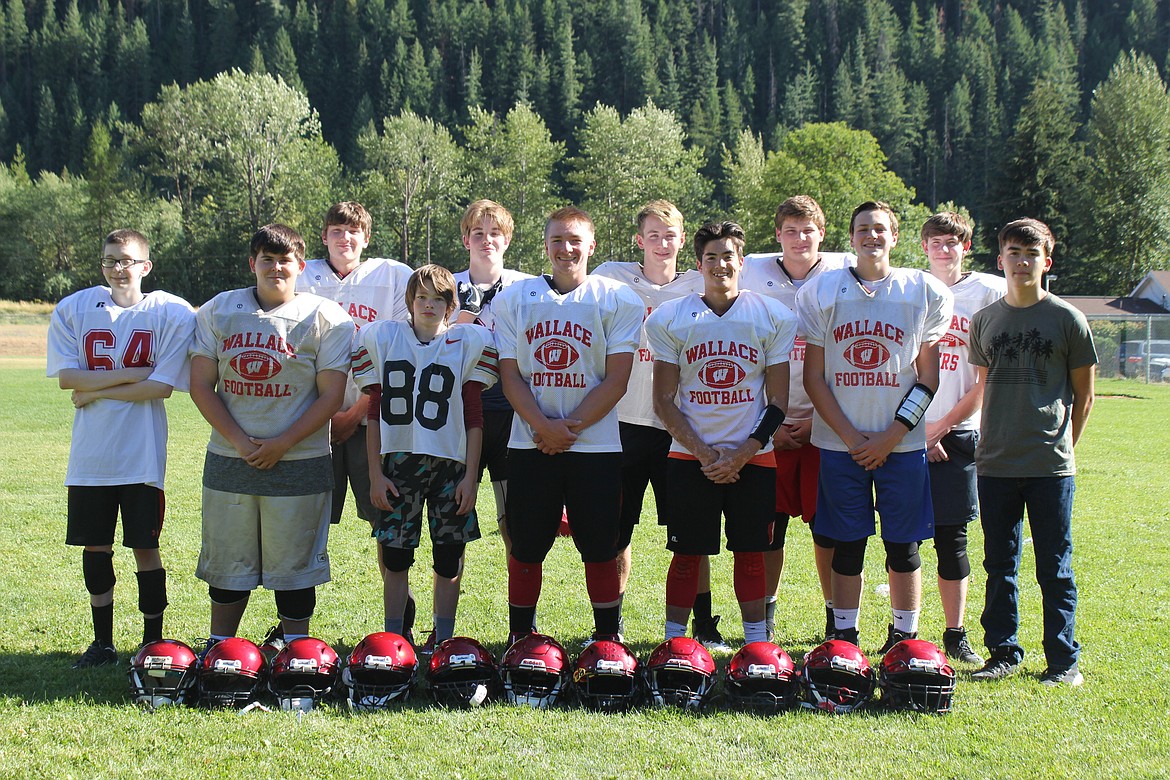 Courtesy photo The Wallace football team pictured from left are Brad Stutzke, Evan Wilkinson, Robbie Morin, Connor Leeling, Liam Murdock, Kody Richardson, Colton Pentland, Alex Field, Luke Hull, Will Farkas, Jordan Sheppard and Arik Wilkinson. Not picutred are Tristan Reed and Teagan Goldade.
Courtesy photo
|
September 11, 2020 12:04 PM
WALLACE –– Wallace football coach Jared Young is going to have to do more with less this year if the Miners are going to see some success this season.
After a tough 0-7 season last year, as well as the departures of several veteran players, Wallace has only 13 players on their roster this season.
Despite the low numbers, there is a silver lining to the upcoming season for the Miners.
The newly created 1A D1 Scenic Idaho Conference that consists of Wallace and Lakeside (and Genesis Prep for some sports) allows the Miners the ability to get back to the state playoffs without having to spend the entire season competing against the vaunted White Pine League just to qualify.
The Miners will rely heavily on their upperclassmen, including returning players Alex Field, Colton Pentland, Robbie Morin, Kody Richardson and Evan Wilkinson.
Newcomers Luke Hull, Will Farkas, and Texas transfer Liam Murdock will round out much of the lineup, but sixth-year head coach Young has a few tricks up his sleeve that could prove useful for his team.
"This year we are looking to establish the run early and often and ground and pound our way down the field on offense," Young said. "We will lean heavily on our seniors and upperclassmen. We do not have a lot of depth with only 13 players. We will look for Alex Field and Kody Richardson to lead the rushing attack for use behind an improved offensive line led by Robbie Morin, Evan Wilkinson and Colton Pentland. We will be unveiling something new on offense this year and we look to trip people up early in the season."
Thirteen players means that conditioning will be key for the Miners to finish the season strong, which is something that is being stressed by Young and his staff.
"Our strength will have to be our conditioning and toughness which at times could also be a weakness for us," Young said. "We must stay healthy and will lean on most of our guys to never leave the field. True ironman football. Attitude and effort will be the name of the game for us."
Wallace has home field advantage for the majority of their season with five home games this year, including their lone conference game against Lakeside, which should bode well for the Mighty Miners.
---