Silver Valley air quality 'hazardous'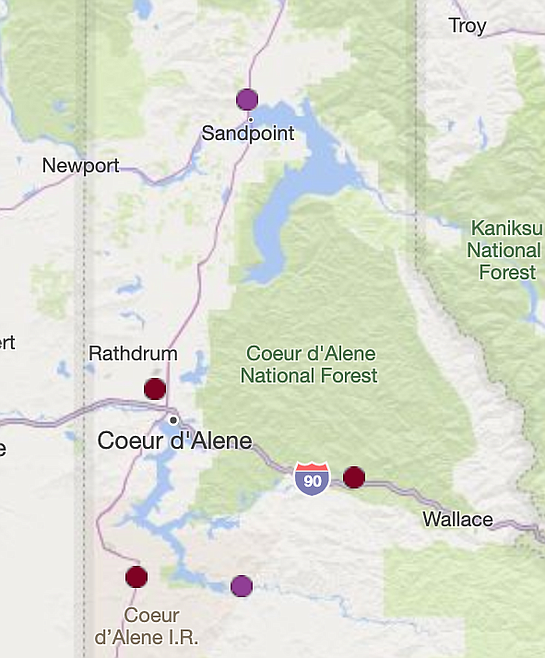 The Pinehurst air monitoring station showing "hazardous" air quality conditions.
by
CHANSE WATSON
Managing Editor
|
September 12, 2020 6:56 PM
The Idaho Department of Environmental quality is reporting that the air quality in the Silver Valley is current rated as "hazardous."
Several large fires in Oregon and Washington have kicked up a lot of smoke that has made its way to the Idaho Panhandle.
When the Air Quality Index is over 300, this triggers health warnings of emergency conditions. The entire population is more likely to be affected and is advised to avoid all outdoor exertion.
Possible effects of exposure include serious aggravation of heart or lung disease and premature mortality in persons with cardiopulmonary disease and the elderly.
According to IDEQ, smoky air is considered a form of particle pollution.
Particle pollution has been linked to a number of health problems including coughing, wheezing, reduced lung function, asthma attacks, heart attacks, strokes, and even death.
Residents can visit the IDEQ air monitoring map to view the air quality index to see what the forecasted air quality is supposed to be.
The IDEQ rates air quality using a series of numerical values.
0-50 is good and 51-100 is moderate, but after 100 things get dangerous and there are strictly warnings that apply to people with varying sensitivity.
Ideas like less strenuous outdoor activities, shortening the time of such activities, and canceling activities all together are suggestions that IDEQ recommends during times of heightened poor air quality.
Should air quality not improve in the coming days it could interfere with local outdoor activities.
---