Eric M. Atkins, 44
|
September 14, 2020 9:09 AM
On the morning of Sunday, Sept. 6, 2020, family and friends lost a force of nature. Eric M. Atkins, 44, was taken from us far too soon as the result of a tragic motorcycle accident not far from his home in Ludlow, S.D.
Eric's wit, humor and infectious laugh stole everyone's hearts. He was born in Kellogg, Idaho, and was raised in Mullan, Idaho, where he attended school K-12. He went on to lineman's school where, while working for a cable company, he discovered his passion for operating equipment. He then moved on to the construction industry where he excelled and advanced to management, planning and bidding. However, this did not stop him from jumping in a piece of equipment whenever the need arose.
He could operate just about anything with an engine and most likely be able to fix it also. While he was living in Idaho's Silver Valley, he worked for several construction companies. This eventually took him to South Dakota, where he met Hunter Kalisiak of Young Gun Construction. Eric and Hunter soon became fast friends and would soon call each other brother. He relocated to South Dakota to partner with Hunter, where he resided until his death.
Eric always had a passion for living life. He enjoyed racing motocross, snowboarding, jeeping, side-by-side rides, hunting, fishing, camping, snowmobiling and snow biking, all at different times in his life. Eric also enjoyed a frosty beverage every now and then.
He was the one you wanted to have on your contact list when you needed a hand. To most of his family and friends, he was Uncle Bud or Foz, and he was always there when you needed him. He lived life full throttle and for the too short of a period that he graced us with his presence, he left nothing on the table.
Eric was preceded in death by his father, Terry Atkins; paternal grandparents, Monroe and Rosie Atkins; and maternal grandparents, Warren and Millie Gill.
He leaves behind his love, Shannon Atkins of Ludlow; a son, Brennen Atkins of Pinehurst, Idaho; a daughter, Mycah Atkins of Ludlow; three sisters, Kristy (Ken) Dykes of Mullan, Tacey (Bill) Keylon of Coeur d'Alene, Idaho, and Tami Baskett of Pinehurst; his mother and father, Merri and Clint Baskett of Mullan; a grandmother, Shirley Baskett of Coeur d'Alene; and too many aunts, uncles, cousins, nieces and nephews to name.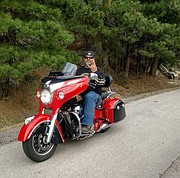 ---