Silver Valley Sports Recap: Sept. 7-13
|
September 14, 2020 1:58 PM
KELLOGG FOOTBALL
BONNERS FERRY –– The Kellogg Wildcats gave up just two touchdowns on Friday night, one on the opening kickoff, and then one in the closing minutes of their non-conference game against the Badgers.
When the dust settled, Bonners Ferry sent the Wildcats home with a 14-13 loss and the sting of their own mistakes costing them the game.
The opening kickoff, seemingly, was the result of nerves, and the fact that it had been two whole weeks since the 'Cats had played.
Following that score the game tightened up and became a war of attrition between two teams who were about as equally matched as it gets in North Idaho.
Riply Luna found Travis Lohr in the end zone late in the second half to knot the game up, then hit Austin Miller in the fourth quarter, but failed to convert the point after kick to give Kellogg a 13-7 lead.
Kellogg's defense had played near perfectly for the entire night, repeatedly keeping Bonners Ferry out of the end zone and producing several plays for negative yards.
They came through again, forcing the Badgers into a turnover on downs.
With roughly six minutes left in the game, Kellogg took over and began the process of running the clock out when Aaron Lehto coughed up the ball near midfield.
The 'Cats gave up plays for big yardage before stiffening up inside their own five yard line.
With less than a minute remaining, the Badgers took a sweep on fourth and goal and were able to extend the ball over the goaline for the tying score and then the lead following a successful point after kick.
Kellogg took a few deep shots to try and find the endzone but simply didn't have enough time.
MULLAN VOLLEYBALL
9/8
Clark Fork d. Mullan
MULLAN — The Tigers fell to the Wampus Cats 25-17, 25-20, 25-22 in the North Star League opener for both teams.
9/9
Mullan d. Kellogg JV
KELLOGG –– No scores or stats were received.
9/10
HARRISON FLATS –– The Tigers made quick work of the Warriors, beating them 25-9, 25-14, & 25-11 at Kootenai High School.
Playing their third match in as many days, Mullan Head Coach Dawn McKinnon was happy to see her girls get the win, but would like to see a little more spring in their steps.
"The girls played hard," McKinnon said. "Still playing flat-footed and working out some kinks both offensively and defensively."
Fortunately for the Tigers, Talowa Fallingwater and Emily Dykes seem to cover the entire court during their matches which allows for some of the younger, less-experienced players time to learn on the fly.
Mullan is on the road this week, taking on St. Regis on Wednesday followed by Wallace on Thursday.
MULLAN FOOTBALL
Mullan/St. Regis – 76
Arlee (MT.) – 36
ST. REGIS –– The Mullan/St. Regis Tigers improved to 3-0 on the season as they cruised by the Arlee Warriors in Montana.
Arlee wasn't to be pushed around early, but after a few tweaks to both the offense and defense, the Tigers began to roll.
"They were kicking our butts up front at first," Mullan Head Coach Stetson Spooner said. "We made the adjustments, and then our big time athletes made big time plays for us. We were able to rotate in our younger guys and get them some important reps. All in all, it was another solid performance for us."
Mullan quarterback Caleb Ball put on a highlight reel performance throwing five touchdowns on only eight completed passes, while also rushing for two touchdowns and 105 yards on 10 carries.
Luke Trogden, Adam Ball, Riley Trogden, John Pruitt, and Floyd Nelson all scored for the Tigers
The Tigers are on their bye week, but are scheduled to host Kootenai on September 25.
WALLACE VOLLEYBALL
9/10
Wallace d. Genesis Prep
WALLACE –– Three up and three down…
That was the story for the Wallace Lady Miner last week as they dominated their Scenic Idaho Conference opener 26-6, 25-3, & 25-12.
Jaden House had nine aces while Riley Valley finished the match with eight aces for the Miners.
Wallace dominated from the service line, finishing with 30 aces as a team.
Wallace (3-1) will travel to Clark Fork today for a battle between the SIC and North Star League's top teams.
KELLOGG CROSS COUNTRY
9/12
SPIRIT LAKE –– Kellogg had several runners with impressive showings, despite the early onset of the smoke at Farragut State Park.
For the ladies, Lacey Medina and Shaye Sullivan finished with times of 21:56 and 22:06 to stake their claims to first and third in the total Intermountain League standings.
Kellogg freshman Makai Peak ran a 19:23 in his first high school 5K for the Wildcats and was a top ten Intermountain League finisher, while Levi White (20:24), Dakota Exienberger (20:43), and Ethan Guy (20:53) rounded out Kellogg's top runners.
"We barely got this in before the smoke set in," Kellogg Head Coach Jeff Smith said. "This was not a bad first 5K but we have a lot of work to do if we want team state bids. The good news is the team as a whole is willing to put the work in."
Kellogg is scheduled to run again on Wednesday in Rathdrum, but that will be determined based on the air quality.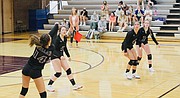 ---