Silver Valley Sports Recap: Sept. 21-27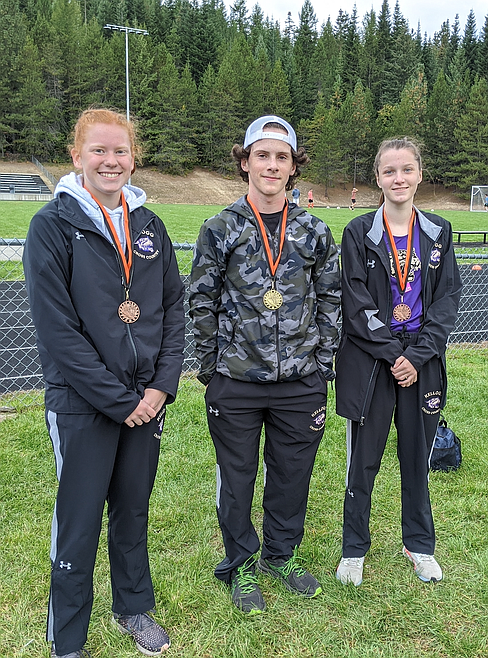 Kellogg cross country runners Shaye Sullivan, Ethan Guy and Lacey Medina all finished in the top 10 for their respective races in Priest River last week.
Courtesy photo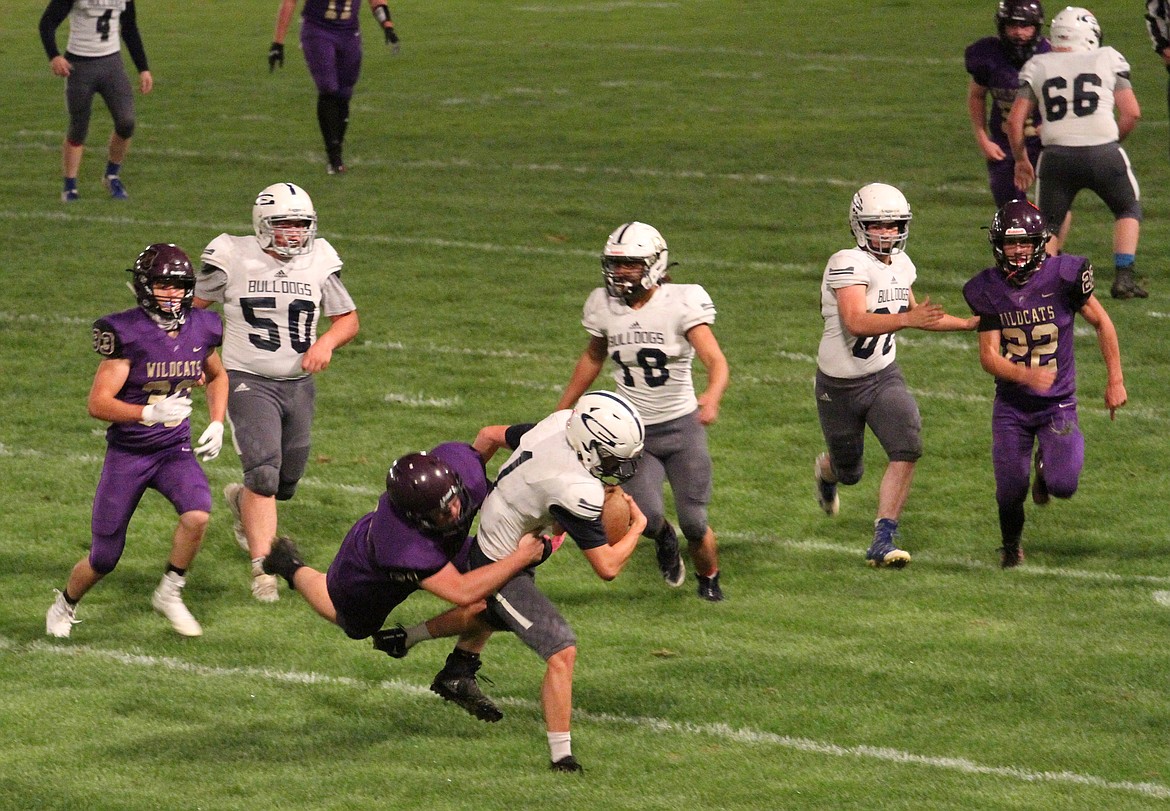 Kellogg's Austin Miller chased down and tackled Grangeville's kick returner during the first half of the Wildcats' home opening loss to the Bulldogs last Friday.
Previous
Next
|
September 30, 2020 11:22 AM
Kellogg cross-country
PRIEST RIVER — The ladies from Kellogg were on display at the Ivan Benson Invitational on Thursday at Priest River High where Lacey Medina and Shaye Sullivan brought home top-four finishes respectively for the Wildcats.
BOYS TEAM SCORES — 1, Immaculate Conception 31. 2, Coeur d'Alene Charter 41. 3, Kellogg 48.
TOP 10 — 1, Logan Davis, Cd'A Charter, 16:28. 2, Kellen Souza, Immaculate Conception, 17:54. 3, Danny Kuplack, Immaculate Conception, 18:28. 4, Jack Darakjy, Immaculate Conception, 18:31. 5, Dylan Lord, Priest River, 18:48. 6, Nathan Russell, Cd'A Charter, 19:17. 7, Ethan Guy, Kellogg, 19:27. 8, Karson Mobbs, Lakeland, 19:28. 9, Adrian Deartola, Immaculate Conception, 19:45. 10, Nolan Oyler, Cd'A Charter, 19:48.
GIRLS TEAM SCORES — 1, Coeur d'Alene Charter 43. 2, Bonners Ferry 47. 3, Kellogg 58. 4, Lakeland 66.
TOP 10 — 1, Annika Rantala, Priest River, 21:05. 2, Lacey Medina, Kellogg, 21:07. 3, McKenna Kozeluh, Cd'A Charter, 21:26. 4, Shaye Sullivan, Kellogg, 21:43. 5, Natal Davis, Cd'A Charter, 21:57. 6, Ceci Roemer, Bonners Ferry, 22:04. 7, Peyton Duffield, Cd'A Charter, 22:06. 8, Camille Ussher, Bonners Ferry, 22:39. 9, Markena Gorton, Lakeland, 22:50. 10, Jenna Brooks, Bonners Ferry, 24:08.
Kellogg volleyball
Kellogg d. Cd'A Charter
COEUR d'ALENE — Maddie Kociela had seven kills for the Panthers in a 25-19, 25-11, 25-22 loss to the Wildcats in Intermountain League play on Sept. 22 at Holy Family Catholic School.
Junior Hailey Cheney continued her streak of impressive play for the Wildcats, recording 14 kills to go along with three aces and three blocks, fellow junior Grace Nearing had 27 assists for the 'Cats.
Kellogg head coach Steph Brunner still believes that her team has another gear that they can get into, but is happy that she is seeing improvement.
"Once again our momentum and tempo was a little flat and slow," Brunner said. "We did good things, but we couldn't seem to quicken the pace to our liking. Grace did an amazing job running down some loose balls while still getting off a good set."
Cheney's presence rattled the hosts, who hadn't been on the floor with a hitter quite like her.
"At times, we played well," Coeur d'Alene Charter coach Cynthia Beyer said. "We just haven't seen the ball hit that hard and No. 15 (Cheney) was hitting it pretty fast, and our blocks just weren't used to it. We'll be ready for it the next time."
Kellogg d. Priest River
KELLOGG — In their second IML match of the week, the host Wildcats made quick work of the Spartans on Sept. 24, winning in three sets 25-8, 25-5, 25-9.
Hailey Cheney was a force at the net, tallying 18 kills, while also chipping in two blocks and three aces.
"I felt like we did a good job running our specialty plays," head coach Steph Brunner said. "We kept a pretty good tempo and had decent energy, so overall, I'm pleased with the performance."
Kellogg got a lot of help from their talented freshmen, but also from reserve player Caitlin Pipkin, who "came out hot for us," according to Brunner.
Post Falls d. Kellogg
KELLOGG — Kylie Munday had 14 kills, 15 assists and nine aces as the visiting Trojans, bouncing back from their first loss of the season, downed the Wildcats 23-25, 25-18, 25-13, 25-17 in nonleague play on Saturday at Andrews Gymnasium.
Kellogg was competitive against their 5A competition, which was an improvement from their first match of the season at Post Falls.
"I was pleased with how we played," coach Steph Brunner said. "We did a good job running specialty sets and being extremely scrappy, which made it difficult for them to score on us."
Kellogg played right with the Trojans, but found themselves on the wrong side of a few plays, which made it difficult for them to close the gap.
Hailey Cheney had 13 kills, Grace Nearing had 18 assists, and Piper Rainio finished with 12 digs to lead the Wildcats.
Mullan volleyball
Mullan d. Lakeside
MULLAN — The visiting Knights were in all three sets, but the host Tigers prevailed in the sweep, 25-23, 25-23, 25-22 in nonleague play on Sept. 22 at the Mullan Pavilion.
It was the second close match this season between the two squads. Mullan won the season opener 15-13 in the fifth set in Plummer. Arianna Havier-Gorr had seven kills and five digs for Lakeside, which starts two freshmen and two sophomores — and missed two weeks of practice recently when COVID-19 struck the program.
"We've practiced less time than anybody else we've played," Lakeside coach Brad Veile said. "We're in that learning process still. The biggest thing that hurt us tonight was probably our serve-receive. They served us well."
Kria Peters added 22 assists for Lakeside. Martina Rivera and Tyshea Twoteeth had five kills each, and Mary Ann Cosby had five digs and an ace.
Wallace football
Lakeside 46, Wallace 14
PLUMMER — Vander Brown rushed for 259 yards and three touchdowns on just nine carries as the host Lakeside Knights beat the Wallace Miners 46-12 on Friday night in the first football game of the new Scenic Idaho Conference.
"Yeah, it's kind of strange, being in a two-team league, but we'll take it," Lakeside coach Chris Dohrman said.
On a blustery night, Lakeside (3-1) threw just four passes and gained 481 of its 495 yards on the ground.
"It was hard to get the ball out deep, and we were able to run the ball pretty well, so we stuck with that," Dohrman said.
Tucker Sanchez and Jayson Hall had interceptions for Lakeside, and Dohrman also praised the play of linemen Alberto Arroyo and Sonny Reuben, who helped pave the way for the ground game.
Kody Richardson rushed for 92 yards and a touchdown on 16 carries for Wallace (0-3).
Next Friday, Wallace is at home vs. Deary.
Kellogg football
Grangeville 52, Kellogg 20
KELLOGG — The Kellogg Wildcats teased their fans on Friday night.
The Wildcats moved the ball 70 yards on their opening drive where Riply Luna found twin brother Kolby on a 21-yard score and then the Kellogg defense forced Grangeville into a 3-and-out on the next possession before everything got sour.
The Wildcats fumbled their next three possessions, with all of the turnovers happening inside their own 15 yard line, which led to a quick 17 points for the Bulldogs.
Trailing 32-6 at the half, the Wildcats got some life from a pick-6 courtesy of Travis Lohr, and then another Luna brothers connection, but it wasn't enough to close the gap.
Kellogg (1-2) has a bye this week.
Mullan football
Shelby 76, Mullan/St. Regis 36
SHELBY, Mont. — The Tigers were looking for someone to give them a fight and they found one.
The Coyotes were bigger and more physical than the speedy Tigers, but after several weeks without really being challenged, the game was just what the doctor ordered for coach Stetson Spooner and his team.
"We knew that they were big going in, we wanted a game, we got a game," Spooner said. "We had a couple of injuries, but at halftime it was a two-score game. We had a few mistakes, some sloppy play that we need to fix, but we competed."
The injuries are minor ones, which is good because Mullan is hosting Lakeside this week in a rematch of their season opener that the Tigers won big 70-36.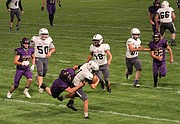 ---