Sparks fly in Wallace van fire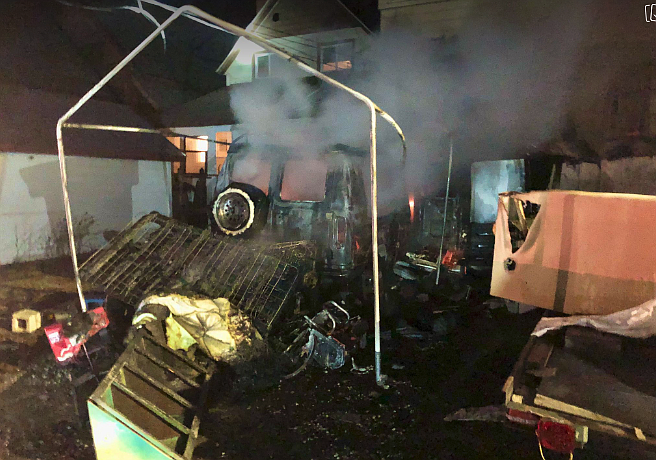 The affected van in Wallace smolders Friday night after crews from Shoshone County Fire District No. 1 extinguished the flames that had completely engulfed minutes earlier.
Photo courtesy of SHOSHONE COUNTY FIRE DISTRICT NO. 1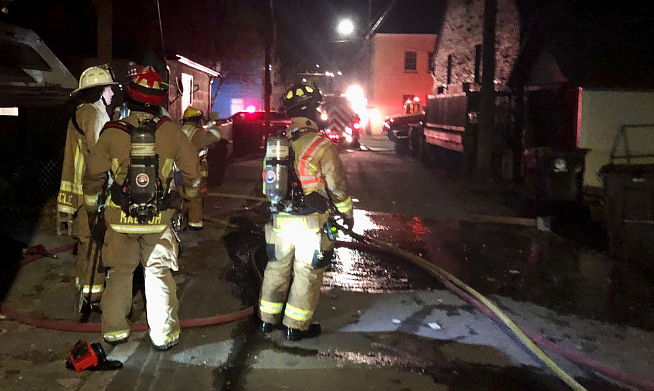 Shoshone County Fire District No. 1 crews gather near the affected structure on Cedar Street Friday night.
Previous
Next
by
CHANSE WATSON
Managing Editor
|
April 5, 2021 5:39 PM
WALLACE — Emergency crews and onlookers alike were treated to a bit of a light show last Friday, as a van in Wallace burst into flames and affected nearby structures.
Shoshone County Fire District No. 1 reports that on April 2 around 7:44 p.m., fire crews were dispatched to a reported structure fire at 315 Cedar St. While they were enroute, they were updated that it was indeed a van on fire.
The first emergency personnel on scene was Shoshone County Sheriff's Deputy Cody Soberanes, who initiated and completed an evacuation of the van and nearby home. During this evacuation, loud explosions and sparks could be heard and seen coming from the burning van. SCSO Cpt. Jeff Lee states that the owner of the van said the explosions could have come from a propane tank and possibly a stash of fireworks inside the vehicle.
When fire crews arrived a short time later, SCFD No. 1 volunteer firefighter/engineer Noah Guinard explained that they heard a lot of loud popping — but these loud noises weren't coming from the van.
The fire, originating from the van, had spread to the home it was within 2-3 feet of and then burned up to a nearby power line. The affected power line then proceeded to intermittently shower the area with sparks and emit loud, gunshot-like noises.
Not only was the van parked dangerously close to the home in general, but it was also positioned right next to the home's power box and natural gas meter.
SCFD No. 1 Chief Aaron Cagle explained that despite the risk that the renegade power line presented, crews proceeded to extinguish the van and the nearby home siding.
"First thing was to get it (the fire) out," Chief Cagle said. "Because if you don't get it out, we have a larger problem of a whole block being taken out. Little risk versus reward."
In roughly 10 minutes after arriving, SCFD No. 1 had the fire contained.
While no injuries were reported, major property damage included the van as a total loss, the external siding on the nearby home, and some minor heat damage on a neighbor's garage.
While the cause is still under investigation, it is believed to have been electrical in nature.
"This is a very good reminder to people that you shouldn't plug multiple appliances into extension cords and/or outlets," Cagle said.
Cagle was pleased that the fire was kept to the exterior of the home, as fire crews discovered numerous, tightly-packed, combustible materials stacked-up inside the structure. Approximately 20 individuals were inside at the time of the incident.
One of the issues emergency crews did have while on scene was dealing with the number of onlookers that gathered close to the area.
"Approximately 30 people started swarming the alleyway to photograph the fire as Deputy Soberanes was asking for cover due to people not leaving the area for their safety," SCSO Cpt. Lee said. "When incidents like that occur, we highly suggest people to stay back so emergency service can be addressed as a priority to preserve life and property. When people refuse to leave the area, it is a crime and also it can prolong our goal of handling the incident at hand."
Backup SCSO units, including Lee, along with Osburn Police arrived during the incident to help manage the crowd. Cagle gave a shout-out to Soberanes for his crowd control efforts before the help arrived.
Total fire personnel that responded included Engine 111, Ambulance 181, Tender 121 and Chief 101, along with multiple off-duty personnel.
After roughly two hours, Avista personnel had secured the power line and fire crews left the area.
"It was a multi-agency effort that was executed seamlessly," said SCFD No. 1 Lt. Victor Malsom.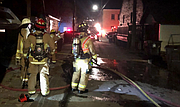 Recent Headlines
---