UTV problems? Pegasus UTV has you covered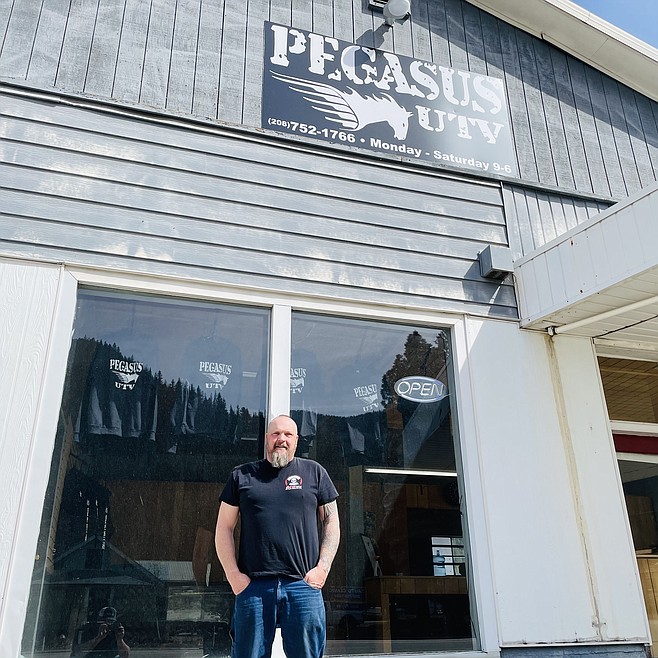 Tim Foust stands outside his new UTV repair shop Pegasus UTV in Osburn. Foust specializes in side-by-side UTVs and is even a mechanic on a UTV racing team.
Photo by JOSH McDONALD
by
JOSH MCDONALD
Staff Reporter
|
April 5, 2021 1:09 PM
OSBURN — A new shop in Osburn should have local outdoor recreators pretty excited.
Tim Foust, is the owner and operator of Pegasus UTV in Osburn and he is looking forward to keeping local machines out of the shops and on the trails here in Shoshone County.
Foust opened in January and specializes in Utility Terrain Vehicles, or UTV, repair.
UTVs are bigger and more powerful than a standard ATV (commonly referred to as a four-wheeler) and can seat anywhere from two to four people.
Originally created for more practical work-related uses, extreme motorsports enthusiasts like Foust have found a niche in customizing and racing their UTVs — which is growing in popularity.
"Been a part of the UTV scene for 10-11 years now," Foust said. "I quit sprint car racing and one of my friends had a UTV, so I got one and we started racing them and then I got into Baja racing with Concept Distributing out of Canada. I got into the scene and it's just so much fun."
Foust's responsibilities on the Concept Distributing crew is as the crew's mechanic, meaning he is the guy making sure that these UTV's are race-ready and that they stay race-ready, which should put his new customer base in the Silver Valley at ease.
"I have a pretty extensive knowledge of these machines, mechanical, electrical, all of it," Foust said. "I know how to troubleshoot them."
Unlike the local dealerships that sell UTVs and UTV parts, Pegasus is really the only private UTV mechanic shop in the area.
Foust hopes that his presence fills a need here locally and is excited to help be a part of growing the sport of racing UTVs here in the area while ingratiating himself into the community.
"I'm just here to forward the cause of UTVs," Foust said. "Everyone needs a hand with something when it comes to these and I'm definitely not looking to make a million dollars, but I'm here to help people."
Foust also has a sweet line of Pegasus UTV merchandise where all of the proceeds from those sales will go toward local youth sports.
"I just want to give back to the community and help as many people as possible," Foust said. "Gotta make sure that their stuff's running."
Pegasus UTV is located at 422 E. Mullan Ave. in Osburn, and is open Monday through Saturday from 9 a.m. to 6 p.m.
For more information, call 208-752-1766.
---