Joann M. Ross, 82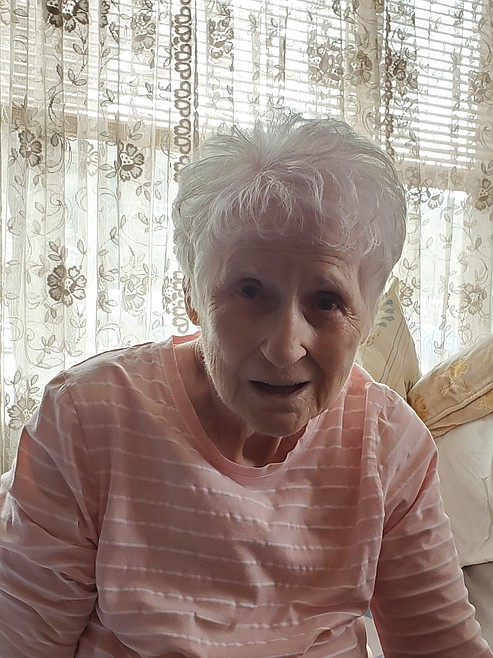 Joann M. Ross, 82, of Smelterville, Idaho, passed away April 3, 2021, at her home surrounded by her children, after a short battle with cancer. She was born March 10, 1939, to Everett Ralph and Violet Pearl (Monroe) Walker. Joann was raised in Gem of Burke Canyon, Wallace, Idaho; she was the 11th child out of 18. Joann attended and graduated from Wallace High School in 1957.
In June 1969, Joann was united in marriage to James "Jim" Ross. Jim, Joann and her five children made their home in Smelterville; a sixth child joined in January. Joann remained in their home until her death.
Joann learned at an early age to take care of the home, siblings and children. In early years, she had part of a newspaper route with her siblings up in Burke, where her heart always remained.
Joann is survived by five of her children, Johnny Rowe of Smelterville, Teresa Rowe Jones of Post Falls, Idaho, Ramona Rowe Cornella of Post Falls, Brad (Ida) Rowe of Cataldo, Idaho, and Samantha (Ron) Ross Cochrane of Smelterville; and her close enough to be a daughter and grandchildren, Judy, Jody and Kevin Rose. Joann had the pleasure to see nine grandchildren born and 12 great-grandchildren born. Her grandchildren are Bradley (Nashea) Enyeart of Coeur d'Alene, Idaho, Damon (Kacie) Rowe of Coeur d'Alene, Jamie Rowe of Pinehurst, Idaho, Michael Rowe of Kellogg, Idaho, Patrick (Sierra) Rowe of Smelterville, Jessica (Dylon Beckedahl) Cochrane of Cataldo, Taryn (Sam) Redmond of Livingston, Mont., and Casey Cornella of Boise, Idaho; her great-grandchildren, Kyla and Brielle Enyeart, Cooper Rowe, Ronnie Rowe, Scarlett, Benjamin, Skyler Rowe, Lillian Acles, Wylee Beckedahl, Kymber and Colton Redmond, and Jamon Rowe; her fur buddy Hunter; a sister and best friend, Elanore Pratt of Hayden, Idaho; sister Beverly Cornell of Boise; and a brother, Jerry Walker of Woodland Park-Wallace. She is also survived by a long line of nephews, nieces and cousins.
Joann was preceded in death by a daughter, Catherine "Kate" Rowe; her parents, Everett and Violet; siblings Gertrude, Norman, Leonard, Dewayne, Lorraine, Violet, Everett Jr., Donna Lee, Geraldine "Dena," Robert "Bobby," Katherine "Kate," Barbara and Marvin.
Joann was a member of the Silver King Ladies Craft group, had served as a Girl Scout and Boy Scout leader and had helped with many events at the Smelterville Lions.
Joann enjoyed going for rides up the river and Burke Canyon, ceramics, embroidering, macrame', watching her children, grandchildren and great-grandchildren at games, school events, or just gatherings. Joann loved to talk about childhood memories and of Burke.
She spent most of her working days as a waitress and barely would ever forget what a customer needed or wanted.
In her home, she surrounded herself with pictures of her children, grandchildren and great-grandchildren. Our mother was such a kind and humbled soul. She never expressed much, but was always around to listen when you needed her.
Funeral services will be held at 11 a.m. Friday, April 16, 2021, at the Kellogg Funeral Chapel in Kellogg, with Pastor Corey Berti officiating. Burial to follow at Shoshone Memorial Gardens in Pinehurst. A reception and a gathering of family and friends will be held at the Wallace Elks following services; this will be a potluck and everyone is invited.
The family suggests memorials may be made to the Shoshone Pet Rescue, P.O. Box 884, Kellogg, ID 83837.
Shoshone Funeral Services & Crematory, Kellogg, is entrusted with services. You may share your memories of Joann and sign her guest book at www.shoshonefuneralservice.com.
---